Creatives in Quarantine: Cate Osborne '21
If there's one thing that these two months in COVID-19 induced quarantine has taught me, it's that flexibility is an asset. Suspended between a blurred past and an uncertain future, students are forced to reconfigure their forward-looking mindsets in favor of mentality that takes life day by day. 
For Cate Osborne '21, though, flexibility comes naturally.
"Quarantine has been a little stressful in terms of figuring out where to live, just trying to get my whole family together in the same place while we're all on phone calls all day," she said. "But besides that, honestly, everything's good, yeah."
When I FaceTime her, Osborne—who considers New York City home—is living at her grandparents' house in New Jersey. Though her family has not been quarantined there very long, Osborne seems calm, comfortable and well adjusted.
"I made tons of music on campus just in my dorm room," she said. "I would just spend all my time in my room making music, so I've been lucky to still have a place to set my stuff up. We just came to this house last week, and I've posted up in the basement. And it's actually been like the best place I've ever recorded, so my recordings now are just way better quality, which is kind of cool. That's a really good plus to this quarantine."
This kind of relaxed, optimistic nature underscores much of Osborne's artistic practice, though her creative works span various disciplines. At the College, she studies art history and engages with visual art processes such as printmaking and graphic design. She said that design is "the thing that I'm good at, and I can churn it out," but that making music has a particular allure. 
"I see music as something that's fun because I see that I'm constantly improving, whereas in visual art, I know I could draw something and get it over with… For music, I'm usually just drawn to the production," she said. "I'm a horrible producer. I'm getting better, but just— I don't know, I'm interested in the way instruments are used. I never really listen to the lyrics, I realized. Like if a song comes on at a party, everyone knows all the lyrics, I'm just like—"
She laughs. 
"Yeah, I just love the way things sound, I guess."
While Osborne is humble to the point of self-deprecation regarding her abilities as a musician, she has an undeniably impressive range of skills. As a kid, she attended the Special Music School in New York City, training in classical piano and participating in weekly performances every year until middle school, when she quit "because I just couldn't take it." Now, she plays guitar, sings, writes songs, produces her own work and remixes the work of others. 
"I started playing guitar my freshman year of college," she said. "I'm still not that great at it. I use a program called Ableton, which I got for Christmas one year, cause I was really into Grimes and that's what she used, so that's been the best Christmas present I've ever had, cause I use it almost every day. It's like fancy GarageBand basically."
Osborne's cool demeanor permeates much of her music, which sits somewhere between indie rock and electronic pop. Her single U Good, for instance, which she released last week under the pseudonym "Rockie Rode," fuses a lowkey guitar line with simple, evocative lyrics to create a track which builds in musical complexity as it progresses. Her remix of Dolly Parton's Jolene, on the other hand, heightens the reverb and rhythm of the 1973 country hit until it deconstructs itself, mutating into a flighty array of sound before returning to Osborne's grounded beat.
In terms of inspiration, Osborne cites mainstream artists and niche favorites alike, stating, "There's one artist—WCFM was gonna have her come for a spring concert which I'm really sad about—Cowgirl Clue, I really like her," Osborne said. "She's a good mix of what I'm trying to be right now. Like a mix of not really rock, but she uses guitar a lot, and more pop-y stuff. Lorde had always been a huge influence on me. I'm always trying to make, like, 400 Lux, 2020 version."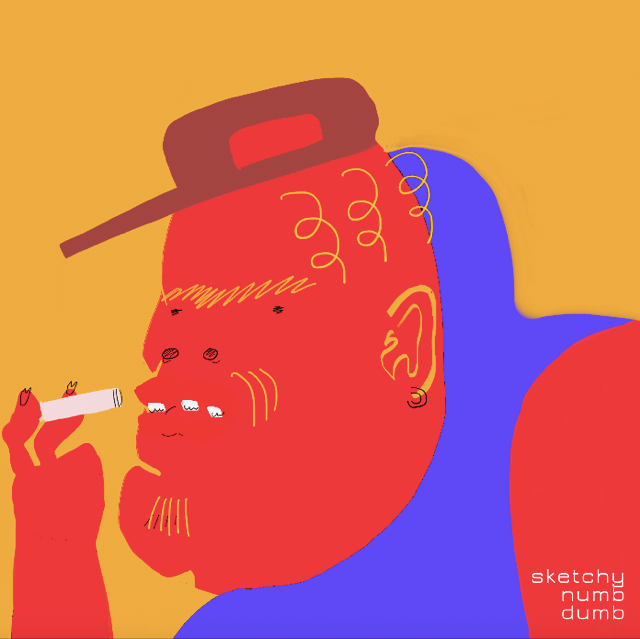 The kind of music Osborne likes consuming varies as much as the kind she likes creating. "It depends on the day," she explains. "Recently, I've been really into indie rock, but also, like, PC Music: SOPHIE and all those people. But, yeah, it changes all the time." And while academics limited Osborne's ability to spend time making music at the College, she's managed to take advantage of the quarantine in other ways now that she's off-campus.
"I've had a lot more time to listen to music. I think, with that, actually making music has improved. You know how directors always say, 'The way I learned how to make a movie was just by watching movies all the time'? I think that's it. It's been really helping me a lot to listen. I've been trying to listen to a full album a day recently, which I was just not doing at school."
Osborne does continue to produce work, though. In addition to the singles and remixes she has been periodically uploading to SoundCloud over the course of the last two months, she plans to release an E.P. in the near future. 
When asked how she formulates a work like this—if she calculates each song so that it fits perfectly with the others on the collection—Osborne again gives an answer marked by flexibility, an answer which I've been admiring in a general sense, as I fend off worries about finals, summer plans and the unclear status of the fall semester.
"I just let it happen," Osborne says, smiling.