Record survey indicates high approval for Biden, overwhelming support for Democrats in advance of midterm elections
As the Nov. 8 elections approach, a Record survey indicates that the Democratic Party and its candidates enjoy strong support at the College, with climate, health care, abortion, and the economy among the most important issues to students.
The survey, conducted from Oct. 26-29, was sent out to 600 randomly selected unixes, yielding 150 responses for a response rate of 25 percent and a margin of error of 8 percent. In addition to a set of anonymized demographic and election-related questions, the survey invited students to share their thoughts on their voting experiences and the factors which influenced their choices.
Eighty-one percent of respondents said that they had already voted, or were likely to vote, in the November general elections. "I voted really early this year, around Mountain Day, if I recall correctly," James Blasdell '25, who is from Pleasantville, N.Y., wrote. "It was nice to get it out of the way so soon." 
Importantly, some portion of the remaining 19 percent is composed of students who, for reasons of age, nationality, or lack of legal status, are unable to vote in U.S. elections.
This particular percentage is likely not representative of the student body, given that students who are more engaged with elections could be more likely to fill out the survey in the first place. Within the set of responses the Record received, however, respondents' stated likelihood of voting or not voting did not appear to be related to their opinions on election-related questions.
When asked about their partisan affiliation, 68 percent of students surveyed identified themselves as Democrats, while just 3 percent identified as Republicans. (The rest identified as independents or wrote in other political affiliations.) To get a sense of where respondents stood on this particular election cycle, the survey then asked them, "This election, would you prefer to vote for a Democratic or Republican candidate for Congress?" Eighty-five percent said they would prefer to vote for the Democrat, while 7 percent picked the Republican. These responses did not differ significantly based on whether respondents described themselves as likely or unlikely to vote.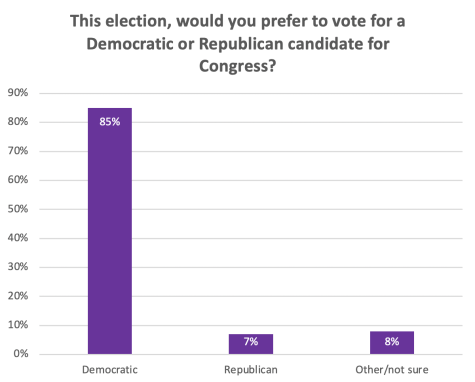 Current U.S. President Joe Biden has faced a higher rate of disapproval than approval from respondents in national surveys for the majority of his time in office so far, according to FiveThirtyEight's polling average. In the Record survey, Biden had a net approval of +33 percent — 57 percent of respondents said they approved of President Biden, while 24 percent said they disapproved. Much of this approval was accounted for by respondents who selected "somewhat approve" rather than "strongly approve," suggesting that while Biden's popularity on campus is significant in size, it is not especially fervent in character.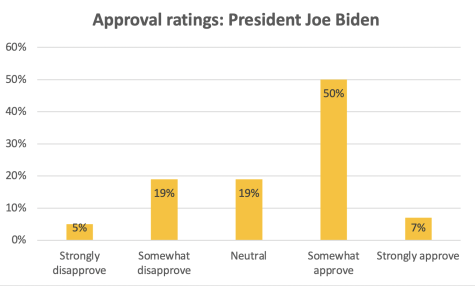 With control of the U.S. Senate and House of Representatives set to be determined by a handful of swing states and districts, just 38 percent of respondents said they felt as though they were voting in a federal race in which their vote mattered. That percentage rose to 57 percent for state and local races.
"My state is solid red, and I'm voting blue," wrote TJ Watkins '23, who is from Oklahoma City, Okla. "So my hopes aren't high, but I have to try."
The converse of this is that a minority of students, as swing-state or swing-district voters, wield an outsized ability to influence national outcomes. "I live in Pennsylvania in a swing district, so I was excited to vote by mail in a race that could be really impactful," Justin Hartwig '25 wrote.
Though Democrats led by a large margin among students of all genders, female students were more likely than male students to identify as Democrats. Male students were more likely than female students to identify as independents and to vote for non-Democratic candidates. (There were not enough students who identified as neither male nor female to make meaningful comparisons between this group and others.)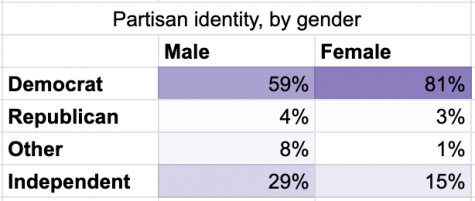 Some public opinion research suggests that people's opinions of what constitutes "art" may be predictive of their political views. The Record showed respondents a picture of the abstract expressionist Barnett Newman's "Vir Heroicus Sublimis," a rectangular canvas which is mostly painted solid red, bearing a handful of narrow, light and dark stripes. 
Respondents who believed that the work was not art were more likely to be Republicans or independents — and less likely to be Democrats — than those who believed it was art or were not sure.

Respondents were also asked to pick up to three issues that they believed to be the most important for candidates to focus on. Those most selected were climate and environment, abortion, and healthcare, followed by education, inflation, and the economy. In Nov. 2020, a Record survey asked a similar question, albeit with different methodology. The most common "top issues" chosen by students then were COVID-19, climate change, and inequality.
Abortion rights have gained salience among voters nationwide after the Supreme Court's decision in Dobbs v. Jackson Women's Health Organization eliminated the federal constitutional right to abortion. "I'm from Florida, and now more than ever, elections for retaining judges and governor are critical," Brianna Nelson '25, whose top priority this election is abortion rights, wrote. "I think that this issue now being in the hands of the states means it is not the time to give up and become apathetic."
As for how the rest of the country might vote, 33 percent of respondents predicted that Democrats would maintain control of the Senate, compared to 26 percent who thought that Republicans would gain a majority. Here, a plurality of respondents selected "Not sure/other." Thirty-nine percent, on the other hand, thought that control of the House of Representatives would flip to Republicans, compared to 25 percent responding that Democrats would keep their majority.