After reversal of Roe v. Wade, activists, College leaders renew commitment to abortion access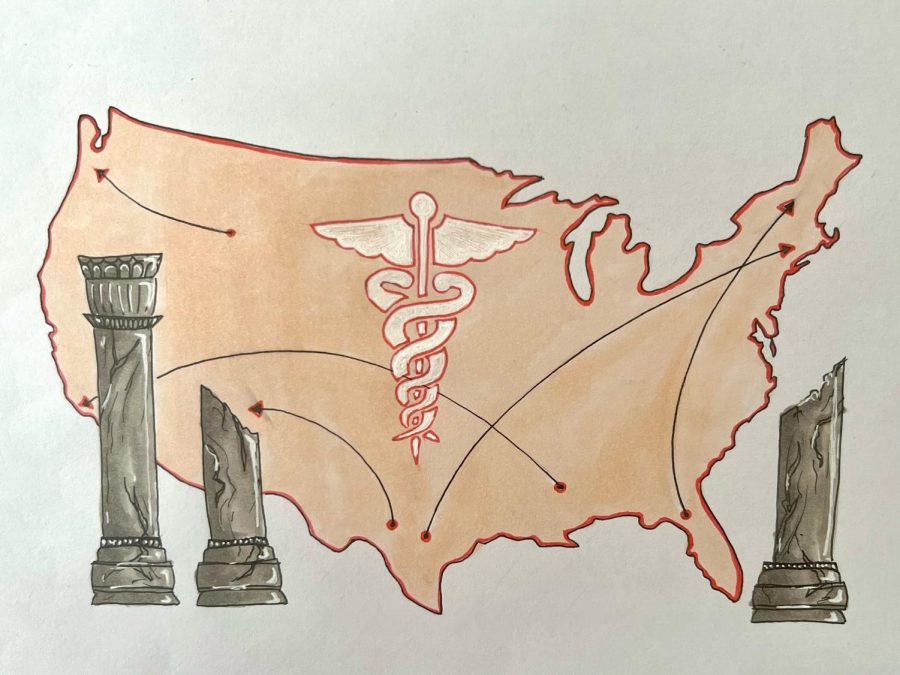 On June 24, the Supreme Court overturned the precedent it set in Roe v. Wade and Planned Parenthood v. Casey, the 1973 and 1992 cases that guaranteed the constitutional right to abortion. The decision in Dobbs v. Jackson Women's Health Organization, which held that there is not a constitutional right to abortion, came less than two months after the initial draft of the majority opinion was leaked and first reported on by Politico — prompting on-campus protests and giving community leaders, abortion activists, and elected officials unusually long to prepare their responses. The new ruling does not place a federal ban on abortion, but it gives individual states the power to legislate whether abortions are legal within their borders. Since Dobbs, abortions have already been banned in nine states, with eight more likely to follow suit and eight others restricting the right to abortion without banning it entirely. 
Massachusetts, along with most states in the Northeast, is very likely to keep abortion legal — Massachusetts Governor Charlie Baker signed an executive order protecting abortion providers on June 24. Nevertheless, the effects of Dobbs have already reverberated throughout the College community. Student and local organizers who are pushing for expanded reproductive health access in the Berkshires, alums who work in abortion access, and College administrators must now reckon with a new political reality. 
The day Roe was overturned, Williamstown residents gathered in front of North Adams City Hall to express their opposition to the court's ruling. The event was organized by Genevieve Tatro, who also hosted a rally when the draft decision was first leaked in May, and promoted by Greylock Together, an organization that tracks community events. Tatro, who is a member of Greylock Together but coordinates the rallies independently, was impressed with its turnout. "I feel like it's gaining traction," she said of the pro-choice movement in the Berkshires. "I've had quite a few people reach out to me and ask me questions. I'm really grateful and really thankful that people have taken the time to stop by and meet with me, to let their voices be heard." 
Though most of the College's student body is geographically scattered for the summer, students reacted to the Dobbs decision with renewed concern about abortion access on campus and in the Berkshires. In recent months, students have discussed the limits of health care access at the College, mentioning negative experiences seeking care at the Thompson Health Center and transportation barriers affecting off-campus clinic access among their top concerns. 
On campus, some student organizations have begun preparing long-term plans to make reproductive care more accessible to students at the College. Direct Action Coordinator and board member of the Young Democratic Socialists of America (YDSA) Kyungmin Yook '25, who is living on campus this summer, said that she had attended a "brainstorming session" in which Students For Reproductive Justice, a coalition with members of groups such as YDSA, The Berkshire Doula Project (BDP), the Feminists Coalition (FemCo), and Queer Student Union (QSU), discussed ways to respond to the recent ruling in Dobbs. 
According to Yook, one such initiative that the group discussed would involve hiring a gynecologist on staff who could offer abortion pills at the Thompson Health Center. The idea takes inspiration from institutions like UMass Amherst, Yook said, which began offering medication abortion pills to students at the beginning of the year. 
Emily Axelrod '25, who was involved with the coalition, added that hiring a reproductive care specialist to administer medical abortions could also help protect student access to medical services like IUDs and gender-affirming healthcare. "The reason that UMass Amherst [is] able to have abortion pills is because they have a gynecologist on campus who was able to provide them — we don't have that," she said. "The more that Williams is able to provide these types of health care on campus to students, the less of a burden it places on students who can't access these things in their home states and, quite frankly, can't access them in the surrounding area very easily."
Director of Intimate Violence Prevention & Response and Health Education Meg Bossong '05 said that the College is not currently equipped to prescribe medical abortions. "In some circumstances, that can be done by telehealth," she said. "In other circumstances, people actually need an ultrasound to confirm gestational age, and the [Thompson] Health Center doesn't have ultrasound capabilities."
Given the leaked draft of the majority opinion, some student organizations anticipated the Dobbs decision and immediately mobilized to offer resources and support. Several hours after the Dobbs ruling was issued, the BDP took to social media to develop a network of college and university student groups that aim to promote reproductive justice on their campuses. Gates Tenerowicz '23.5, the president of the BDP, stressed the importance of easily accessible information and resources regarding reproductive health care. "It would be good to just have a place for all of us to communicate," she said. 
Since the draft leaked in May, the BDP has also been developing its capability to offer virtual doula support for students at the College who may get medication abortions. "I know the amount of people who are getting abortions at home is really going to be going up, so [we're] trying to figure out how to provide virtual support … even when we're not in the semester," Tenerowicz said. 
Other student groups are similarly circulating resources. The QSU, in collaboration with BDP and FemCo, is planning to equip students with updated information about reproductive care to promote access and attention to such services, according to Chair of QSU Manny Copeland '23. "The QSU board hopes to update the guide to queer health on campus that we provide to our members and work with other organizations like BDP and FemCo to disseminate information on reproductive health more broadly and to further advocacy on campus," she wrote in a statement shared with the Record. "However, this has taken time, and my heart breaks knowing that some students were affected by the ruling immediately and that continued urgency and resiliency is our only option for how to react."
Like local and student organizers, President Maud S. Mandel expressed concern over the Court's ruling. In a June 25 email to the College community, she reaffirmed the College's commitment to reproductive health care, noting that the Dobbs decision would most hurt young people, people of color, and those who cannot afford interstate travel to access out-of-state abortions. "Williams will continue offering support to any student facing an unwanted pregnancy or other health challenge that leads them to seek an abortion, and guiding people to the resources they need," Mandel wrote. "In the coming days, college staff will share information about a new website they are building to provide information about those options. The college also expects that benefits under the Williams health care plan will continue for employees."
In a follow-up email to the Record, Mandel elaborated on the College's priorities regarding reproductive health care before the upcoming academic year. "The legal landscape continues to change state-by-state on an almost-daily basis as state legislatures pass both restrictions and protections and court cases move through various phases," she wrote. "Over the summer, we are working on providing clear information for students as well as high-quality referrals for students elsewhere in the country."
Given the far-reaching implications of the Dobbs decision, students appreciated that Mandel issued a response, but some told the Record that they felt the resources offered were insufficient. "I'm glad that the administration has acknowledged that this is an issue," Yook said. "I know people at other schools whose [administrations] haven't acknowledged this at all… I think it's a good first step, but I wish she had named places you can go to access reproductive health care … and mentioned what Williams can do to make reproductive health care more accessible." 
Axelrod, who helped organize one of the campus protests following the leaked draft of the majority opinion for Dobbs, said she was similarly disappointed by Mandel's email and that she believes that the College should have taken advantage of the leaked draft to devise greater support in advance. "Williams had a month to prepare a response to this," she said. "[Administrators] provided very few tangible steps that they're taking to protect students, faculty, and staff on campus." 
 Tenerowicz further noted that access to reproductive care in Berkshire County is extremely limited, as few medical clinics in the region offer abortion care. The closest Planned Parenthood — a trusted national organization that some students seek out for abortion care — is in Troy, almost an hour away, and many students without cars may struggle to travel there without transportation from the College. "To just say, 'Well, Massachusetts is protected,' and then not follow through on what most students without a car [can] do, I think, is a little short-sighted," she said. 
Copeland emphasized the importance of access to reproductive care for LGBTQ+ students in particular. "The Bennington Planned Parenthood clinic closing …doesn't just hinder access to abortion but cuts students off from a common provider of hormone replacement therapy, STI testing, PrEP, and PEP," she wrote. "The disruption of access to reproductive healthcare clinics who provide necessary services to the LGBTQ+ community makes referring students in our community to LGBTQ+ friendly healthcare extremely difficult when we have to reassess shifting legal and institutional landscapes." 
According to Bossong, the College's first priority in the wake of the Dobbs decision is helping community members secure reproductive health care access over the summer, then during the fall semester, and will eventually consider options for students when they leave campus at the end of the fall semester or graduate. "Williams students who become pregnant this summer have different choices available to them this week than they did three weeks ago," she said. "So we're trying to make sure that … people have accurate, up-to-date information and referral resources for the place that they are presently in."
Bossong is working on putting together the College's website, which, according to Mandel, will provide information about abortion resources and options. Bossong said she hopes the website will be up and running this week. 
She also pointed to the College's health care plan as a valued resource. "The Williams student health insurance program actually has really terrific reproductive health care coverage, including abortion care," Bossong said. "You can use it across state lines."  
Six days after the decision, the College also invited students to a webinar with three panelists —  R. Alta Charo, a professor emerita of law and bioethics at the University of Wisconsin-Madison; Dorothy E. Roberts, a law and sociology professor at the University of Pennsylvania; and Abigail Echo-Hawk, the director of the Urban Indian Health Institute — who discussed some of the impacts that the Dobbs decision could have on specific communities and individuals. The College's Vice President for Institutional Diversity, Equity, and Inclusion Leticia S. E. Haynes moderated the talk. 
The pandemic revealed disparities in access to health care in the United States with extraordinary clarity, Charo said. The court's ruling is an "enormous step backwards" in light of that clarity, as levels of maternal and neonatal mortality will now become even more disproportionate. 
"It's a white supremacist agenda," Roberts said. While abortion bans have been aimed at encouraging white women to have more children, they disregard the high maternal mortality rates among Black women, she said. "To deny health care and the conditions people need for a healthy pregnancy and to force people to continue a pregnancy to terms under these conditions is literally deadly."  
For Toni Wilson '20, the technical assistance administrator for the National Network of Abortion Funds and a former member of BDP, the days since the Dobbs ruling have been both busy and painful. Wilson's connection to reproductive health work stemmed from her studies at the College, as she first learned about the term "reproductive justice" while doing independent research for an Africana studies senior seminar. 
Now, Wilson does administrative work for grants through the National Network of Abortion Funds and provides assistance to around 100 abortion funds. She described the overturning of Roe as a mechanism to wage war against people of color. "People of color will be forced to parent children that they don't necessarily have the capacity to parent — in a country that has the highest Black maternal mortality rate, number of mass shootings, and mass incarceration rate, and doesn't have universal health care, universal parental leave, universal child care, or general robust support systems for new babies and the parents of those babies," she said. "And abortion bans have always been and will always be racist — higher-income people, who are usually white, will always be able to travel somewhere to get their abortion and be able to afford their abortion."
Copeland, too, highlighted that the Dobbs decision will especially inflame injustices for marginalized groups. "Although this ruling affects a broad spectrum of people, those most affected will be those at the intersections of various marginalized identities," she wrote. "Thus, supporting the work of the existing networks for these communities will be where the most impact can be made."
In particular, she predicts a continued need for trans activism in order to support access to gender-affirming healthcare. "There is constant trans activism on campus because trans students, staff, and faculty continue to fight for the recognition of their existence and rights," she wrote. "The real issue is whether or not this gets any attention from the broader community. In the past year, trans students on campus advocated for accessible gender-neutral bathrooms in Paresky and other common spaces. This upcoming year, I anticipate that this will continue in addition to the continued but now exacerbated struggle to find basic gender-affirming healthcare and the institutional support for accessing this."
Wilson said that she sees her work as part of an ongoing fight for abortion access and that she remains hopeful because of the collective efforts of patients, abortion funds, and their supporters. "If anything, we will be even more determined to get our grants out the door so that abortion funds will be fully armed in this metaphorical war that we are fighting," she said. "I keep trying to remind myself and others that as long as we believe in taking care of each other, we will be okay. The desire to do better is what keeps us going each day."
For anyone who is seeking an abortion where it is no longer legal, Wilson recommends discussing the procedure on a secure messaging app like Signal, visiting abortionfunds.org for resources to find funding, visiting abortionfinder.org to find a clinic, visiting plancpill.org to find support for a medical abortion, and visiting reprolegalhelpline.org for legal advice. For those who live in states that maintain the right to abortion, Wilson recommends volunteering and donating to abortion funds and independent clinics. 
Executive Editor Tali Natter, who is a part of the YDSA's organizing efforts, was not involved in the writing of this article.
The Record plans to continue its reporting on the aftermath of the Dobbs decision and its effects on the community. We are interested in hearing any and all perspectives on the issue. Those who would like to share are encouraged to contact the Record through its anonymous tip form or by emailing [email protected].