Seeking reproductive health care at the College brings confusion and frustration, some students say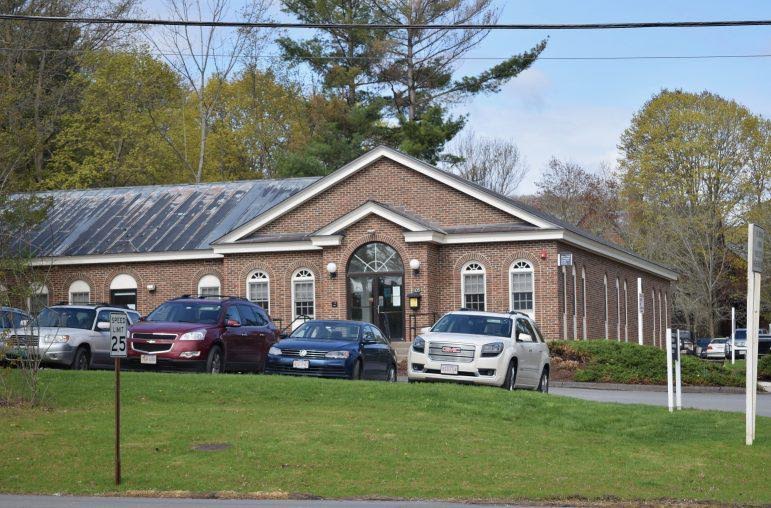 Accessing reproductive health care while at the College can be difficult given the limited treatment options in rural Massachusetts and hours of operation at the Thompson Health Center. And three students who spoke anonymously to the Record said these difficulties can be exacerbated by the unsatisfactory information and negative interactions they experienced in seeking reproductive health care at the Health Center. 
The Health Center requires appointments, is open from 10 a.m. to 3 p.m. on Saturdays, and is closed on Sundays. In addition, the College is located six miles from the nearest major health care provider, the North Adams location of the Berkshire Medical Center (BMC). Taken together, these factors have made accessing reproductive care while at the College confusing and difficult, students told the Record. 
Students at the College may seek a variety of reproductive care options, including long-term birth control treatment and emergency contraceptives. Plan B One-Step, or the morning-after pill, is an emergency contraceptive provided by the Health Center that is taken within the first 72 hours after unprotected sex to prevent an unwanted pregnancy. Some students also come to the Health Center looking to begin or maintain treatment in the form of birth control pills or intrauterine devices (IUDs). 
Health Educator Laini Sporbert at the College said that for students to get an abortion, they must get a referral from the Health Center. The College will then transport them to the Pittsfield BMC clinic. "I think for students, it is a relatively easy process," Sporbert said. "The thing that is hard is that we are in northwestern Massachusetts… We have fewer people who are able to do abortions, and we have fewer clinics to refer students to, compared to bigger cities or across the country." 
When seeking abortions, Sporbert said, some students choose to travel to Planned Parenthood locations in Bennington, Troy, Albany,  or Springfield instead of going to the Pittsfield clinic, because Planned Parenthood is a "trusted provider." Due to its distance and students' varying health insurance policies, Planned Parenthood is not an option for all students. 
The websites of the Bennington, Troy, Albany, and Springfield Planned Parenthood locations all report that they accept Blue Cross Blue Shield, the health insurance offered to students by the College.  
"Western Mass., in general, is kind of a medical desert, in terms of more specialized medical care," said Gates Tenerowicz '23.5, the chair of Berkshire Doula Project (BDP). BDP, a student organization that works to promote reproductive health, trains members to be abortion and IUD "doulas," who provide informational and emotional support to people during and after getting an abortion or IUD. 
While trained doulas used to provide in-person support during in-clinic abortions, Tenerowicz said that this practice has been paused due to the COVID-19 pandemic.
Limited emergency contraception options at crucial times
Students have also faced barriers accessing Plan B. According to Sporbert, the Health Center offers Plan B at no cost to students who say that they might be at risk of an unwanted pregnancy. 
Tenerowicz said that the Health Center's limited weekend hours may prevent students who need emergency contraception from accessing it promptly. Plan B is more effective the sooner it is taken after unprotected sex; if taken within 24 hours of unprotected sex, it is 95-percent effective, but its efficacy rate drops to 61 percent between 48 and 72 hours after unprotected sex, according to Plan B's website. Given that the Health Center is closed on Sundays, a student who has unprotected sex on a Saturday evening, for instance, must wait until Monday morning to access Plan B through the Health Center — more than 24 hours.
According to Tenerowicz, other schools, like Georgetown, "have systems where students are essentially student couriers that facilitate the transfer [of Plan B medication] through the health center." Sporbert, however, said that according to Massachusetts law, distributors of Plan B have to be either a pharmacy or a clinic, so groups like the BDP cannot distribute it. 
Sporbert said that the College is working with the Williamstown Apothecary to provide free Plan B to students on Sundays when the Health Center is closed, but said she is not sure how long it will take to do so. As is, students can buy Plan B through the Apothecary, which is open on all seven days of the week, for $47.80 with the 10-percent student discount.
Advice and perceived judgment from the Health Center
Many students also rely on the Health Center to provide and maintain their chosen birth control methods. The Record spoke to three female-identifying students about their experiences seeking birth control from the Health Center. All three students said that the Health Center staff members were warm and well-intentioned, but provided judgment and advice when it was not requested, leading to discomfort and frustration. The students requested anonymity because of the private health information being shared and will be referred to using pseudonyms.
One student, Sarah, called the Health Center last fall to discuss her options for getting an intrauterine device (IUD) inserted as an alternative to the birth control pills she was currently taking. She requested a copper IUD because it does not operate using hormones, but Sarah said that the Health Center provider advised against the copper IUD because it could make it more difficult to get pregnant later. That advice is what she would give her own daughter, the provider said to Sarah. 
This belief may have stemmed from the safety issues associated with an early version of the IUD in the 1960s called the Dalkon Shield, which has been linked to pelvic inflammatory disease, a condition connected to infertility. Now, however, there is consensus in the medical community, as a 2018 meta-analysis in Contraception and Reproductive Medicine indicates, that copper IUDs do not affect the user's ability to conceive once they are removed.
"I had already done a lot of research on this and so hearing that [advice] from her wasn't super heartening, given that [the copper IUD] was the option that I wanted to try," Sarah said. Her conversation with the Health Center provider contributed to the student's existing stress about this major decision, she said, and ultimately discouraged her from continuing to pursue a copper IUD for months. Sarah later decided she wanted to get it, regardless of what the provider had said. 
Once Sarah had made her decision, the Health Center gave her a referral to BMC. However, "They just said, 'Here's the number to call if you have questions,'" and gave her a number for BMC. When Sarah called the number, she had trouble getting through to a live respondent to ask questions about her appointment. On the day of her appointment, she found her own transportation to the hospital, unsure if she was going to BMC for a consultation or if the procedure would be done that day. 
The appointment turned out to just be a consultation, and the staff at BMC walked Sarah through all her birth control options. On the whole, Sarah said that BMC staff approached the consultation sensitively, and the procedure itself went smoothly. Sarah, who is on a health insurance plan provided by the College, paid $15 out-of-pocket for the consultation and received the procedure at no additional cost. 
Another student, Isabel, relayed an experience of the Health Center having outdated information on birth control methods. Isabel came to the College taking Depo-Provera, a birth control injection that must be taken every three months and injected by a medical professional. Depo-Provera comes "in a vial and the person just needs to stick a needle in my arm, that's it," Isabel explained. "I remember the woman being like, 'I've never done this before' and holding the bottle up. [The injection] is white and she's like, 'Is it supposed to be white?' And I was just like, 'This is so not something I want to have to do every three months.'" In large part due to this experience at the Health Center, which she described as "horrible," Isabel then switched to an IUD.
A third student, Maggie, who had been previously diagnosed with endometriosis, a disorder in uterine lining tissue growth that causes extreme pain, was seeking information about the potential risks of keeping her IUD given her diagnosis. While Maggie said that the nurse practitioner was warm and polite, she made generalizations and comments that made her feel overwhelmed and anxious.
"She reassured me that it's fine to have an IUD with endometriosis, but then went well beyond my question and ultimately suggested that I get a scan to find out whether or not I'm fertile because I will 'want to have children soon and might not be able to do so,'" Maggie said.
"The implicit assumptions about my sexual orientation and about my desire to have children were based off of absolutely nothing I had asked or said about myself," Maggie said. "She also was in no place to make that diagnosis without a scan or additional information about my endometriosis."
Maggie emphasized that at the time of this encounter, she did not realize the "problematic" nature of the comment, "partly because I was unsure of how to respond, but also because it took some time for me to realize the unprofessional nature of my experience," she said.
During the examination, after inserting the speculum and noticing that Maggie did not react, she said that the nurse practitioner commented, "Looks like this isn't your first rodeo!" 
"While this was probably meant as a harmless joke, it was odd given my very vulnerable and awkward positioning in the interaction," Maggie said. "I felt as though she was making larger assumptions about my sex life and maybe even suggesting that I was overly sexually active."
"Both of these comments made me feel uncomfortable and, more importantly, that I wasn't being taken seriously with regard to my reproductive health… Overall, it was highly unprofessional," she said.
In response, Director of Medical Services Deb Flynn said in an email to the Record that Health Center staff are all licensed professionals who attend continuing education programs to "ensure care reflects the most up-to-date medical therapies and education available," she said. "Our goal is to provide well-informed, personally tailored reproductive health care for each Williams student who schedules an appointment with us."
Flynn also wrote that the Health Center staff are "committed to providing accessible, timely and culturally competent reproductive health care to our student body," and listed a range of services the Health Center offers, such as testing for sexually transmitted infections (STIs), routine reproductive health appointments, and same-day appointments for urgent needs. 
Informing students about available resources
While the College works with students to provide health insurance and transportation, the three students' experiences suggest that there is some misunderstanding and confusion among students about what services are available. In addition to the other services available at the Health Center, condoms are widely available for no cost on campus, provided in many student dorms, given at the Health Center, and through Peer Health, a campus group committed to promoting student well-being. 
In the last two years, information regarding reproductive health care has been part of the programming of first-year orientation by Sexpo, an online expo conducted by student groups that discusses and answers questions related to sex, reproductive care, birth control, consent, and STIs/STDs. "It has been pretty popular these past few years: anywhere from 30 to 60 or 70 students," Sporbert said. "When we did it in person, not very many people showed up, so I think we are planning on keeping it a virtual program." When asked why this information is not made mandatory for first-year students, Sporbert said, "The process of making things mandatory during First Days is a hellish process." 
Tenerowicz said she thinks that the lack of mandatory sexual health programming makes information inaccessible to first-year students and that the Health Center does an inadequate job of promoting the information about reproductive health care on campus. 
"I feel like the school has left a lot of the burden on student groups to put out info about contraceptives, which I like doing, but they're ultimately the ones with the resources," she said. "I think in an ideal world they would include that [information] in First Days, and then have concrete systems that's like, if you are getting [a certain procedure], here's where you can go and here's how we can get you there."
The Record hopes to continue reporting on reproductive health care at and around the College. Those with information are encouraged to contact the Record through its anonymous tip form or by emailing [email protected]. 
Correction: A previous version of this article incorrectly stated that the student with endometriosis went to the Health Center to ask about getting an IUD. The student already had an IUD and went to the Health Center to discuss whether keeping the IUD with endometriosis would create any health risks.