Community responds to leaked Supreme Court draft opinion that would overturn Roe v. Wade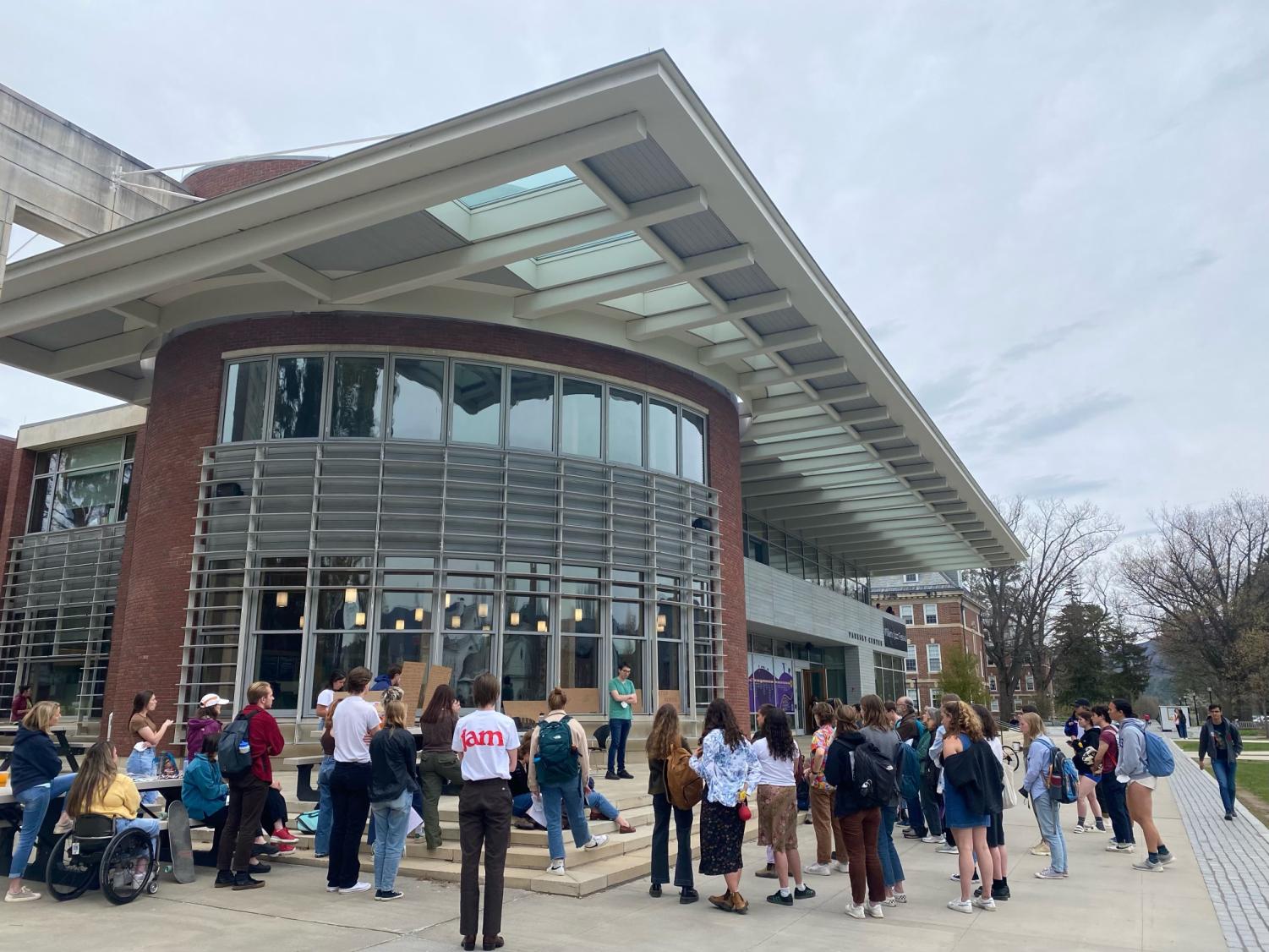 On Friday afternoon, a group of around 50 students and Town residents gathered on the steps of Paresky Center to demonstrate support for abortion rights and take action to protect reproductive freedoms.
An initial draft of a majority opinion in which the Supreme Court would vote to overrule the precedent set by Roe v. Wade was leaked to Politico earlier that week. Roe v. Wade, a ruling from 1973, struck down several laws criminalizing abortion to enshrine the constitutional right to abortion. When Roe v. Wade is officially overturned, the legality of abortion will be determined by individual states, 13 of which have "trigger laws," which would immediately ban abortion once the precedent is overturned, and 19 other states that are likely to significantly limit abortions.
This was the first-ever leak in the history of the Supreme Court, and the contents of the draft prompted public outcry from elected officials, reproductive rights advocates, and several members of the College community.
In response to the leak, some students attended a gathering hosted by the Berkshire Doula Project (BDP), a student organization that advocates for reproductive rights on campus, on Thursday. BDP is a student organization that promotes reproductive health and trains members to be "doulas" who provide informational and emotional support to people during and after getting an abortion or IUD.
"Members of BDP were alarmed and enraged by the leaked Supreme Court ruling, as were many other people on campus," Chair of BDP Gates Tenerowicz '23.5 wrote in an email to the Record. "We felt that as an organization of doulas who provide emotional support during challenging times, the best way to respond to the draft was to do just that."
The BDP's gathering provided students with the opportunity to "process the news in a safe environment and collaborate on ways to act," Tenerowicz said. Because students who want space to process this news have been busy with schoolwork and other commitments, it was meaningful to dedicate a time and place to reflecting upon emotions, she said.
The next afternoon, for a final project for a class on artistic engagement with activism and political causes, Arden Fluehr '25 asked people with uteri to stand on Paresky's front steps with their mouths taped shut. The silent protesters were intended to catch the attention of passersby, who were welcome to tape their mouths and join the original group of protesters. Throughout the protest, Fluehr handed out informational pamphlets about Roe v. Wade to observers.
"One thing the government is trying to do is silence women — silence their rights," Fluehr said. "A lot of protests are very loud … but I wanted to be more artistic with my approach."
A few hours after Fluehr's project, a demonstration on Paresky's front steps was organized by members of several clubs at the College, such as the Young Democratic Socialists of America (YDSA), EphVotes — the College's civic engagement club, BDP, Peer Health, and the Feminists Coalition (FemCo). Attendees from both the College and the Town listened to student speeches and wrote letters to Gov. Charlie Baker that asked him to make Massachusetts a reproductive health sanctuary state, which would ensure that residents of other states could legally seek abortions and other care within the state. Demonstrators also had the opportunity to sign a petition demanding that the Thompson Health Center provide abortion medication on campus, to register to vote, and to express interest in attending a reproductive rights protest in Boston next week.
Emily Axelrod '25, one of the event's organizers and a YDSA member, told the Record that she hopes advocating for abortion rights would allow attendees "to feel a little less hopeless and like they have something to do."
For Axelrod, this activism is personal, as she sees reproductive justice as entwined with her family history. A month before Axelrod's great-grandmother passed away, she confided in Axelrod's grandmother that she had an illegal abortion before Roe, marking the first time she ever told the story. "She really wanted a daughter," Axelrod said. "But they lived in a one-room house and she didn't have the time and resources. And so she went from New York to New Jersey and got an illegal abortion, and took it almost to her grave."
"I am really worried about returning to a world like that one, where people had to put their safety at risk to ensure their futures and their family's futures," Axelrod said. "That's already a reality in so many states across the country, and it's only going to increase — and that's really scary."
Like Axelrod, YDSA organizer Emma Nathanson '25 emphasized the personal nature of the issue. "For so, so many years before Roe and so, so many years after, plenty of people in Wisconsin couldn't access an abortion," Nathanson said of her home state. Wisconsin is an "abortion desert," meaning that the majority of abortion clinics are located in major cities and that it can be difficult to travel out-of-state to access one, Nathanson explained.
Nathanson then encouraged the attendees to support the BDP, which she said, in the wake of the leak, is hoping to train people to provide emotional support when someone they know has to take abortion medication. Specifically, abortion pills will become a more common way to perform abortions "if and when Roe is overturned," Nathanson said.
"When we talk about abortion medication in the future, as it becomes the future, we recognize that although it may be easier and we're so thankful it exists, there are side effects … for people to endure that are not necessary with surgical abortion," she said.
Charlie Nicholas '25, who heard about the event through social media, decided to attend because he found the potential consequences of the leaked draft to be "fundamentally upsetting," he said. "The rights of so many Americans are compromised."
Annie Art, a Williamstown high school student, heard of the event through social media and by word of mouth and attended with her friend and mother. "It feels more important than anything else I could be doing with my Friday afternoon," she said.
Art's friend and fellow Town resident Ella Budington agreed. "It's something that affects most of the population in the U.S.," she said. "I don't know why people are so up in arms about what women do with their bodies."
Town resident David Rempell attended the event and expressed outrage at the recent developments at the Supreme Court and the figures behind it. "It's an issue, as was stated [in the speeches], that affects everybody," he said. "It's an abomination what's taking place in this country — that women will not have control over their body that abortion provides. It's horrendous. I feel a little guilty that it's more [the older] generation of people who are making the decisions and are taking abortion away."
His friend and fellow Town resident Carolyn Agostini shared this outrage. "Why would we let anyone take care of our body and our healthcare decisions?" she asked.
Despite the heavy subject matter discussed at the demonstration, Rempell said that the event left him hopeful for the future. "People [need to] have hope and get involved," he said. "That's why it's great to see you guys here today getting involved — because it's going to be up to [the younger] generation."