Increased enrollment, delays prompt student concerns over general housing lottery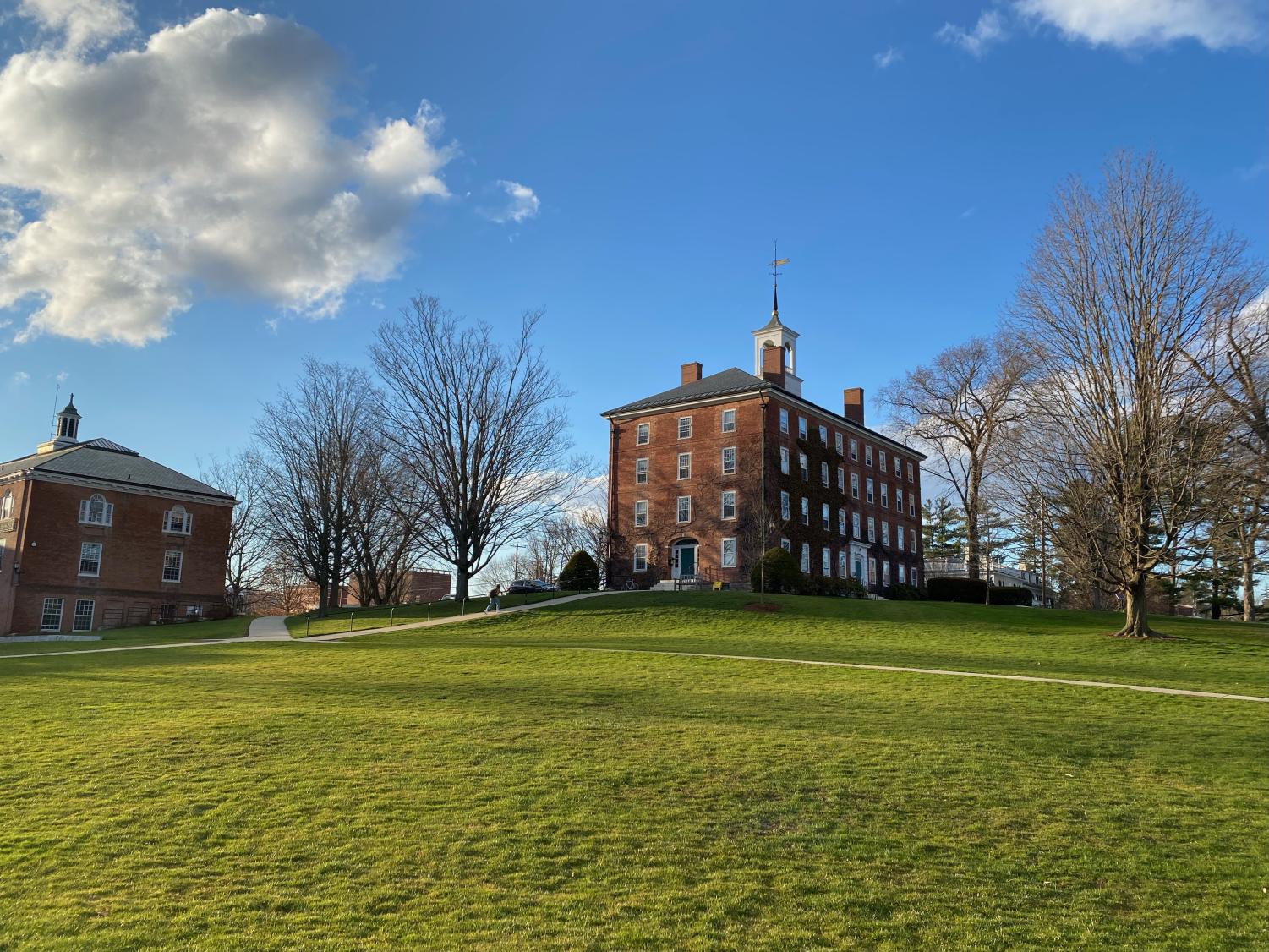 The general housing lottery has been delayed — first from May 3 to May 5, and now indefinitely — according to two recent all-campus emails from the Office of Campus Life (OCL). The postponement is the result of an "unexpected increase" in the number of students who accepted spots in the Class of 2026, according to OCL's May 3 email.
"The general lottery was postponed out of an abundance of caution," Director of Residential Life and Housing Patricia Leahey-Hays wrote in an email to the Record. "With the additional students in the incoming class, we wanted to take the additional time to ensure that if a building's use needed to be shifted from use for upper-class students to first-year students, that we knew that now, and adjust accordingly."
College works to accommodate larger expected student population
Behind the scenes, OCL — in conjunction with the Office of Accessible Education (OAE), the Dean's Office, admissions, and facilities — is working on a plan to ensure adequate housing for all students next year, according to Dean of the College Marlene Sandstrom.
"There's a large meeting of all the campus partners that do work related to housing on Wednesday [May 11]," Sandstrom said in an interview with the Record. "We hope to have a pretty firm plan in place by the end of the week."
The source of the upheaval, according to Leahey-Hays, was a sudden fluctuation in the school's yield for the Class of 2026, which had remained steady — and within predicted bounds — until a significant increase in student acceptances on May 1, which was prospective students' last chance to accept their offer of admission.
"Our admission program, like all of its peers, uses extensive data and modeling to determine how many offers to extend in order to yield a new class of students," Sandstrom wrote. "Our models have worked extraordinarily well over the years … [but] as predictive models, they are not 100 percent perfect."
Dean of Admission Liz Creighton '01 noted that the College's recent change to the financial aid program was one factor among others that may have affected yield rates.
Due to the last-minute surge in accepted offers of admission to the Class of 2026, the number of incoming first-years currently stands at around 600, according to Sandstrom. She noted that this number is expected to decline to roughly 580 by the fall as students elect to take gap years or recieve offers of admission from other institutions' waitlists.
The Class of 2026 is predicted to be around the same size as the Class of 2025 — a cohort whose unprecedented size likely contributed to burdens on housing and dining throughout the fall. The enrollment total for the 2022-2023 school year will likely be slightly higher than for 2021-2022, assuming OCL's estimate holds true.
Amidst general lottery anxieties, students increasingly rely on alternatives
For the past two years, there have been multiple delays and complications to the general lottery process, coinciding with an increase in the number of students who seek alternatives to the general housing lottery. According to Leahey-Hays, for the 2022-23 school year, 422 spaces (approximately 30 percent of beds) were taken by various housing alternatives such as TAPSI, accommodations, HCs, and their respective pull-ins prior to the general lottery.
In February, OCL received more than 140 applications for 33 Housing Coordinator (HC) positions — a modest increase compared to the past few years, yet one that is significantly more than the annual average of 70 applications received before then.
Greer Ingoe Gerney '25, who will be a HC next year, initially considered applying for HC because she thought the role would be a good leadership position, and she wanted to be more involved with community-building. Part of her decision to apply, however, was influenced by the housing security the position offered, she said.
"I found out about the housing benefits of getting a single and being able to pull your friends in, and I had heard about the mess that was housing last year," she said. "So that did have some impact on my decision to apply, although I think I would have applied for other reasons ultimately."
Along with record numbers of HC applications, the College has also seen a surge in applications for housing accommodations. This year, 274 students applied for accommodations — more than twice the number who applied for the 2021-2022 school year — according to Leahey-Hays.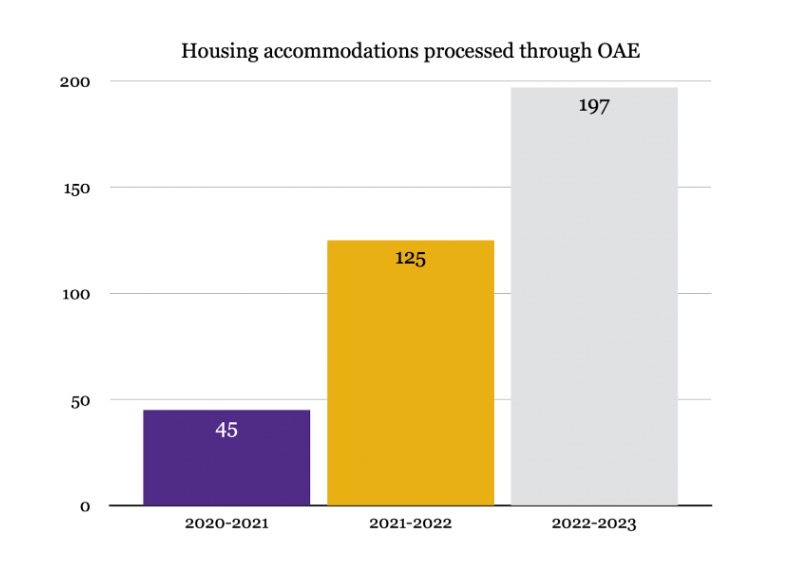 Of the 274 applications for accommodations, 197 applications were submitted for disability, medical, and physical reasons through OAE, Assistant Director of Accessible Education Ky Gerbush told the Record. This marks a significant increase from 125 it received in 2021, and the 45 requests from 2020, Assistant Director of Accessible Education Ky Gerbush told the Record. The remaining 77 applications for accommodations were requested for Title IX, logistical, or unspecified reasons that are handled outside of OAE.
Gerbush said that student uncertainty about the housing lottery accounted for a large part of the rise in housing accommodation applications. "Coming out of COVID, as we have over-enrollment and a lot of student anxiety around going back into housing and not knowing what that would look like, I think it brought up our [accommodation request] numbers," Gerbush said.
Gerbush stressed that the increase in housing accommodation applications was not due to students taking advantage of the system, but due to a genuine need. "I think some of this larger narrative about the system being abused is because people at Williams feel really uncomfortable about talking to their peers about the disabilities… and needs that they have," she said. "I don't think that there's abuse of the HART system right now. I just think it's really, really tough to be a college student."
Gerney echoed Gerbush's sentiments about the housing system contributing to the stressors of college life.
"I think housing is something that is so stressful, but it seems like the administration doesn't think that that should be something that's stressful to us even though it is such a big part of our time at Williams," she said. "It matters where you're living and it matters if you get to live with your friends or if you get to live alone. That's something that people care about — and that should be important to the College."
Students report lack of knowledge about lottery timing, room availability
A few hours before the already-delayed housing lottery was set to begin on May 5, OCL announced that the lottery would be postponed once again. This time, students were not provided with an anticipated start date. Instead, OCL wrote that it was a "top priority" for them to hold the lottery before finals and that they hoped to release an update on timing by the next day. At the time of publication, no follow-up has been sent.
The sudden nature of the postponement announcements, along with the lack of a follow-up, has prompted confusion and rumors among the student body. "I think that generally housing should just get better as you go along, but it seems like for a lot of folks, it's going to get worse," Gerney said about students' speculations of potential housing changes. "It sounds like there are going to be triples and people who had doubles first year are most likely going to have doubles second year. It seems like even juniors are going to have a hard time in some situations."
Other students also noted the lack of information from the College. Taylor Braswell '23 and Sarah Dean '23, the co-presidents of this year's JA class and next year's Junior Advisor Advisory Board (JAAB), said that JAAB has received no communication from the administration about their plans for first year housing next year.
Annie Gustafson '24, who will be an HC next year, noted that the uncertainty and confusion were likely the result of external factors. "There are a lot of things that are out of the College's control, like yield and enrollment numbers for freshmen," Gustafson said. "That might just be how the state of housing is at the College right now."
Flex doubles and other changes to room usage
Sandstrom emphasized that the College has more than sufficient housing to weather the expected increase in enrollment. "We have enough beds to house all students, including a slightly larger class," she said. "We like to have some buffer space."
While housing supply remains adequate to house all undergraduates, student concerns persist regarding housing quality. Current upper-class students have lived on campus during relatively lower enrollment levels, and all lived in singles during the 2020-2021 school year. Now, many students believe that high enrollment for both the Class of 2025 and the Class of 2026 is set to affect the number of available single rooms, which many students see as more desirable.
In order to accommodate more upper-class students next year, OCL announced in an email on Feb. 21 that the number of flex-double rooms — rooms that are large enough to be doubles but serve as singles if space allows — would increase from 45 to 120, thereby reducing the number of singles on campus.
However, Sandstrom stated that while she hopes flex-doubles may be converted back to singles in future years, the College is not prioritizing an increase in the number of dedicated singles. "Williams has historically had many more singles than any of our peer institutions," Sandstrom said. "I don't think we're looking to increase the number of singles beyond what they have been traditionally… But whether we can get back to using flex spaces as singles rather than doubles — I expect that we'll be able to do some of that after we get through the COVID-related asymmetries in class size."