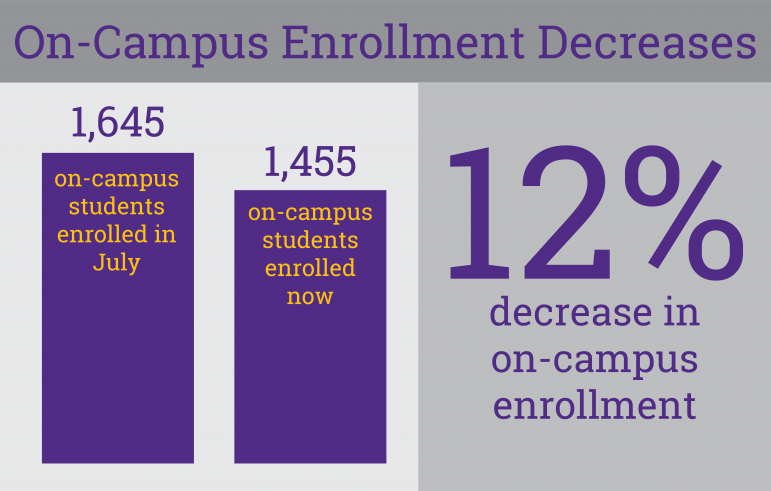 According to Dean of the College Marlene Sandstrom, the number of students currently residing on campus is approximately 1,455. That number is down from July, when enrollment data from the College administration showed that an estimated 1,645 students would return to campus for the 2020 fall semester. Students were asked to submit an intent-to-enroll form by July 10, which included a section to indicate remote or on-campus enrollment. 
Because the College changed many of its policies after students made enrollment and housing decisions, the changes may have had an effect on the number of students who decided to enroll in-person on campus. Under normal circumstances, the College has an on-campus undergraduate student population of approximately 2,000.
Between July 15 and July 21, Senior Associate Dean of Campus Life Doug Schiazza released a series of broad updates regarding housing, transportation, storage and other aspects of campus life.
On Aug. 6, Sandstrom sent out a comprehensive email explaining many changes and new protocols for the fall. The subject of initial quarantine was addressed in detail for the first time, in addition to limiting student movement around campus and within Berkshire County throughout the semester. Rather than a 24- to 48-hour quarantine as previously supposed, Sandstrom's email informed on-campus students that they would remain in initial quarantine for a minimum of five to seven days, until they received two negative COVID-19 tests.
After students were first required to submit an intent-to-enroll form in July, the Record reported on correlations between students' decision to return to campus and a number of factors such as financial aid status, class year, domestic or international status, athletes or non-athletes and race/ethnicity. Overall, Sandstrom expressed awareness of the reality that the on-campus student population would be less racially and socioeconomically diverse this semester. At that point in the summer, approximately 1,645 students had signaled their intent to enroll in person.
According to Sandstrom, of the approximately 1,455 students on campus, 12 are in the Master of Arts graduate program. Since July 10, then, approximately 200 students have changed their plans away from studying on campus. Sandstrom did not specify what proportion of those students decided to shift to remote learning as opposed to unenrolling altogether.