College scrambles to keep up as larger on-campus population disrupts dining, housing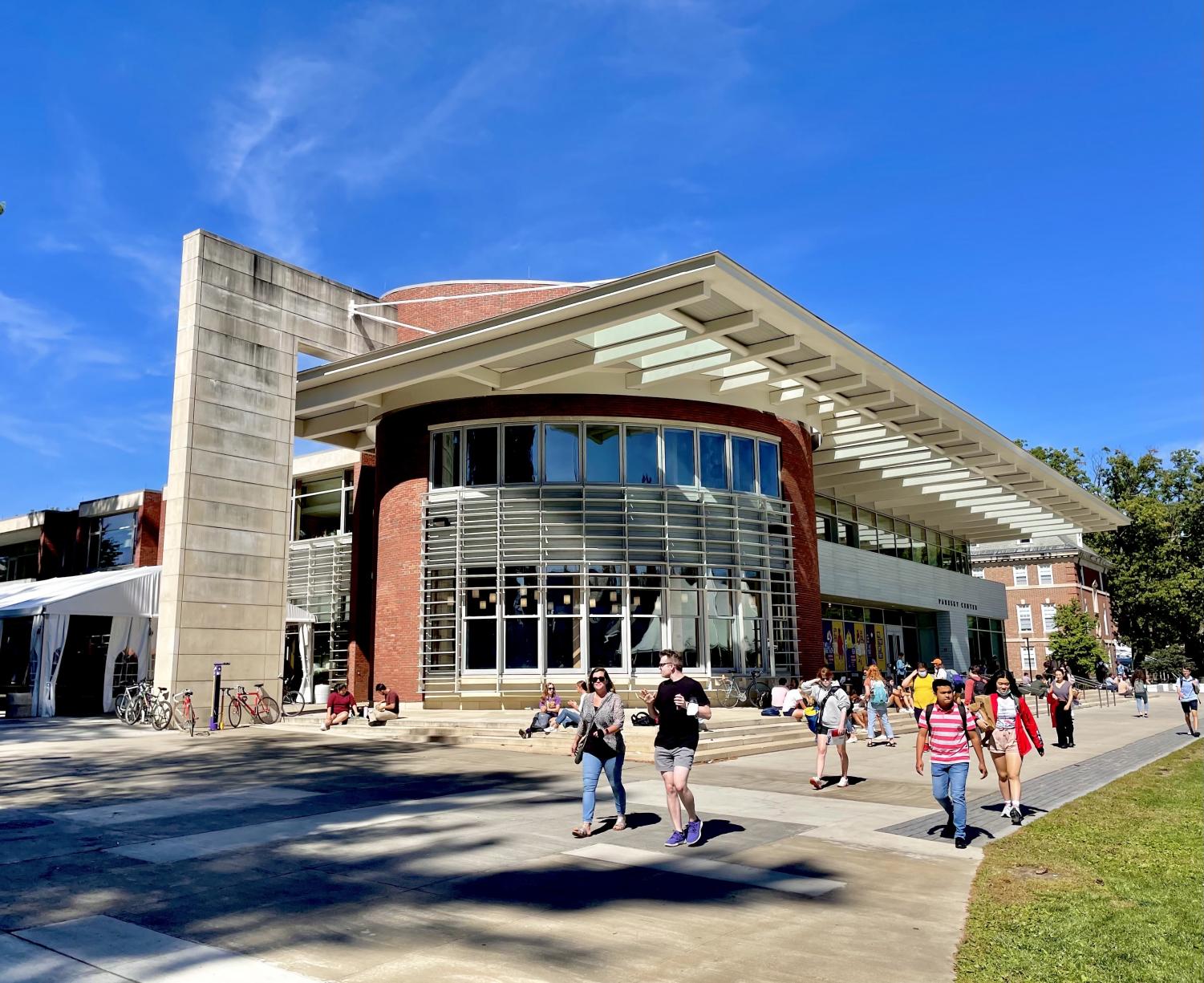 ​​After noticing a shortage of available forks during meal times, Bella Nadel '24 started bringing her own fork to the dining hall. 
"There are some foods that you can eat with a spoon just fine," she said. "But for me, having to eat spaghetti with a spoon was the last straw." 
A lack of silverware, longer dining hall lines, and a shortage of caps and gowns for seniors participating in Convocation: The first few weeks of the academic year have been marked by logistical challenges, caused by shipping delays, the national labor shortage, and an especially large on-campus student population.  
According to Associate Director of Institutional Research James Cart '05, approximately 2,130 students are enrolled this semester, a figure 115 students higher than the average fall enrollment between 2016 and 2019. This fall's numbers differ even more starkly from the tally last fall, when only 1,455 students were enrolled as on-campus students. Last fall's enrollment total, including students studying remotely, was 115 lower than the average, meaning a total of 230 more students are enrolled this semester compared to last fall. 
Several factors have contributed to this semester's unusually large on-campus student population, including the effects of the COVID-19 pandemic on study-away programs as well as the presence of students originally in the Class of 2021 who took time off during the pandemic and have now returned to campus.
According to Director of International Education and Study Away Christina Stoiciu, the number of students studying away this semester has decreased from the typical average of 130 students to 106 for the semester, partially due to limitations on programs. Southern-hemisphere programs are not operating, Stoiciu said. 
Dining Services grapples with increased number of meal plans, labor shortage 
Director of Dining Services Temesgen Araya acknowledged in a Sept. 17 all-campus email that students had been experiencing "longer meal lines and fewer food choices" than normal.
Challenges come as Dining Services grapples with regional and national labor shortages, Araya wrote. In addition, Dining is supporting around 300 more meal plans this fall than during a typical semester. "We usually have 1900 meal plans purchased," Araya wrote in an email to the Record. "We are approaching 2200 this semester," he said, noting that assistant coaches and area coordinators are on meal plans in addition to students.
To address these problems, Dining Services has opened Mission Park Dining Hall for additional meal periods and increased order capacity on the GET app — the mobile meal ordering system Dining Services uses — among other initiatives.
However, students say these changes have not yet had a positive impact.
"I think the lines have been unusually long, especially this year when there are significantly more kids on campus," Dia Keita '24 said.
Araya said that the opening of Mission for brunch and dinner on Sunday has alleviated some of the demand for Whitmans' and Driscoll. The lack of forks, he noted, was a result of logistical difficulties with dishwashers and shipments of new equipment.
"We served 900+ meals out of Whitman's for brunch [on Sept. 12, before Mission opened] and served 575 [on Sept. 19], with Mission serving 322 and Driscoll 166," he wrote to the Record. "So it seems so far like the change has helped balance meals served across campus."
Even so, the line of students waiting to swipe into Whitmans' still frequently wraps around Baxter Hall — sometimes all the way to the mailroom — during peak meal times.
"It's only been a few days [since the dining reforms] — maybe it'll change more, but I don't really see any changes [right now]," Brian Lavinio '24 said.
Despite the long waits in the dining halls, Nadel said she is thankful for the work that the dining staff has been doing. "I can't imagine how difficult it is with the labor shortage, but I know we all really appreciate it and it's not going unnoticed," she said.
College's overflow housing
As the 2021-22 Housing Lottery drew to a close, Justin Piccininni '24, one of the last students at the College to pick a room, noticed that there were more students left to pick than there were available beds.
Luckily, shortly before his turn to pick, Piccininni noticed that several rooms in Thompson Hall — a dorm that had originally not been open during the lottery — had just been made available.
"I remember Thompson opening up on the sheet maybe five to 10 minutes before I picked," Piccininni wrote in an email to the Record. "Before then, I really had no clue where I was going to end up."
Chelsea Zhang '24 had been keeping track of room availability during the lottery before her pick time, which was around 5 p.m. on the same day as Piccininni.
"At 3:00 or 4:00, it was like, 'There are a lot of [pick] numbers left, and there's no way there's enough beds left,'" she told the Record.
According to Schiazza, Thompson had been mistakenly included in the Residential Life and Housing (RLH) team's initial calculations of on-campus housing but wasn't included as a housing option at first.
"We had intended to keep it offline for the entire year, possibly using it for [quarantine or isolation] housing in the fall if it were needed, due to an elevator construction project scheduled to begin in the spring of 2022," Schiazza wrote in an email to the Record.
The RLH team identified the mistake near the end of the lottery, so "the decision was made then to open it up for the fall semester so that every fall semester student would have a bed," Schiazza wrote.
For the spring semester, however, Thompson residents must relocate to new housing. The College will take the dorm offline next semester as the College aims to complete the Thompson elevator project during the spring and summer of 2022, according to Schiazza.
"Opening Thompson potentially prevent worse problems, like triples, from happening," Residential Director Irfan Durmić '22, who is responsible for the area of campus that includes Thompson, told the Record.
Bookstore runs out of caps, gowns for Convocation
When Rachel Horowitz '22 went to the Williams Bookstore to pick up her cap and gown for Convocation, the bookstore offered her two options: one that was five inches too tall for her, and one that was five inches too short.
Horowitz, who is 5'4, had pre-ordered through the bookstore, but the bookstore had run out of gowns in her size. "I had to get a 5'9 [gown], or my other option was 4'11," she said.
"Because it happened to so many girls who had these enormous gowns, it wasn't like I stuck out [at Convocation]," she added. "But [the gown] was huge."
Although Sophia Sonnenfeldt '22 thought the bookstore would have a sufficient supply of caps and gowns available for pickup, they had run out of all supplies before she could get them. "I got up early on a Saturday … and I walked down to the bookstore and stood in line," she said. "There was a huge line out the door on Saturday morning. Many people … got there at 8:45, [though the bookstore] was supposed to open at 9:00."
According to Williams Bookstore manager Richard Simpson, the store had an "unprecedented response" to caps and gowns for this fall's Convocation, and the store had to re-order Convocation attire. "Our re-order of regalia didn't arrive until after the ceremony," Simpson wrote in an email to the Record.
Simpson also said that the bookstore will meet with the College Marshall and Convocation and Commencement administrators this week to discuss the issue. "Any seniors who put in a request will have it fulfilled or size exchanged as needed," he wrote.
Although Sonnenfeldt had been looking forward to attending Convocation, she said that not obtaining a cap and gown, among other factors, influenced her decision to not attend the event. "I was like, 'I've spent four years here, that's something to celebrate, I want to go…' and I didn't get a cap and gown," she said.
"It felt like a confluence of all these different things: there not being enough forks in the dining halls, not enough caps and gowns," she said. "And then I was upset and I didn't really want to go."
Emily Kuwaye contributed reporting.