A nonner slides (and falls) into the world of PE classes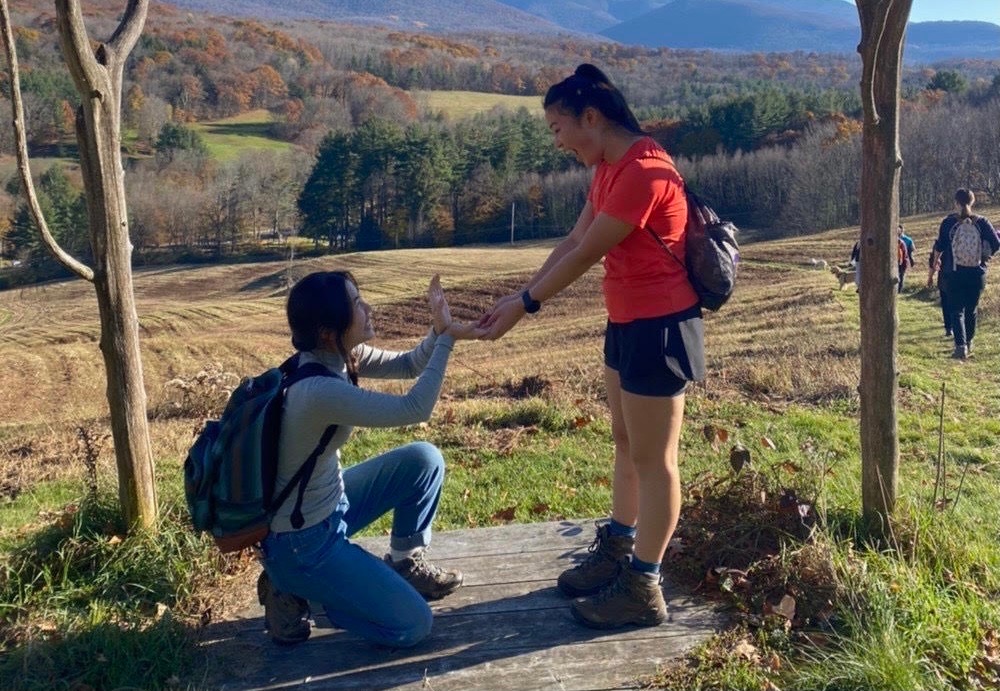 It's 1:10 p.m. on a Monday, and Lansing Chapman Rink is bustling with activity. Fifteen non-athletes roam the ice in helmets and hockey skates. Some gracefully skate backwards, while others desperately cling to the side of the rink. Every now and then a loud thud interrupts the Fleetwood Mac playing from the broken speakers: Another student has fallen.
I was one of the lucky few to join the "Learn to Skate" class this quarter. On Day 1, I was shocked to find peers with experience beyond annual elementary school birthday parties. Felix King '25 was already doing hockey stops while I shuffled awkwardly around the rink. Varya Kluev '25 practically landed a triple axel within the first five minutes.
But my fellow newbies and I slowly improved. My friend Julian Spiro '25 got a little too confident practicing crossovers one day and smashed his face in the ice (athletically, of course). He may or may not have fractured his nose. Spiro declined to comment on the incident.
I, too, have had my fair share of bruises — only because I did not have a stick to balance myself, like those lucky hockey players — but have found myself more and more comfortable on the ice with each lesson.
"Learn to Skate" — tellingly not just named "Skating" — is one of the many Physical Education (PE) options available to non-athletes (a.k.a. "nonners") who must prove to Williams College that we, too, are capable of mild exercise.
The stated goal of the PE requirement is to "encourage students to develop lifelong healthy habits," according to the athletics department website. Bill Kangas, head coach of men's ice hockey and "Learn to Skate" instructor, sees PE as an opportunity for students to have fun.
"It's a break from the day, and a great place to mingle and socialize," Kangas said.
Lizzie Lappin '25 said that her first-quarter yoga class did just that. "I was a little intimidated by the prospect of doing yoga two times a week — especially because I had not really done much yoga before — but it ended up being a great way to meet new people, especially as a freshman," she said.
Like "Learn to Skate," yoga class included PE-ers of a wide range of abilities, from certified yogis to those barely able to touch their toes. "No one took themselves too seriously," Lappin said. "No one was judging how deep someone else's downward dog was or how long you could hold your tree pose."
Yoga is one of the more high-profile PEs, mostly because the burden of lugging around a yoga mat all day prevents the class's participants from keeping up the same "may or may not be an athlete" persona that other PE-ers may maintain. Marching up Spring Street struggling to carry a constantly unraveling yoga mat and an awkwardly-sized block immediately identifies you as a nonner.
But there doesn't have to be shame in the nonner lifestyle. A "Muscle Fitness" PE-er, dripping in sweat and rushing out of Lasell for fear of interacting with an ever-mysterious "lift" session, may give a sympathetic nod to another PE-er on their way to the Wellness class in the offices above Pappa Charlie's.
Hannah Yoon '25 was a member of the first-quarter yoga class and has since learned the ways of the PE universe. Missing her dogs at home, Yoon had her eyes on "Hiking with Dogs" going into second-quarter PE registration. She refreshed the Student Records System frantically and ultimately secured her spot in the class.
"I was worried it would be super competitive to get into — that I would have to submit a statement of interest or something," Yoon said.
The class has since been a big success. Yoon said she looks forward to her weekly hikes with faculty dogs, and even staged a fake proposal to a friend at a particularly beautiful spot on one hike.
For those PE-ers who are yearning for a hike but are potentially allergic to or scared of dogs, there's hiking with the Williams Outing Club, which Luke Chinman '25 is in this quarter. "[The class] is a way to embrace the Williams College experience — to get out there and explore the hiking trails," he said.
Indeed, the PE requirement encourages students to step outside of not only the campus boundaries but also their comfort zones. Most classes are aimed at beginners; the "Ballet I" course description stresses that "EVERYONE is welcome!" Kangas, for his part, said his favorite part of "Learn to Skate" is seeing someone "go from maybe not ever skating in their whole lives to being able to move and feel comfortable."
One PE class, "WOC Sampler," even allows students to try a different WOC activity each week — one meeting may be dedicated to canoeing and the next to rock climbing.
The general flexibility of the PE program furthers this risk-taking mindset, with instructors permitting students to miss at least one meeting and still obtain credit.
One week, Chinman skipped his class's 9 a.m. hike because he had been at a Taylor Swift listening party the night before. But Chinman didn't miss out on any exercise; it ended up raining that day, and the class was unable to go on its usual hike. Instead, the group took a trip to MASS MoCA, where the PE-ers enjoyed College-subsidized hot chocolate.
So, in the end, does the Williams universe always reach this equilibrium — with athletes at sports practice and nonners walking the halls of MASS MoCA? Well, not necessarily. The world of PE suggests otherwise. It turns out nonners, in our own way, can exercise too.