Students come forward as College continues investigation of Wood House party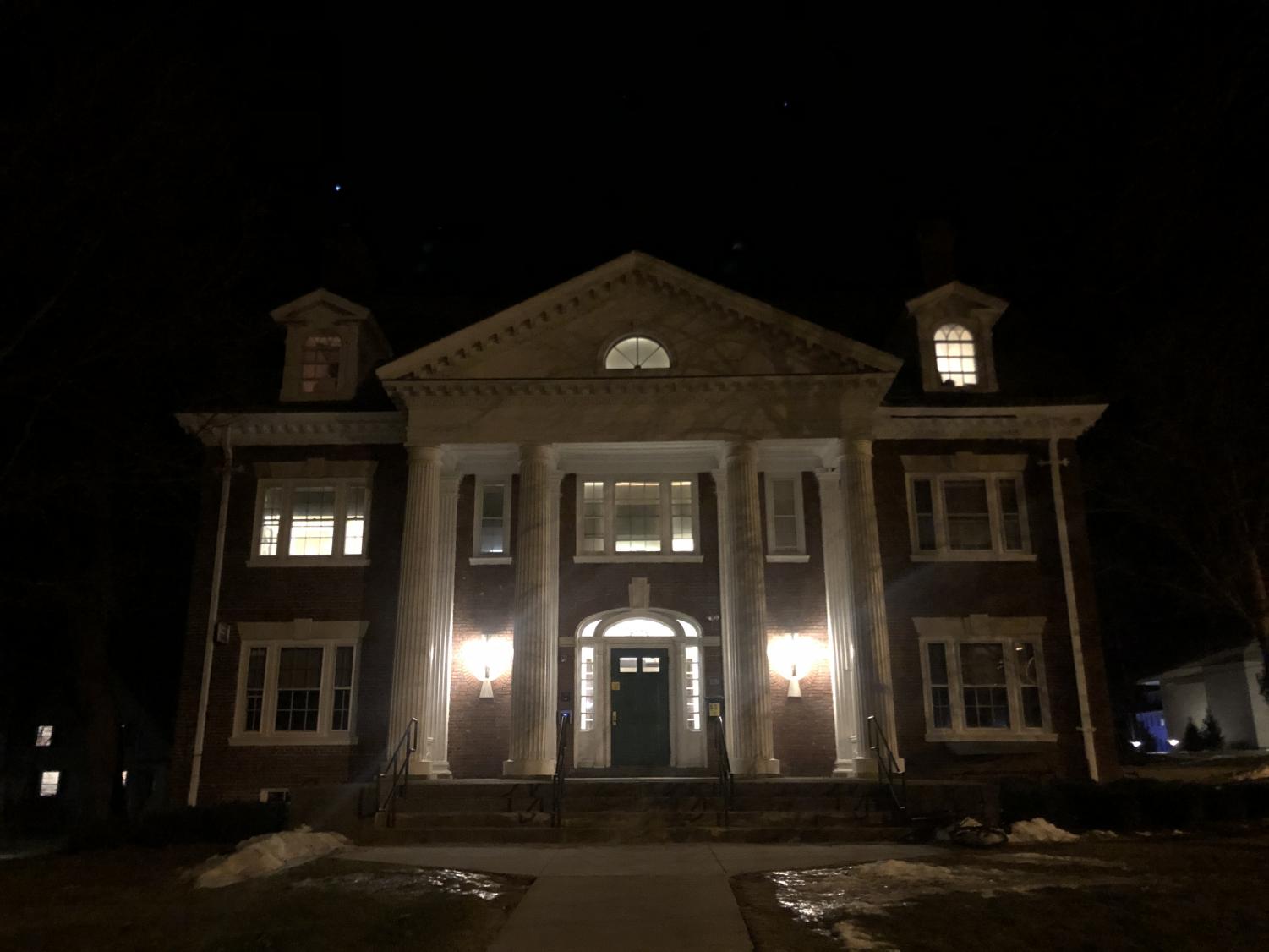 Following the illicit gathering of an estimated 80 to 100 students at Wood House on Friday, Campus Safety and Security (CSS) has begun to identify students who were involved. A number of students have come forward to the administration to admit that they attended the party, according to Dean of the College Marlene Sandstrom. No students have been officially asked to leave campus yet, but they will receive directions to do so from the Dean's Office soon, Sandstrom said.
Sandstrom did not provide a specific number of students who had come forward, citing the fact that "communication is still ongoing." 
The Record has not interviewed anyone who attended the party, but it has spoken with several students with knowledge of the gathering. Ilana Albert '21 and Aspen Pierson '21.5, the co-captains of the women's soccer team, told the Record that all members of the women's soccer team who were involved in the party have come forward to the administration. (Albert and Pierson said they did not attend the party.)
"We're very proud [that they all came forward]," Albert said. "And that's something we want the community to know."
The Record can confirm that several other students not on the women's soccer team have also admitted their involvement to the administration, including some members of other varsity athletic teams.
Six residents of Wood House, who said they weren't involved in the party, spoke with the Record on the condition of anonymity out of fear of social backlash. Some said that Friday's party was one instance in an ongoing pattern of illicit gatherings at Wood House, to which they believed the College's response has been inadequate. Others expressed dismay about the vitriol they have received as residents of Wood, despite not having attended the party. 
As the on-campus community responds to the event, many in-person classes, practices, and rehearsals were temporarily moved to a remote format to mitigate the potentially increased risk of COVID-19 transmission.
'Everybody's inviting everybody': More details about the party emerge
On the day of the party, a Wood resident (who said they did not attend the party) heard someone down the hall speaking on the phone, they told the Record. 
"He was like, 'Yeah, it's gonna be great. Everybody's inviting everybody. We're gonna have a good time,'" the resident recalled. "I remember mentioning to the pod, 'Today is probably going to be the day CSS gets called, because it sounds like there's going to be a lot of people.'"
That night, CSS officers were indeed called to Wood House, but not because of noise complaints or reports of a party. Instead, according to Director of CSS Dave Boyer, two officers were dispatched to Wood after several door malfunction alarms were activated. The officers arrived at the party at 12:23 a.m. on Saturday and found an estimated 80 to 100 students inside Wood, many of them maskless and most interacting in close quarters.
A Wood resident who said they were not involved in the party said they saw approximately 50 people on the first floor alone, while Boyer confirmed that the party "was on all floors of Wood House." Wood has three floors and a basement.
According to a CSS report, students quickly dispersed upon seeing the officers, "some running directly into officers in their panic." The report also stated that a beer pong table had been set up in a common area.
The officers did not identify any students at the scene, Boyer said.
Several residents of Wood House who said they did not attend the party discussed the challenges of being associated with Friday's event. "It is wildly frustrating and upsetting to be automatically implicated in the pernicious rumors that have been circulating throughout campus," one student said. 
"I have not enjoyed receiving hateful glares by those who have contrived wholly unfounded assumptions about my involvement as a resident," they continued.
Another Wood resident said they were "equally as appalled at the events in Wood on Friday night" as other students on campus. "I immediately took steps to distance myself from the large first floor gathering and was upstairs for the duration," the student said. "While I can understand the frustration from other campus members, I can say with certainty that a majority of Wood residents, myself included, recognized the danger of the situation and played no part in the large downstairs gathering." (The Record could not independently verify the percentage of Wood residents who attended the party.)
Sandstrom also expressed concern about the potential stigmatization of party attendees. "Students who [attended the party] will face the consequences of having made a bad decision," she said. "But making a bad decision does not make someone a bad person."
"I hope the campus can lower the temperature on the rhetoric, avoid drawing conclusions without full facts, and allow for individual members to make mistakes, face the consequences of those mistakes, and learn from them with grace," she added. 
College continues investigation
Sandstrom told the Record on Tuesday that "there have been a number of students who have come forward to acknowledge that they were at the gathering at Wood House." She declined to provide a specific number, citing the fact that "communication" is ongoing.
"None of these students has yet received an official letter from the Dean's Office explaining consequences yet," she said. "That will be happening soon. As described in our COVID guidelines, students who attend a large gathering will be required to transition to remote learning."
As the investigation proceeds, "CSS is working with access records, several witness statements, team rosters, numerous phone tips, [and] invites to the party," Boyer said.
Sandstrom and Boyer declined to answer whether the College will use Wi-Fi data in order to track students from Friday's incident. According to the Office for Information Technology, Wi-Fi data may be accessed only in situations involving legal action, College business needs, or "the health and/or safety of an individual or group." 
Boyer also told the Record that "too many people" were using CSS's anonymous tip line; instead, he encouraged students to email CSS directly with any information, photos, or videos.
"We are in the interview stage of the investigation and have been talking with students all day and evening," Boyer said on Monday. "We now have a good sense of what occurred, who invited the other students to Wood House and are now actively identifying those who attended the party."
'Breaking point': An ongoing pattern at Wood, some residents say
Several Wood residents noted that Friday's party was merely the latest in a series of gatherings that have occurred throughout the academic year at Wood House.
"I would definitely say the continued presence of parties in Wood has bred a separation between some of us folks and other folks in the building," said a Wood resident who said they were not present at the party on Friday. 
"Living here in Wood House has been exhausting since the beginning of the year, and I've been living in constant fear of contracting COVID from one of my neighbors," they continued. "And I think with this event this past Friday, that's really reached a breaking point."
On Sept. 26, CSS responded to an outdoor gathering of about 25 students between Wood House and Perry House. "The students had their masks on and they were about six feet or more from one another," the report said. The officer "simply reminded the students of the COVID guidelines."
More notably, CSS reported a 50-person gathering at Wood House on Nov. 14 involving unmasked students and a "large group" in the basement, which resulted in an investigation to identify the students who participated.
However, the November investigation did not result in any identifications or subsequent removal from campus. "CSS was not able to gather information about the individuals who were present at that gathering, [and] therefore we were not able to take any action," Sandstrom told the Record.  
Soon after the gathering, the College locked the Wood basement common room for the remainder of the academic year "due to recent incidents," according to a Nov. 18 email from the Wood House house coordinator.
Some Wood residents partly faulted the College for last Friday's party, citing the lack of serious enforcement in response to previous illicit gatherings. 
"Personally, I would just like to see some accountability," one Wood resident said. "Accountability on people who attended or people who orchestrated it. You can't just turn a blind eye because no one is coming forward."
According to multiple students who live in Wood, no one from the College administration reached out to them before Mandel's Saturday email.
During the fall, Wood House was far from the only location in which large gatherings occurred in violation of public health guidelines. On Sept. 8, an estimated 120 students gathered outdoors near Poker Flats, according to a CSS report. Other gatherings were also reported in Frosh Quad and Cole Field, among other locations. 
According to Sandstrom, a total of six students were transitioned to remote learning during the fall semester after violating the College's public health guidelines, and two of these students faced additional disciplinary processes. Sandstrom declined to elaborate on the nature of the infractions that those students committed. 
Campus responds to risk of transmission
Mandel announced in her Saturday email that the College would postpone by two weeks the planned move to Phase 2 of campus COVID guidelines, which would have allowed students in different pods to socialize indoors, while abiding by COVID safety measures.
"The change is not meant to punish the whole community, but rather as a necessary public health measure," she wrote, taking note of similar gatherings that have become "superspreader events" at other schools.
Many faculty members elected to teach their in-person or hybrid classes remotely this week or provide students increased flexibility in avoiding the increased COVID risk of in-person commitments.
According to Director of Athletics Lisa Melendy, the athletics department met on Monday to discuss its response to student and faculty concerns about practicing in person. The department decided it was safe to continue practicing "even if someone in the group were carrying the virus" due to their current safety protocols of group size limits, remaining six feet away from each other, and wearing masks, Melendy said. The department did, however, cancel practices for Monday.
"The decision about cancelling the training [on Monday] was to create the space for team conversations … about our commitment to the health and safety of our community," Melendy said. She added that practices began again on Tuesday.
The dance department also temporarily suspended all in-person activity, as written in an email on Monday. "In response to the message from President Mandel and Dean Sandstrom regarding a serious breach in campus health and safety protocols, the Dance Department will be conducting classes and all rehearsals remotely," Dance Department Administrative Assistant Emma Whittum wrote. "We will notify everyone when non-remote activity resumes after we have a clearer picture of the impact of this unfortunate event." 
Multiple on-campus students told the Record that Friday night's events and its possible effects on the community worried them. "After the party, I took extra precautions because I didn't know exactly who was there, and in reality, it could've been anyone," Gabby Gonzalez '24 said. "That just made me more apprehensive of interacting with people outside of my pod."
Gigi Gamez '22 said that she was worried that the type of person to attend the Wood party would likely be reckless in other ways as well, potentially in ways that could spread COVID to local residents. "When we live in a small town and have such a high risk of spreading COVID to Williamstown residents, it's disheartening to see the complete disregard that students have for the community by partying like this," she said.
This is a developing story. The Record will continue to report on the party at Wood House and the College's investigation. Those with information, and particularly those involved in the party, are encouraged to contact the Record through its anonymous tip form or by emailing [email protected]. The Record will not divulge your name without your consent.