Course registration period beset by overenrollment, PeopleSoft issues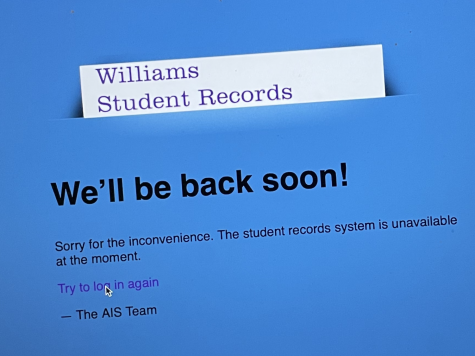 Reed Putnam '23 had his semester all planned out. He would take two architecture courses, both of which would build up towards his combined art history and studio art major, as well as two other classes that fit his interests outside the architecture track. After preregistration, he emailed all of his prospective professors to demonstrate interest. 
But then, one by one, he was dropped from each and every one of his courses. Though he was eventually readmitted to one of the four, he's now facing a spring semester with nearly none of his original preferences left intact.
Putnam was far from the only student this semester who struggled with getting into the classes they had preregistered for. According to Dean of the College Marlene Sandstrom, 991 students were dropped from at least one class, compared to 816 last spring. That number doesn't reflect students like Putnam who were dropped from more than one class, meaning that the total number of dropped classes is even higher.
In part because of the higher number of overenrollments, the registration software PeopleSoft was overloaded by hundreds of students last Monday night as regular registration opened, making matters even more difficult for those dropped from classes.
"I really wanted to take [an architecture class] because there's a chance I go abroad next year," Putnam said. "So I might not be able to take it, and then I wouldn't be able to take level two, because level one only happens in the spring."
"There's [been] so many little bumps in the road," he continued. "It seems like it's an impossible process. I didn't expect to put this much time and effort into course registration."
Sandstrom said that a number of factors likely contributed to higher overenrollment this semester. "Due to COVID constraints, our enrollment caps are lower," she explained. "Classes that are meeting in person are limited by the occupancy guidelines in the classrooms. Remote classes that are discussion-heavy are capped in order to facilitate the interactive component in a remote setting."
Additionally, Sandstrom said, around 90 fewer juniors will be studying away this spring than in past semesters, and the number of students taking time off has decreased from last semester. Combined, these factors have led to students scrambling to find new classes and academic departments struggling to accommodate as many students as possible.
History 301, the lone required course in the history major, was among the classes that were significantly overenrolled following preregistration. Chair and Professor of History Anne Reinhardt said that although the department had planned to offer only two sections of the course, enough students signed up to fill four.
"We have never had any enrollment issues like this before," Reinhardt said. "This kind of sudden demand on 301 is kind of unprecedented in recent memory."
The department arranged for a professor to teach a third section of the class to limit the number of students, especially sophomores, who were jettisoned. "We wanted as much as possible to accommodate all the students that we could," Reinhardt said. "If sophomores are excited and interested, we want them… moving towards their major."
Nevertheless, some students were still dropped, among them prospective history major Carolyn Mielke '23. Because Mielke intends to study abroad for an entire year, she was advised to take 301 this semester, but she said she'll now have to readjust her plans.
"It might impact the courses I'm able to take when I study abroad, and then if I can't earn that credit in my junior year, then I'll be stuck taking it senior year, which I didn't want to do," Mielke said. "No one [from the history department] has talked to me about recovering from the 301 loss in my sophomore and junior year, like how that's going to impact my senior year."
Sandstrom said that relevant College departments have been working to make sure that students are not unduly affected by registration difficulties, though she did not provide specifics.
"The Dean of the Faculty has been working with department chairs to ensure that they are paying close attention to ensuring that students have a path to continue through their majors," she said. "In terms of study away, Tina Stoiciu is working with students who study abroad plans have been disrupted."
Chair and Professor of Computer Science Steve Freund said that his department, too, has struggled with overenrollment, both this semester and in semesters past. "Presently, we're seeing enrollment pressures at all levels of our curriculum," Freund said. "Indeed, quite a few introductory, core, and elective classes were overenrolled by the end of preregistration."
Freund added that despite the registration crunch, he believes that anyone who wants to complete the major will still be able to do so. 
"Some may need to wait a semester before taking the next step in computer science, and all students may generally not be able to take as many computer science classes as they would like this year," he said. "Despite the challenges, we are hopeful that we have not cut off opportunities to major."
Luke Tichi '24, a prospective computer science major, faced the downside of the department's popularity; like Putnam, he was dropped from all four of his classes, including some that he would have counted toward his major. 
"It was a little bit of a shock, but I was just like, We'll see what else is out there," Tichi said. His advisor recommended that he sign up for higher-level courses in the computer science department — but those, too, were already full. 
So far, Tichi has been able to register for two courses, but even now he's struggling to find two more that remotely fit his interests. "Getting dropped from all four [classes] was enough to get me to branch out," he said. "Now it's to the point where it's like, What class can I find that is open that isn't completely out of nowhere?" 
For those dropped from their classes, the regular registration period that opened last Monday at midnight offered an opportunity to enroll in courses that were still open, although this time on a first come, first served basis. But many were foiled by technical difficulties on PeopleSoft, which crashed just as the regular registration period began. Most students who tried to add new classes were unable to do so from midnight until approximately 12:45 a.m., when the PeopleSoft servers were successfully restarted.
Lexi Poindexter '23, who had to register for a new course after she was dropped from Sociology 101, said that she was unable to add a class for over 40 minutes after the registration period began at midnight. "I would keep refreshing the page, and each time I refreshed it would still crash, and it took I think until maybe 40 minutes after 12 a.m. for it actually to be ready," she said.
"The website was unworkable," Putnam agreed. "I added classes to the cart beforehand. And that was smooth. And then, at 12:01 [a.m.], it just went completely down."
Director of Administrative Information Systems Criss Laidlaw explained that the technical troubles were caused by an overload on PeopleSoft's servers as students rushed to register for classes. "The web servers for the student system ran out of memory a few minutes after midnight on February 1st, due to the very high number of logins right at the start of spring registration," he said. "OIT was notified immediately and the web servers were restarted."
"We are analyzing what happened and, in collaboration with the Registrar's Office, are increasing resources to maintain performance during especially busy periods," Laidlaw added.
Although Putnam ended up finding his way back into one of the two architecture classes he signed up for, he said that the experience has been a frustrating one. "I like being flexible with classes, and I like trying new things," he said. "But it seems like a little too loose of a definition of a semester if I'm just taking random classes."
"I almost questioned if I even want to come back this semester," Putnam continued. "I was looking forward to it. But after I got dropped from all my classes, I was like, What am I paying for?"