Student enrollment plans suggest increased population on campus in the spring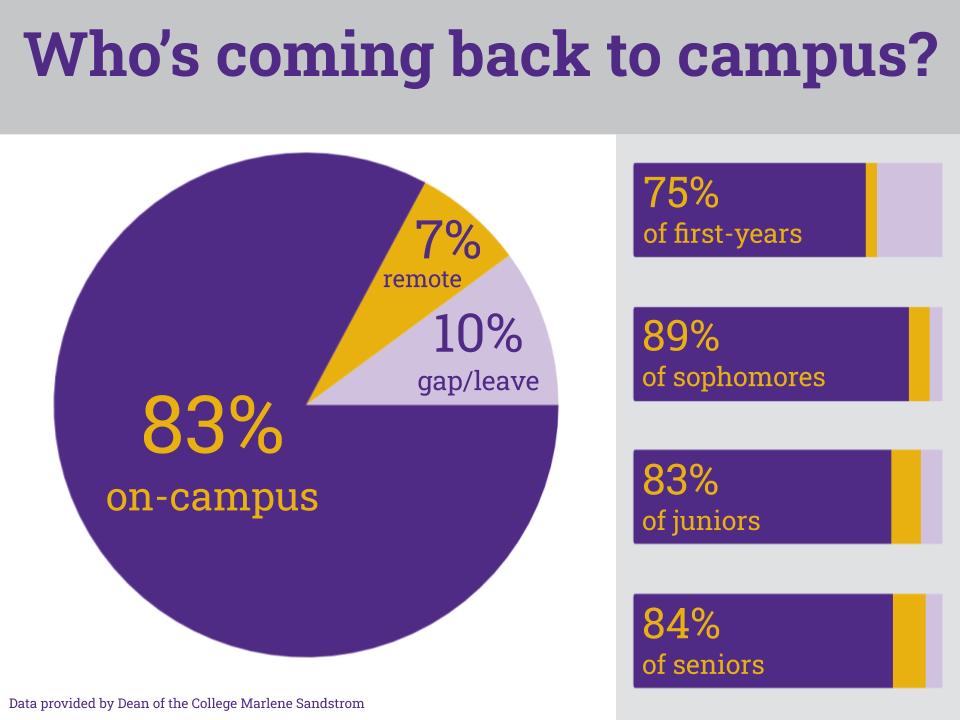 Based on the intent to enroll form that 2,078 students submitted by the Dec. 1 deadline, 1,824 undergraduates plan to be on campus during the spring semester, a significant increase from the fall. This constitutes approximately 83 percent of the entire student body — when accounting for the approximately 130 first-years continuing their gap year who did not submit spring enrollment plans. Of the remaining students, 161 (7 percent of the student body at large) plan to study remotely, and 93 (4 percent) will be on leave. 
The class of 2023 had the highest proportion of students intending to be on campus, with 89 percent planning to enroll on campus. Seniors had the highest proportion of students intending to enroll remotely, at 11 percent, compared to the average of 8 percent across class years. However, some of these numbers may shift before the spring semester begins, according to Dean of the College Marlene Sandstrom
"I expect there will be a melt in the on-campus numbers," Sandstrom said. "We're not going to be able to accommodate any shifts to on-campus housing after Dec. 1, so that number is not going to climb any higher." Students who indicated their intent to enroll on campus may still opt to go remote, however.
A Record survey sent out in late November accurately projected the increase in the on-campus student population. In proportions similar to the formal results from the College, 82 percent of the 725 Record survey respondents said they intended to enroll on campus, and 7 percent planned to be remote. 
This past July, approximately 1,645 students, or 71 percent of the student body, indicated that they would return to campus in the fall, a number which dwindled to 1,455 by Sept. 12 and continued to decrease incrementally throughout the semester as some students chose to transition to remote learning.
Given the possible increase of over 350 students from the number on campus by Sept. 12, the College is considering measures to accommodate potential changes to residential life. "We're just now in the process of trying to figure out what the impact on housing is going to be and how that's going to work," Sandstrom said.
"What we're trying to figure out is whether we're going to be able to maintain singles or whether there's going to have to be some doubles," she continued. "We had a lot of room set aside for isolation space, so [we're trying to sort out] whether we can actually shift some of that back into regular housing." 
Based on the Returning for Fall 2020 Working Group's report, which was published before the fall semester, the College can accommodate "up to 1600 students in single rooms." 
According to Sandstrom, approximately 120 of the 1,824 students who submitted their intent to be on campus in the spring are students living off-campus who have on-campus privileges. Still, Sandstrom said that there currently appear to be more students than there are single-room beds. But she cautioned that on-campus enrollment figures may still drop, while the College is working to increase the number of single rooms available.
While precise details on housing arrangements have yet to be determined, Sandstrom said the College is focusing on being as little disruptive as possible to students. "A priority is to keep the entries intact, and to not have first-years doubling up with people they don't know," Sandstrom said. 
As of now, the College intends to preserve many of the same public health guidelines and protocols that were in place during the fall, with one exception being meal delivery during initial quarantine. Rather than having meals delivered to their dorms, students will be able to leave their rooms to retrieve their own meals. 
"This is something that most of our peer institutions did in the fall, and they did not see an increase in COVID numbers," Sandstrom said. She noted two primary reasons that the College hoped to implement this change: "One, I think it will be really healthy for students to take those two, three strolls out of their room each day to get their meals," she continued. "And also, it's a huge burden off of [Dining Services]." 
The College has yet to decide between allowing students to return to campus during the semester or going fully remote, a decision which will be made in January based in part on the national public health situation. If the College goes remote, students will have the option to change their enrollment decision.
Although the decision is up in the air, Sandstrom said she remains optimistic because of the success of the fall semester. "I think most students followed most of the guidelines in a way that really kept the campus safe, and if that's an indication of how students will approach it in the spring, I think we can manage having more students on campus," Sandstrom said. "I really think that we've developed a system… that has demonstrated that it can work well as long as people can buy into it."