Lynn Melchiori of OIT gets creative with Crayola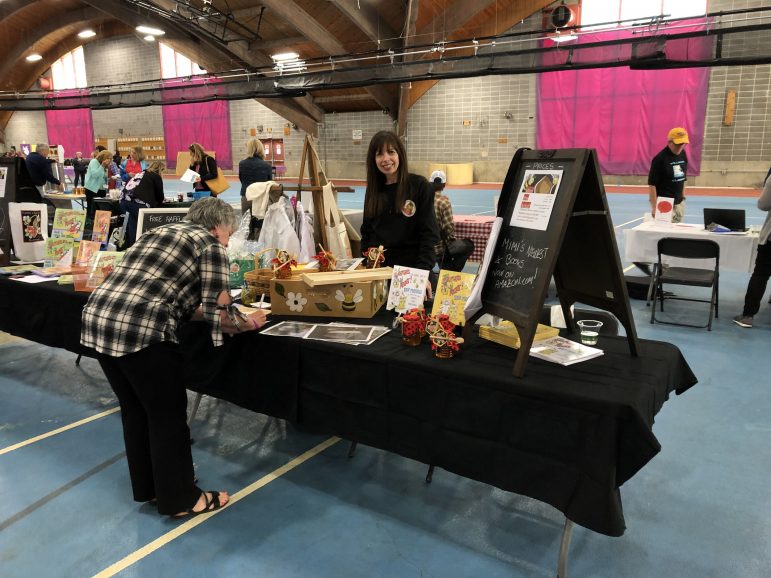 The atmosphere of the dimly-lit office of Lynn Melchiori, staff member at the Faculty/Staff Support Desk for OIT, does not do its occupant any justice; while the room is dark, she is bright, and while the room is still, she is burning with passion.
A "do-it-yourself-er," Melchiori is the self-published author and illustrator of The Adventures of Mimi the Artist, a book series aimed at children ages 3 to 9 that follows the adventures of Mimi and her friends, whose paper cutouts lie scattered on the desk: Butters the cat, Flutters the butterfly, Clover the dog, Little Brown Bear the bear, Rollie the rabbit and Indie the magical paintbrush. Each book offers a lesson about art. The first story — which spans three books, each 32 pages long — introduces the group and talks about primary and secondary colors. The second story is about beekeeping, which it uses to teach children about shapes.
The book series often reflects Melchiori's own life. For example, Mimi is supposed to be based off of Melchiori; both Melchiori and Mimi are left-handed, and Mimi is the nickname her grandchildren gave her. She is also an avid beekeeper in real life and even sells honey with Berkshire Honey under the alias Mimi the Artist.
It takes a while for the eyes to get used to the darkness of her office, especially coming from the brightly lit lobby of Jesup Hall, but once they do, small details stand out. The wall next to the door is covered in photos of her adult children and grandchildren, who were the ones who inspired her to create Mimi the Artist in the first place. Her children encouraged her to create her own book due to her skills of writing stories and drawing. Her grandchildren were also the ones that came up with the names of all the characters and had a say in their final designs.
Melchiori was also driven to create this series because of her time as an art teacher. As a public school educator in North Adams and Dalton, Mass., she saw the profound effect that art had in boosting children's ability to focus and their creativity. At the same time, however, she found that, aside from a few basic ones about shapes, there were not many art education books for children, so she decided to fill this niche.
Since 2013, Melchiori has been getting up at 4 a.m. every day so that she could work on her project for two hours before she had to be on campus. Even though this was no easy task, she enjoyed it. "I knew how to draw cartoony figures," she said. "I can weave a phenomenal, gentle story that is full of surprises to little kids. I'm just good at it, and I'm not modest about it."
Though she tried to color her first book in Photoshop, at the urging of her children, she returned to using colored pencils, specifically Crayola, for their gentle shading effect. She consciously chose Crayola instead of higher-end colored pencils for two reasons: to make sure that her art was available to most children, who were more likely than not to have Crayola, and just in case Crayola wanted to sponsor her if she got famous. "You have to think of the big picture, even if it never occurs," she said.
Things started to get more difficult once she started printing books and marketing. Unable to afford a lawyer to go through the process of trademarking her brand or a dedicated marketing team, Melchiori had to rely on herself to get things done. This often meant extensively researching guides to learn a variety of things, like how to use Photoshop, how to trademark her brand, what dimensions the pages need to be and how to purchase ISBN numbers. But for each difficult task completed, an even sweeter success awaited. "Each time I'll get something, I'll dance around the dining room table in happiness," she said.
In addition to the main book series, Melchiori has also published eight coloring books. Four of them are for children, and go along with Mimi's story, with the hopes that "each child can be their own artist," she said. The other four are for adults. She has also found that her actions have inspired other staff members to create their own books.
Melchiori is done with publishing for now and is now focused on marketing and garnering interest for Mimi the Artist. Though she has some experience with social media accounts, she is aware she still has a lot to learn. She is also looking into getting her books into the stores of Mass MoCA and WCMA, among other places.
All her books are currently available on Amazon and Barnes & Noble, as well as on her website at mimitheartist.com.