The College's 2024 fiscal year budget, explained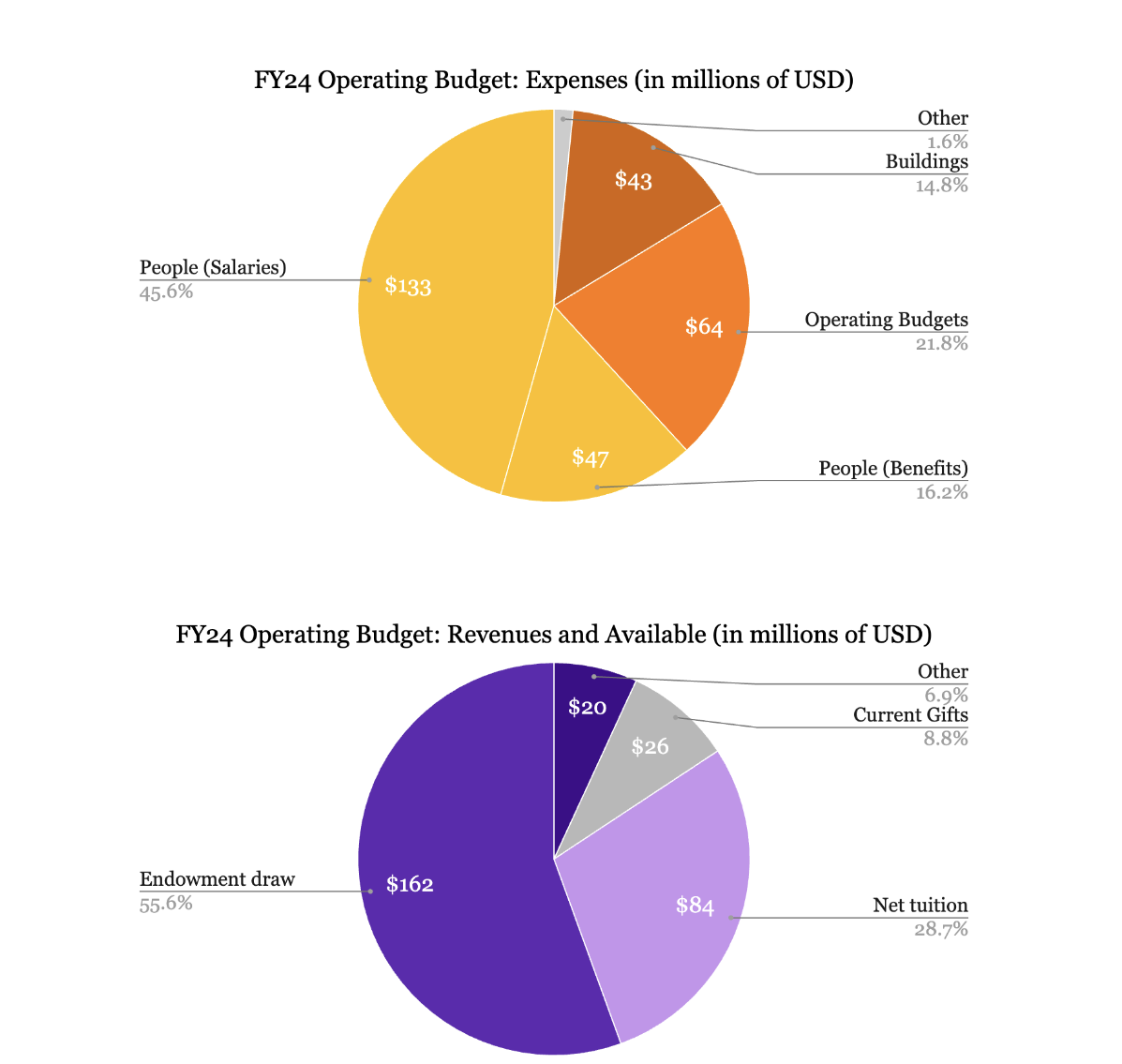 The College's 2024 fiscal year begins today, July 1. 
The 2024 fiscal year budget includes $292 million in operating expenses, a 3.4-percent increase from the 2023 fiscal year, and $130 million in operating revenues, a 4.4-percent increase from the 2023 fiscal year. The deficit will be funded by a $162 million draw from the College's endowment, a 2.7-percent increase from the 2023 fiscal year. The Board of Trustees approved the budget at its April meeting.
Here are five takeaways from the 2024 fiscal year budget.
The College has faced "financial headwinds" and has cut its spending as a direct result.
That was the language used by Provost Eiko Maruko Siniawer '97 in a message to faculty and staff in June. 
Nationwide, high inflation and volatile stock markets have sown financial uncertainty. In 2022, the College's endowment saw a historically poor performance, showing the lowest real return — a loss of 20.3 percent — in nearly 50 years. According to Siniawer, the College's 2023 endowment returns are currently positive but are still below the College's annual target of a 5-percent real return. 
The College also saw a 5.6-percent decrease in alum donations this past year, which Sinaiwer noted was in line with national trends. 
Costs for abatement and demolition of the shuttered Towne Field House as well as for the construction of a new temporary facility will both be covered by donations and a one-time draw on the endowment, Siniawer wrote to the Record. Renovations to the Upper Lasell Fitness Center were also fully funded by an alum donation. Neither project was factored into the budget.
Strains on the College's revenue have prompted a series of spending cuts. Last fall, the College told budget managers to identify cuts of 15 percent to their budgets — expenses that cover food served in dining halls, books and supplies in libraries, and miscellaneous spending by academic departments. All managers successfully made these cuts, Vice President for Finance and Operations Mike Wagner told the Record in April. Managers' cuts reduced expenses in the final budget by roughly $9 million.
The College will need to practice "continued fiscal discipline" in the coming years, Siniawer cautioned in her email to faculty and staff, to ensure that the College's expenses will not grow faster than its revenue and that it will not need to draw from the endowment at an "unsustainable rate." 
As a result, new hiring "will need to be restrained going forward," Siniawer wrote in an email to the Record. Additionally, budgeted spending on capital renewal for maintaining buildings, funding sustainability projects, and improving spaces on campus will remain the same as the 2023 fiscal year despite growing inflation. 
Less money will be available for externally contracted services, meaning non-emergency work orders may take longer to be completed, discretionary work orders — such as office painting — may be deferred, and landscaping may occur less frequently, Siniawer explained.
First Days and EphVentures will be shortened.
As a result of cuts to managers' budgets, First Days, the College's orientation week for first-years, will be two days shorter than the program was in previous years. EphVentures, the orientation programs that take place during First Days, will last for three days instead of four.
"All of the primary content, as well as downtime for wellness, will be preserved," Siniawer wrote to the Record. On the first night of First Days, for example, the College will still provide a dinner event, but will serve food from Dining Services rather than catered food, which will itself yield "substantial savings," according to Siniawer.
Student directors for Williams Outdoor Orientation for Living as First-years (WOOLF) and Where Am I?!, two EphVenture options for first-years, expressed dissatisfaction over the cuts in their programs' durations, which they said may undercut program goals.
"I'm personally really frustrated," Kaleisha Towle '24.5, a 2023 WOOLF director, told the Record. "We feel it's really important that the students have the original amount of time — four days and three nights — out in the field because that is the time we have found takes them to become really comfortable in their groups."
"One day doesn't sound like a lot, but when we have so little time to begin with, it's kind of difficult, especially for the freshman," said Ryann Taylor '25, a 2023 Where Am I?! director. She said she hopes the College will survey first-years following their EphVentures to evaluate the success of a shortened program and consider reinstating the fourth day for future years.
Fellowship funding has been cut by 10 percent overall — but not all fellowships will be affected.
The process of determining which fellowships to cut in order to meet a 10-percent reduction was an "art rather than a science," Director of Fellowships Katya King explained in an email to the Record.
The Fellowship Office attempted to preserve highest-demand fellowships by reducing them to a lesser extent, meaning lower-demand fellowships were reduced by more. 
Partial cuts to fellowships that fund full tuition for post-graduate studies — like the Martin-Wilson Fellowship, which provides one student with a living stipend and up to two years of full tuition at the University of Oxford — were not possible in all cases, King explained. "A 10% cut would have hobbled it seriously… The decision was to either suspend it entirely, or to preserve it but cut another fellowship," she wrote. "There were many hard decisions like that to be made." The Martin-Wilson Fellowship was preserved in its current state following budget deliberations.
As undergraduate fellowships awarded this summer fell under the 2023 fiscal year budget, cuts for this year's budget will not affect them, King noted. Graduate fellowships, however, are part of the 2024 fiscal year budget and already reflect budget reductions.
There will also be fewer summer fellowships awarded next year — in part due to budget reductions, but also to increase funding for each continuing fellowship, Siniawer explained. For the 2024 fiscal year, the Fellowship Office will also award summer fellowships based on a weekly stipend rather than a student's own estimated budget, which King says will make the awards more equitable. "With this new approach, students receive as much as $6,000 for their summer project, when in the recent past, the typical award was [around] $4,500," King wrote.
Spending for Convocation, Senior Week, and Commencement programming will be reduced.
There will be slight reductions in programming for graduating seniors. While Dinner Dance and Jazz Brunch at Mount Hope — two signature events — will still take place, spending for each event during Senior Week will be reduced, according to Siniawer. 
Following the ceremonies at this year's Convocation, there will not be a picnic outside of Paresky Center, Siniawer wrote to the Record. Commencement will also see fewer paper programs and honorary degree recipients; recorded rather than live music; and a fee for robes, which will not be charged to students who receive financial aid. "We made most of these changes for last month's Commencement, which was a wonderful celebration," Siniawer noted.
Additional cuts to dining, research, and other student programs were proposed but ultimately discarded in budget deliberations. 
Several proposed reductions to managers' budgets were scrapped after discussions with students and staff, Siniawer wrote to the Record. 
The College considered closing Eco Cafe and Mission Dining Hall to meet the 15-percent reductions to managers' budgets but rejected these plans after consultation with Dining Services, the Committee on Priorities and Resources, Senior Staff, and the now-defunct Committee on Student Life. "It was decided that these reductions would have done too much harm to the dining program and the student experience," Siniawer wrote to the Record. Instead, the College will end late-night dining at Lee Snack Bar —  which has been closed since fall 2019 — and remove the cost from budget calculations. It will continue to offer late-night options at Whitmans' Dining Hall and '82 Grill.
Other proposed reductions to managers' budgets were ultimately preserved, like Dean of Faculty funds that support faculty research and funds for racial justice initiatives. The size of cohorts for programs such as the Williams-Exeter Programme at Oxford, the Allison Davis Research Fellowship, the Summer Humanities and Social Sciences Program, and the Summer Science Program will also remain the same.
Throughout the budgeting process, Siniawer emphasized, the College's core values informed the priorities for the 2024 fiscal year. "We have tried to remain true to certain commitments: advancing our core educational mission of teaching, research, and creative work; promoting access and true affordability through the All-Grant financial aid program; and valuing the people who work at the college through salary increases that aim to keep pace with inflation over time," Siniawer wrote to faculty and staff.