Inflation spurs College to cut managers' budgets by 15 percent and student employment spending by 33 percent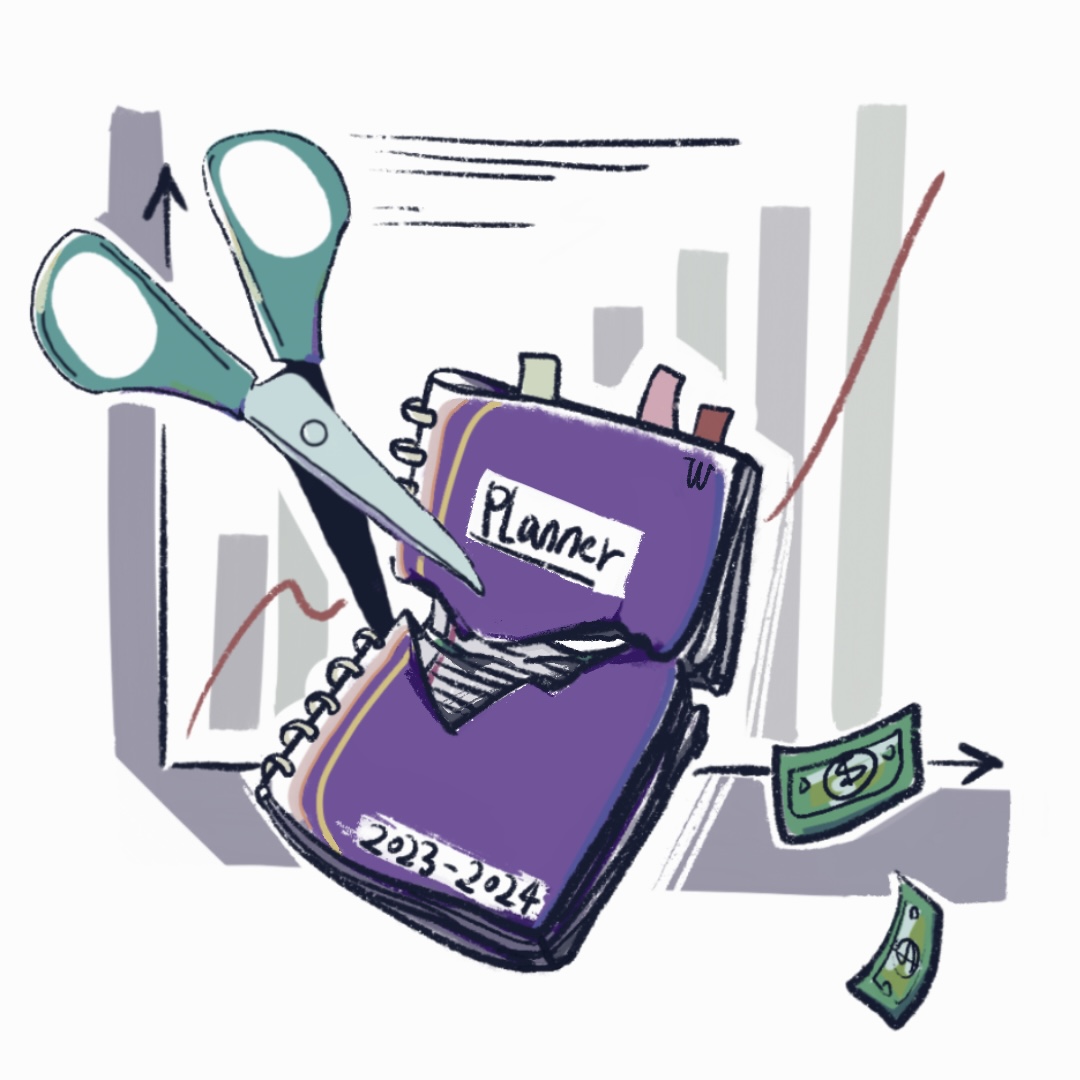 The College will cut managers' budgets by approximately 15 percent and the student employment budget by 33 percent for the 2024 fiscal year, following last year's 15 percent increase in managers' budgets. These cuts, representing approximately $8 million and $1 million, respectively, constitute less than 3 percent of the College's 2022 fiscal year $252 million budget.
The changes to the budget were first announced to the campus community at a College Finances and Budget Planning Forum on Oct. 26 and formalized in the budget memo sent to all budget managers by Provost Eiko Maruko Siniawer '97 on Nov. 2.
Managers' budgets cover many expenses besides wages and the upkeep of buildings, which make up most of the budget. Those expenses include food served in dining halls, books and databases offered by libraries, and miscellaneous spending by academic departments.
According to Siniawer, the cuts are necessary because of recent inflation, as well as the endowment's poor return during the past fiscal year.
Siniawer emphasized that, while the College might partially address these fiscal challenges by drawing more from the endowment, it will seek to avoid excessively drawing from the endowment out of concerns for fiscal responsibility. "This is to ensure intergenerational equity — that the College, fifty or a hundred years from now, will have the resources to pursue its ambitions," she wrote to the Record.
The College will also consider increasing tuition, Siniawer said at the Oct. 26 forum, but the increase will likely be less than inflation. Director of Student Financial Services (SFS) Ashley Bianchi said in an email to the Record that "students receiving financial aid are not impacted by tuition increases." She noted that SFS's formulas for calculating aid include adjustments for inflation as well as increases in tuition.
Managers' budget cuts
Most departments will experience cuts during the upcoming fiscal year, a reversal of the 15-percent increase in managers' budgets in fiscal year 2023. According to Wagner, the 15-percent cuts will be applied to managers' budgets at the senior staff level, who will have the discretion to disperse their 15-percent cuts between the various departments that they oversee. For example, the dean of the faculty manages expenses made by academic departments, and the dean of the College manages many non-academic departments like dining.
The cuts are intended to balance rising costs due to inflation in some areas by making corresponding decreases in others. "Everything that we need to run the College, including employee pay and benefits, [costs more], so finding a way to do all the things that we [need to] do with a fixed amount of money in the budget is difficult," Robert Baker-White '80, professor of theatre and chair of the Committee on Priorities and Resources, said to the Record.
Since some essential costs — such as food and utilities — have risen significantly due to inflation, the College will need to eliminate expenses elsewhere.
Of the College's total annual budget, approximately 62 percent goes to personnel costs, 20 percent to managers' budgets, 17 percent to building maintenance and debt repayments, and 2 percent to other expenses. The $70 million financial aid budget is not included in these figures, since it is considered a deduction against tuition revenue.
Vice President for Finance and Operations Mike Wagner said the College is committed to keeping wages in pace with inflation and has made three 3-percent pay increases — in addition to one $1,000 raise — for all faculty and staff between July 1, 2021, and July 1, 2022. "But we know that inflation will continue, and we're trying, in this budget process, to estimate how much will be needed to keep up with inflation," he added.
Since the College will prioritize keeping salaries and financial aid in line with inflation, it will cut managers' budgets to counteract those rising prices and make room for savings. Even so, department managers will be able to note "unavoidable inflationary expenses" on their budget requests and add those back to their budgets after the cuts.
Department managers can also meet the cuts by eliminating or reallocating budgeted resources for staff positions. For example, departments can opt to leave unfilled staff positions vacant and thereby count their savings on wages and benefits towards their overall budget reduction.
Wagner made clear that no staff members are currently at risk of losing their jobs for budget related reasons, and only currently vacant positions are eligible to have their budgeted costs counted against the budget cuts. "Vacancies are vacant positions, so you're not eliminating a job currently filled by a person," he said. "We're not anticipating at this point any need to lay off people."
Siniawer emphasized that no current faculty will see their positions jeopardized or salaries decreased either.
Department managers have already started to consider how they might eliminate costs in response to the cuts. Director of Libraries Jonathan Miller said that the libraries might look to save money by changing the way students and faculty access database content. Instead of purchasing a subscription to all academic database content provided by a given publisher, the libraries could save "a significant amount of money," he said, by subscribing only to the most important publications and adopting a pay-per-use model for the rest.
Reductions in student employment
The impending $1 million cut to the College's student employment budget is part of realigning student employment with the College's all-grant financial aid program.
"With the move to all-grant financial aid awards, we anticipated a reduction in the number of jobs and hours worked based on student interest and need," Chief Human Resources Officer Danielle Gonzalez wrote to the Record. "These conversations started before the shift in the current economic and budget pressures occurred."
Siniawer said that the College will eliminate extraneous positions that were primarily created to offer necessary work-study opportunities for students. However, she said that departments that hire student employees can make a case for keeping those jobs that are central to "the academic mission of the College and/or the operations of their unit." Siniawer cited teaching assistants, for example, as jobs that will likely not be cut due to their academic importance.
According to Wagner, there are potentially many student jobs included in the current budget that are not currently filled, so these positions can be cut from the budget while avoiding the elimination of positions that could otherwise be held by students.
Without the now-defunct work-study requirement, Miller expects student employment practices in the library to change. "When we're working under a financial aid model, there's an incentive for us to find work for students," he said. "If we are now thinking about student employment that enriches the student experience or is required by library operations, it changes the calculus."
Even while some positions — such as library desk jobs — might be reduced, students expressed that working in the libraries offers valuable experience beyond putting in the hours for pay. "There are some students who I think would work in Special Collections for [less money] because of the close access to fascinating materials that the job enables," Schuyler Colfax '25 wrote in an email to the Record.
Even so, there are concerns about the equity of cutting the student employment budget and the impacts of those reductions on positions that are valued by the campus community but may be perceived as less central to the College's academic mission, such as those offered by the Center for Learning in Action (CLiA). "I'm worried, especially since having paid positions in CLiA makes involvement with the larger community more accessible for students on financial aid," CLiA Student Leader Lili Massac '23 wrote to the Record. "Since so many students already seem to be having a hard time finding work, [cutting student employment] doesn't sit right with me at all."
"While CLiA supports volunteer and curricular connections to our local schools, CLiA's weekly paid programs are the sustaining foundation for Williams student engagement," CLiA Director of Elementary Outreach Jennifer Swoap wrote to the Record. "A one-third cut in CLiA's student employment would be felt deeply in CLiA's programming."