Endowment declines 11.2 percent, College anticipates budget cuts for next fiscal year as inflation persists
The College's endowment fell by roughly $635 million as the fiscal year came to a close on June 30, according to Deputy Chief Investment Officer Abigail Wattley '05. Now the College must contend with its lowest endowment return since 2009 — which, in conjunction with the more immediate challenge of inflation, may prompt budget cuts for the 2023-2024 fiscal year.
The 11.2-percent endowment decline marks a sharp contrast to the fiscal year that ended in June 2021, when the College reported a 49.9-percent return fueled by the strength of the stock market. But through June 30, 2022, market conditions worsened, and inflation rose to a four-decade high. As a result, when adjusted for inflation, the endowment has lost a fifth of its value since last year, and is now worth 3.5 billion dollars.
According to Wattley, the losses were driven primarily by the large portion of the endowment exposed to global stock markets, which performed poorly this year. "We have an equity-oriented portfolio, and global equities were down 16.5 percent for the one-year period," she wrote in an email to the Record. In addition, venture capital — which makes up 9 percent of the portfolio and posted a 124-percent return in the 2021 fiscal year — fell by 13 percent.
The losses were not unexpected, according to Wattley. "The returns of the endowment fluctuate up and down on an annual basis, depending on many factors," she wrote. "After [last year's] return of 49.9 percent, we expected that there could be a potential correction." The College's June 2022 budget communication — and comments made by the investment office in October 2021 — noted that poor performance in the 2022 fiscal year following the previous year's significant growth was a possibility.
Several of the College's peer institutions have also announced losses. Bowdoin's endowment saw a 7.1-percent decline, Columbia's investments fell 7.6 percent, and Harvard reported a 1.8-percent loss. According to a preliminary estimate from Cambridge Associates, U.S. college and university endowments fell by a median of 7.8 percent in the 2022 fiscal year.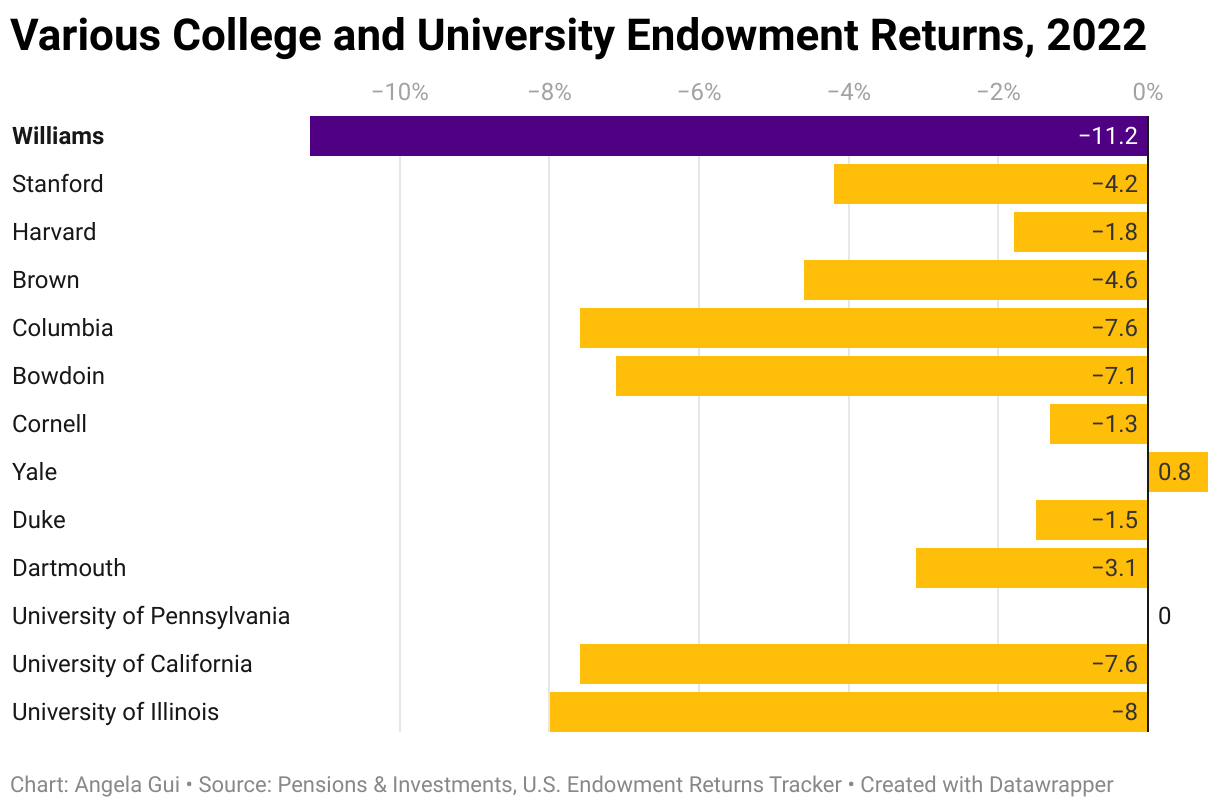 "Based on what we know about peer performance, we expect our one-year return will likely be below median; this has happened before," Wattley wrote. "Our 10-year return will likely continue to be above median on a peer-relative basis."
The College's 10-year return — the annualized average of its earnings over the last 10 years — now stands at 11.1 percent, according to Wattley. The investment office relies more on long term metrics like the 10-year return, rather than single-year earnings, to evaluate investment strategy, Wattley added.
In fall 2021, the Board of Trustees' Investment Committee voted to phase out all investments tied to the fossil fuel industry by 2033. This policy, according to Wattley, is too recent to affect the endowment substantially. "This decision hasn't yet materially impacted the portfolio," she wrote. "The impact (either positive or negative) is likely to occur over a longer time period as we decline to make new commitments [to funds tied to traditional energy]."
Wattley stressed that the endowment's long-run performance remains strong despite the recent short-term losses. "Our very long-term returns (e.g. 30-, 40-, and 50-year returns) are all above 10 percent and are more than sufficient to support the needs of the College," she wrote.
The College's investment reports, which contain more in-depth information regarding the endowment, are typically released in December.
Inflation prompts budget cuts for the 2024 fiscal year
This fiscal year, the College expects to draw $158 million from the endowment to fund 56 percent of operating expenses, with the remainder of the expenses to be covered by a combination of school fees, donations, and other sources. But next year, the operating budget may change, according to members of the College administration.
The College determines the amount of funds available to draw from the endowment by calculating the average value of its investment pool over the last 12 quarters. Consequently, the recent decline in the endowment will affect next year's operating budget — but the severity of the impact will be diluted significantly by the previous two years of positive returns.
But inflation has a more immediate and significant impact on the College's operating budget for the next fiscal year, according to Provost Eiko Maruko Siniawer '97.
"We tend to focus on endowment returns, because the crises in 2008-2009 and the spring of 2020 were largely market-driven," Siniawer wrote in an email to the Record. "But that's not the case now — it's inflation that is pernicious."
Inflation plays a critical role in the College's budgeting process for the upcoming fiscal year, according to Vice President for Finance and Operations Mike Wagner. Inflation represents an increase in prices: The College must pay more for utilities, maintenance, and insurance, among other costs. As inflation rises, the College's resources can pay for less.
"Inflation isn't the added nuance [regarding the College's financial situation]," Siniawer wrote. "It's the main story."
According to Wagner, in order to address rising prices, the College must strike a delicate balance. To account for higher costs, the College must allocate more funding to its biggest priorities, thereby increasing its budget; to prevent the budget from growing too quickly, costs must come down in other areas.
Among the College's highest priorities, Wagner noted, are academics, financial aid, and employee compensation. "Protecting the highest-priority services to students and support for faculty in their academic pursuits is really important," he said. "Financial aid is certainly on top of that list of priorities, and also making salaries and benefits competitive so that we can continue to recruit and retain the best faculty and staff."
In order for the College to pay for and protect its highest priorities, "there will be a substantial reduction overall in managers' budgets," Siniawer wrote.
This year, the College allocated $58 million to departmental managers' budgets. These budgets include funds for academic departments, residential life, dining, facilities, operations and maintenance, libraries, campus safety, and more, though they do not include employee compensation or financial aid. "It's every service around the College," Wagner said.
In the 2023 fiscal year, managers' budgets increased by 15 percent. "We are very sure there is going to be a reduction in budgets," Wagner said about plans for the 2024 fiscal year. "It will be distributed around the College. Different areas will have a savings goal that they need to achieve."
Wagner said that he didn't want to comment on any specific activities that might be altered due to budget changes. "That's really up to the units and the senior staff members that oversee those units to come up with proposals to meet their budget allocation," he said.
Wagner identified vacancies as another potential area for savings, as there may be some vacant positions that the College may choose to leave open.
Financial aid, however, is "not subject to these reductions," according to Wagner. Financial aid — which cost $77.5 million this year — is not part of the College's operating budget.
While the College has not dealt with such high inflation rates in four decades, managers' budgets have been cut before. In June 2020, the College implemented a 10-percent budget reduction across all senior staff areas in response to the pandemic. The cuts generated an estimated $7.5 million in savings and were accompanied by a hiring freeze.
Looking ahead
Williams is not the only institution of higher education to be affected by inflationary pressures. According to two April reports from Moody's Investors Service, colleges are facing their highest expense growth in more than a decade because of wage inflation, labor shortages, and rising costs.
In the past year, many colleges and universities across the country have raised tuition to combat inflation. Yet the median salary increase for industry professionals was less than half of the inflation rate, according to Higher Ed Dive.
"Inflation is hitting every school for the same kinds of things that it is hitting Williams," Wagner said. "I don't know of a school that wouldn't be impacted by the same kinds of challenges with inflation that we're facing."
Inflation remains persistent, even as the Federal Reserve has raised interest rates and the nation's economic outlook has worsened. "There's very little optimism about the economy right now," Wagner said. "It wouldn't surprise me if a combination of high inflation and investment volatility persisted through the first half of the calendar 2023 year."
Siniawer emphasized that the College is still in a good position despite the challenging economic environment. "The college's overall financial situation is strong," she said. "We are very fortunate to benefit from a healthy endowment and our predecessors' careful stewardship of our resources."
On Wednesday, Oct. 26, the College will hold an all-campus open forum to discuss budget guidelines for the 2024 fiscal year. The operating budget is typically finalized in April.