Endowment sees 49.9% return in 2021 fiscal year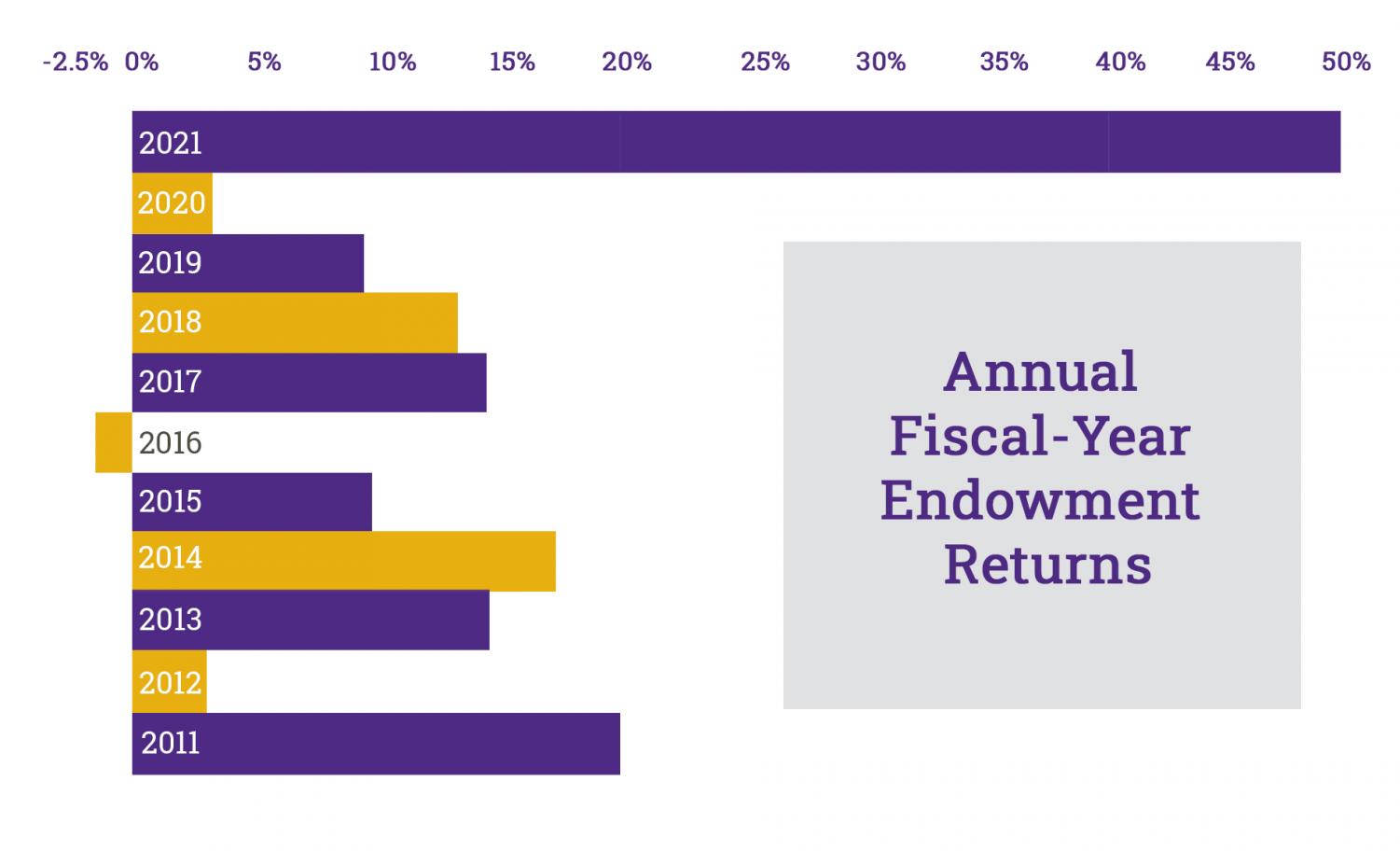 The College saw a 49.9-percent return on the endowment as the 2021 fiscal year came to a close on June 30, according to Provost Dukes Love. Despite the economic difficulties posed by the COVID-19 pandemic, 2021 is poised to be one of the College's most successful fiscal years in the past two decades.
Many peer institutions have also reported significant gains in endowment returns during fiscal year 2021, such as Bowdoin College, which posted a 57.4-percent return.
Love said the 49.9-percent return put Williams in the top quartile of higher-education endowment returns. In contrast, the College reported a return of only 3.3 percent during the 2020 fiscal year, meaning that in the past year the investment returns increased 15-fold.
"The endowment now provides more than half of the annual resources to fund the college's annual operations," Deputy Chief Investment Officer Abigail Wattley said, which includes everything from enhancing financial aid to maintaining campus infrastructure.
According to Wattley, the endowment's growth in the 2021 fiscal year is primarily related to stocks belonging to the College. "The global stock market index was up 40.9 percent, and any asset class with equity exposure had double digit returns this year," Wattley said. "In particular, the returns in venture capital and private equity were drivers of performance."
Love stressed that a return as strong as 49.9 percent does not necessarily guarantee or predict positive returns in following years. "The last time that we saw a similar return was in the year 2000, and that was followed by two years of sharply negative returns with the bursting of the tech bubble," he said.
Love also raised the possibility of further instability related to the pandemic. "There are any number of risks on the horizon, including inflationary pressure, federal budget politics, investor sentiment, and residual COVID challenges, which could reverse some of the endowment's gains," he said.
Love emphasized the importance of long-term endowment returns over a period of several fiscal years. "We take a long-run view of returns, and our 10-year average annual return of 12.8 percent is a much better signal of the performance of the endowment than the single-year return," he said. In other words, a significantly large return percentage in one fiscal year can be deceptive, especially considering the volatile state of the COVID economy.
The College's 2021 investment report will be released on Dec. 7, following review by the Board of Trustees' Investment Committee, which makes general recommendations about investment policy. The 2021 report will assess the state of each asset, such as venture capital and real estate, and will offer more information about how the College invested resources in the past fiscal year.