Five in Two Thousand: Annie Lu '23, Tali Natter '23, Cameron Pugh '23, Bellamy Richardson '23, and Kitt Urdang '23.5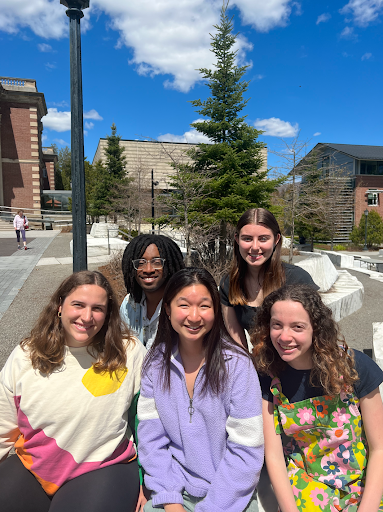 For the last issue of the Record to be released this semester, Editor-in-Chief Ella Marx '24 sat down with members of last year's Record management team to discuss their retirement from the Record and memories from leading the paper. In spring 2022, Kitt Urdang '23.5 served as the Record's editor-in-chief, with Tali Natter '23 and Bellamy Richardson '23 as managing editors. In fall 2022, Annie Lu '23 served as editor-in-chief, while Richardson and Cameron Pugh '23 served as managing editors. This interview has been edited for length and clarity.
Ella Marx (EM): How have you guys been enjoying retirement from the Record?
Tali Natter (TN): For the first time, I get my news with the rest of campus. That sounds silly, but it'll be Wednesday at midnight, I'll check the website, and I'm like, "Oh, I wonder what's the top story?" That's never been the case. So that's been an interesting experience — not really being as in touch.
Annie Lu (AL): Yeah, it was a shock for me. I actually thought I would have more free time. But because I felt such a loss in my sense of purpose at the school, I was instantly like, "Well, I guess I'm gonna start playing the organ. I'm gonna get a new job." So I've been trying to find other things to do because I definitely think the Record was a big part of who I am. I really like being able to read each story once for fun when it comes out instead of, like, eight times during the editing process. I also like being able to do the crossword, because I was never able to do it after editing it.
EM: True. How did your time on the Record shape your experience at Williams?
Cameron Pugh (CP): I had a somewhat unique experience joining the Record, because I joined in the middle of the COVID-19 pandemic. And for me, that was a great decision, because I feel like it was a really wonderful social space. I got to meet and work with so many people that I love, wanted to be like, and wanted to learn from. It's been really cool to be able to actually affect change on campus in a way that feels meaningful. To pitch and write editorials that actually make the administration do something has been really rewarding — trying to be a mouthpiece for the student body, in a way.
Kitt Urdang (KU): Before I was a Record editor, I would constantly notice things in the world around me that felt unjust or upsetting, and I would just sit with them and be angry about them. One of the incredible things about being a Record editor is that someone tells you about something that's going on on campus that doesn't sound right, and you have an immediate step you can take to address it. I'm thinking about the Children's Center articles. The series came about because Tali told me that the Children's Center was going to be reducing its hours and that [it] was leaving some people confused about what their childcare situation would be, so I took action and wrote an article about it. I feel like that change is one of the biggest impacts on my life — I'm really empowered to tell people's stories as truthfully as possible. Now, I also have faith that the telling of those stories, especially if paired with op-eds or editorials, can make meaningful change.
EM: On that note, ​​when you look back on your time with the Record, what stories do you think had the most impact on the College and the Town?
Bellamy Richardson (BR): I remember working on an article about how the entry system, First Days, and the JA system were going to change for the Class of 2024 because of the pandemic. A lot of the incoming first-years had no idea what was going on. The article was shared in a Facebook group with Williams parents, and I had parents commenting on it, writing, "Thank you so much, this article told my child what she needed to know and she decided to take a gap year," or, "She decided now would be the right time to come to college." That made me feel like I actually made an impact on someone, even just one person.
TN: A lot of really big news has happened, [and] we've covered it — but in a way where it's not just like, "This thing happened," but also, "Here's how people feel and why it happened." Like with Asian American studies, following that — not just the program getting implemented, but all the steps along the way — and TAPSI housing and all-grant financial aid. I feel like we've had an impact on the community by trying to talk to a diverse array of people and uplift their voices. When we cover these big news pieces [we've emphasized] the student experience and the different impacts that these changes are having on the community. A lot of times, I think it's gone well, but a lot of times it hasn't, and we just keep trying to do better.
EM: Is there a memory from your time on the Record that stands out to you?
CP: I feel like every object in the Record office has such meaning, and it's so cool to be here and know that all of these things — or a lot of these things — belonged to past editors, and they're things that were passed down to us. I can also remember — these were big moments — when I decided to be friends with each person on the Record board. It's cool to have concrete memories of, "Oh, this is the first time me and Jacob [Posner '23] got a meal."
KU: I also think the items that accumulate in the Record office are kind of fun. And some of the things in the office that were the result of endeavors from back in the day, but no one knows how they got here. We have the old armchair right here, but then right next to it we have a hammock, which is on Rebecca Tauber ['21]'s hammock stand, and my mom and I bought this hammock and put it up. Now, it just sits there, and I know people have no idea where it came from. There's so much history in all the little objects, and [the office] is such a beautiful space that we get to use.
EM: Finally, you guys kind of touched on this — you have such foresight — but what were the values that you prioritized when you led the Record?
AL: Transparency is definitely one. That's just a tenet of good journalism. I think you want to be clear about what you're telling people and why it matters. Community is another, both in the sense that the Record itself is a community and [it also has] connections with the broader community. Rebuilding trust with a lot of student organizations has been a priority of the Record for a couple of years now, and I feel like we have definitely made progress in that regard. 
BR: I think we also had to balance timeliness with getting the story right, which are two things that we obviously, in an ideal world, would like to have both of. But sometimes it's hard to know, when we're trying to get a story out really quickly, if we did it justice. What we've tried to do is say, "All right, the story is important. We want to get it out, but let's give it another week so that we can dig into it more and interview more people." Balancing those two really important things was something that we sometimes struggled with, but in the end, I'm proud of how we did that.