Faculty, staff scramble for care after Children's Center reduces hours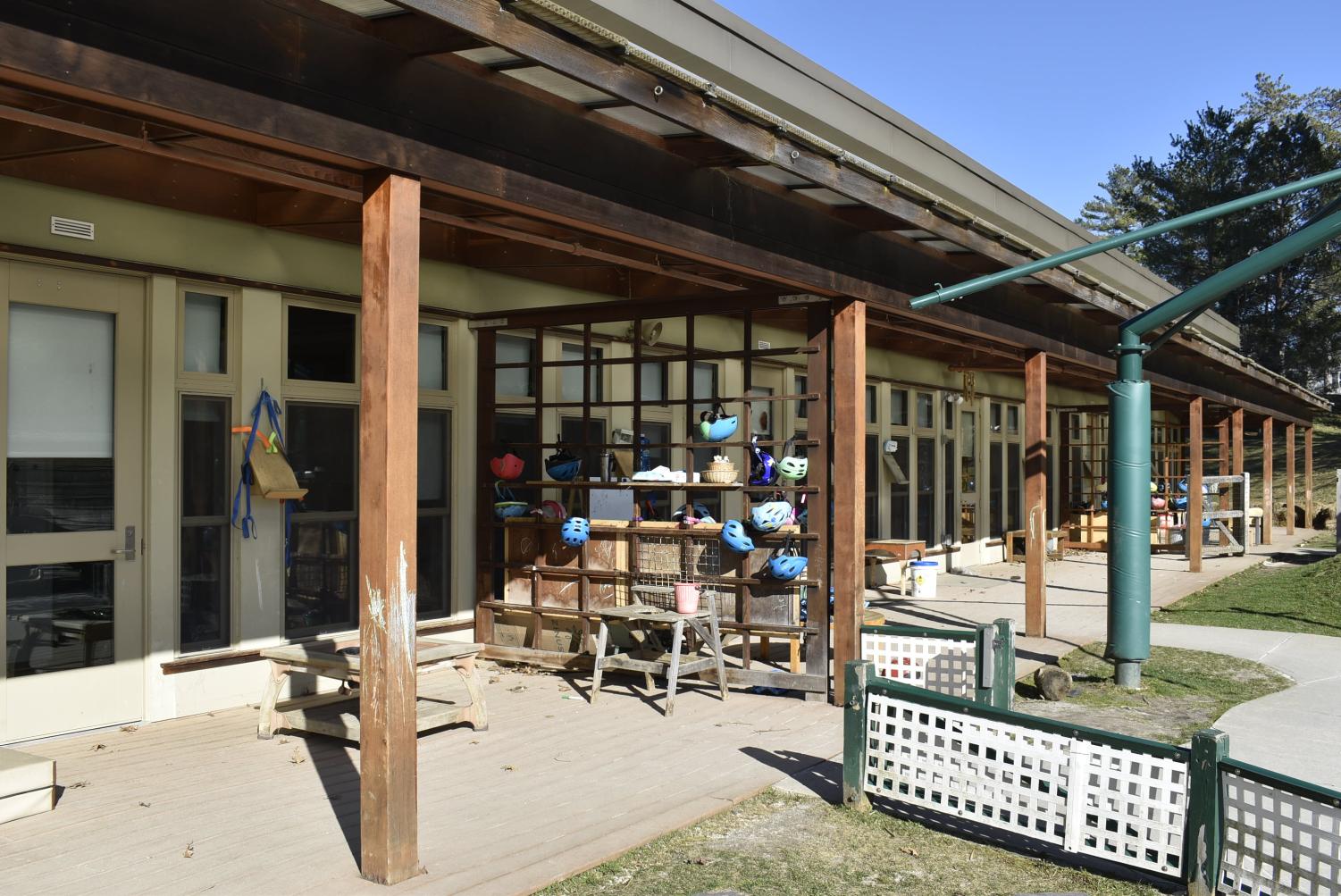 The Williams College Children's Center (WCCC) reduced its operating times by one hour per day, effective March 29. The WCCC, which is owned and operated by the College, previously provided families with childcare from 8 a.m. to 5:15 p.m. but it now closes at 4:15 p.m.
The WCCC lacks the staff to operate at full capacity and has nine vacant positions, according to Director of the WCCC Carrie Gagne. The Center has six open positions and three staff members are currently on medical or family leave — and made the choice to reduce hours after months of understaffing. "We know this is a big decision that impacts many at the College and beyond," Gagne wrote in an email to the Record. "Therefore, we were in close discussion with members of senior staff, and after careful consideration, we announced the one-hour reduction."
This change comes after three turbulent years for faculty, staff, and their families, many of whom were forced to juggle full-time jobs, illness, and school or childcare center closures during the COVID-19 pandemic. Faculty and staff alike said the recent change, which they learned about via email on March 24, left them rushing to finish work by 4 p.m. or to find other sources of childcare through community networks.
Assistant Professor of Sociology Ben Snyder, who has a two-year-old child who attends the WCCC, said this pattern of inconsistency in childcare is central to his family's struggle with the operations change. "Whenever we lose some reliability of our care infrastructure, we flip out because it's just happened to us so [often] over the last few years," Snyder said. "The general feeling is like the care infrastructure could crumble at any second."
For Administrative Director of Center for Global Languages, Literatures and Cultures Shaina Adams-El Guabli, caring for her three-year-old during work hours leaves her pressed for time. "The problem is, the work doesn't stop," she wrote in an email to the Record. "There was no simultaneous reduction in workload to accommodate the reduction in childcare coverage, so it's business as usual with heavy workloads, just squeezed into a faster pace."
The burden of picking up the extra hour of care can also fall to the same parent every time, leading to long-term imbalances within families, according to Visiting Assistant Professor of Education and Africana Studies AnneMarie McClain. "My spouse works a traditional '9-to-5' role, and I'm the one who has the more flexible schedule, meaning that I can shift around when I work," McClain wrote in an email to the Record. "I'm grateful that I have that ability for sure and we're privileged in that way, but it can become hard over time."
Director of Intimate Violence Prevention & Response and Health Education Meg Bossong '05, who has a three-year-old at the WCCC, said she is worried about the effect of the operations change on her child. "Young children thrive on routine and consistency and there has been a lot of transition of teachers in and out of classrooms as staffing is reshuffled," Bossong wrote in an email to the Record. "The WCCC teachers are skillful, warm teachers, and it's hard on both the children and adults to not have a consistent set of people together every day."
While the challenges that come with an understaffed daycare center are straightforward, the solutions are much more complicated. Across the board, parents expressed gratitude toward the WCCC staff members for doing their best to care for their children despite staff shortages, illness, and the lack of appreciation for their work. "The WCCC teachers are essential to the operation of the college, and the College needs to resource them as such," Bossong said. "If the College is continually losing teachers to other opportunities, that means Williams has not created a competitive and fairly compensated employment opportunity and the pay and benefits scale deserves consideration."
Snyder agreed, noting that teachers have often told him that they love working at the WCCC, but he senses the pay is inadequate to retain teachers. "[To fill the vacancies], it's going to mean they pay more than market rate," Snyder said. "I always hear from the College, 'We pay what most people pay.' But that's like saying, 'We don't pay a living wage because most people don't pay one.'"
For Gagne, these vacancies are representative of a lack of workers in the field of early childhood education. "There is a local, regional, and national shortage of educators that we are experiencing, just as many other professional fields are also struggling with hiring challenges," she said.
While Snyder, who was recently awarded tenure, spoke to the challenges he has experienced due to the reduced WCCC hours, he also mentioned that many other faculty members and their families may confront even greater obstacles. Assistant professors and visiting professors face high pressure to produce academic work that may lead to a tenured role and are more likely to have daycare-aged children because they are younger in age. "The loss of care and the effect on my job exists, but it pales in comparison to what my pre-tenure and visiting professor colleagues are going through," Snyder said.
Associate Professor of Sociology Christina Simko, who has a three-year-old at the WCCC, said that from a sociological perspective, the reduction in childcare availability will exacerbate existing inequalities. "At Williams and elsewhere, women have been much more likely than men to take COVID-related tenure delays," she wrote in an email to the Record. "Research clearly indicates that it is because women have taken on a disproportionate share of the increased care responsibilities that families have faced. But tenure delays devolve responsibility for a collective problem (pandemic-related disruptions) to the level of the individual."
Some parents have created networks of support among themselves. One parent approached Snyder and asked if he wanted to form a group to distribute childcare, and they now have a Google Doc where they assign one family per day to pick up the children and play with them until 5:15 p.m.
To Snyder, the operations change comes down to a statement of values. "If we value education, a liberal arts education — which is about teaching the whole person — that's what early childhood education is about," he said. "It fits with the mission of the college. 'Do we want to invest in the mission of the College or not?' is really the question here."