Women's track and field excels after sweeping New Englands, looks towards Nationals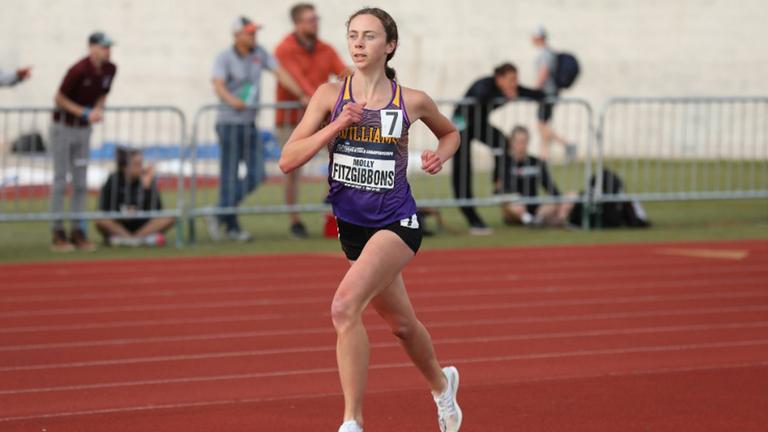 On March 4, members of the women's track and field team traveled to Medford, Mass. to compete at the Tufts University National qualifying meet. This was the last opportunity for athletes to reach the marks necessary to qualify for the NCAA Div. III Women's Indoor Track and Field Championship, which will be held next weekend, March 10–11, in Birmingham, Ala.
Despite only sending a portion of the team, the Ephs made their presence known, with many of the competing athletes finishing their events with personal best marks. "[The Tufts qualifier] went incredibly well," Rachel Arthur '25 said. "I think most people who went there wanting to qualify did, so I think we're pretty happy with how that turned out."
The Ephs boast 13 qualifying entries, pending medical scratches, in this year's preliminary competitions — the third most in the nation and the most out of any teams in the New England Division. The team will earn points based on individual athletes' performances in their respective events. The Ephs have built a winning pedigree this season, securing a team championship victory on Feb. 25 at the New England Div. III Championship meet and setting personal and school records in several events throughout the indoor season. Co-captain Kiara Tan '23, the school-record holder in the 60m dash, said that winning the team championship was exciting for everyone. "It was a lot of people's last meet," Tan said. "It's the last big meet before Nationals, and we were loud for teammates and really present for one another — the energy was great."
The victory was extra special this year in particular, according to Arthur, given that head coach Nate Hoey will depart following the season after 23 years with the team and 10 as its head coach, transitioning to his new position as Senior Development Officer in the Office of College Relations. "It was really important for all of us to go out with a win and leave on a high note [for] him," said Arthur, who was a part of the 4x200m relay team that set the school record. "[It's] obviously kind of a bittersweet moment."
This year also marked the first time this meet has been co-ed. "With the New Balance facility in Boston, [men's and women's teams] were able to all see each other and be there for one another," Tan said.
Despite its individual success, the team tries not to overemphasize results. "We're not focused on results, but [on] the way in which we perform, and [how we] treat each other," said co-captain Claudia Iannelli '23. "Track is such a result-oriented sport, so it's really hard to come short of a mark and to not have that be the main focus — but instead, we try to focus on what went well, and try and find the good in the day."
Arthur also appreciates the focus on team culture instead of results. "Our coach is very good about that," she said. "He doesn't want us to focus on chasing a time; he just wants us to focus on being the best we can be that day."
Rather than focus on results, the team members place a heavy emphasis on goal-oriented thinking and try to help each other stay focused on their goals. "We have envelopes on the fieldhouse wall, and people write down their individual goals, goals for the team, goals for mental wellness," Tan said "Then we can see those goals and leave [positive and encouraging] notes for everyone." Iannelli attributes this shift in focus and attitude to the team's success this year. "My coach [says] our attitude is so different this year, and is really about supporting one another," Iannelli said. Arthur described the team's culture as extremely hardworking, and also very supportive. "Everyone wants each other to do [their] best, which is really nice," Arthur said. "We're like a little family." 
Amélie Jamanka '26 has felt the impact of this close team atmosphere, despite being new to the team as a first-year. "[The upperclassmen] have all been great, they've been very welcoming," Jamanka said. "They did a lot during pre-season to make sure we all felt included."
The Ephs now look forward to Birmingham, where the team, ranked fifth, will square off against some of the nation's best competition. But according to Iannelli, their focus has not changed. "We're super excited about Div. IIIs, [but] we're trying to stay present in the moment and continue to enjoy the journey we have one day at a time."
Next weekend, Tan will compete in the 60m and 200m, Camryn Taylor '24 will race the 400m. In the mid-distance range, Blakeley Buckingham '25, Molly FitzGibbons '24, and Lucy Gagnon '24 will race the mile, and Ella Ball '25 and FitzGibbons will race the 3000m. Ball and Genna Girard '24 will race the 5000m, and Katerina Papachela '26, Buckingham, Fitzgibbons, and Taylor will race the distance medley relay. Kristen Chou '23 and Morgan Nasir '25 will compete in the long jump.