Vista hosts alum panel on 1993 hunger strike for establishment of Latino/a studies department at the College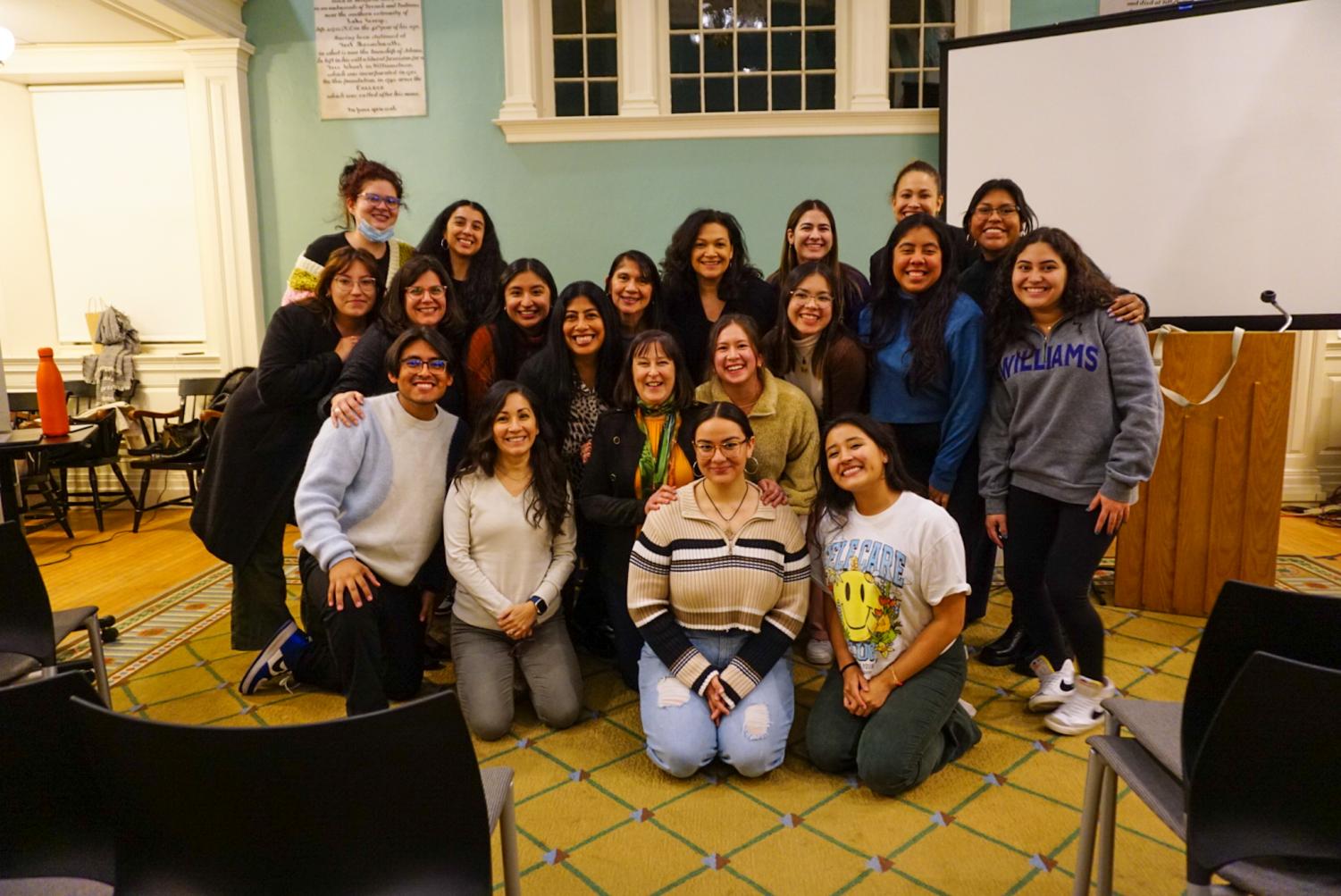 Vista, the College's Latinx and Allies student organization, hosted a panel on Friday where six alums who participated in the 1993 hunger strike protesting the College's lack of a Latino/a studies department spoke about their experiences and reflected on the changes the College has made and what can still be done.
The panel recognized the approaching 30-year anniversary of the 1993 hunger strike, a landmark event that followed a similar hunger strike in 1991. Panelists Norma López '95, Teresa Rodriguez '95, Tanya Núñez '93, Linda Ponce de León '93, Teresa Maturino Rodriguez '93, Charlotte E. Neuhaus '93, and Leonora Dodge '95 were part of a 24-person cohort called Concerned Latina/o Students that organized and participated in the April 1993 hunger strike. On April 24, 1993, approximately 75 students gathered on Chapin steps to protest the College's lack of a Latino/a studies department, kicking off a four-day hunger strike that contributed to the creation of a Latino/a studies department in 2004. 
Concerned Latina/o Students fasted for four days to raise awareness of three student demands: hiring a one-year visiting U.S.-Latino studies professor in either the history, political science, anthropology, or sociology departments; hiring a tenure-track professor of history to specialize in U.S.-Latino studies; and increased student involvement in the process of appointing a visiting professor, a tenure-track professor, and advisory committee members in U.S.-Latino studies. 
The alum panelists said that in the lead-up to the 1993 strike, they felt imposter syndrome at the College that was furthered by a lack of representation in academic spheres. "I saw myself as an other very quickly, because I didn't have a lot of folks [on campus] that related to me, and what we were learning in classes was just the canon," Neuhaus said. 
While the percentage of Latino/a students on campus had been increasing by the time of the protest, panelists said that many still did not feel supported by professors or administrators and some even transferred out of the College. "Williams was getting better and better at recruiting Latino students and other students of color, but they were not addressing what [to] do once the students [came]," Ponce de León said. "How do you keep them? How do you ensure that they try, that they do well, that they contribute?" 
The 1993 strike began due to "a lack of trust and not being heard and not being safe," according to Maturino Rodriguez. Some students did not participate in the strike due to health reasons but were still otherwise involved in the protest. "We all played different roles, and I really felt like it was a united front," Ponce de León said. "It was just really powerful to be a part of something that… I didn't even know that was going to be this fundamental."
In 1993, students' concerns about the Latino experience at the College were not novel. Two years earlier, Manuel Alfaro '91, Vicente Medrano '92, and Benjamin Soriano '91 led a separate hunger strike to protest what they perceived as "the College's failure to address adequately the needs of the Latino Community," according to a Record article from that spring. The 1991 strikers demanded that the College add an additional two Latino studies courses to the course catalog and hire a Latino admissions officer.
"That [strike] lasted one quick day in 1991," Núñez recalled. "Two years later, we were still in that place where we were battling to make [Williams] a place where we could see ourselves and make sure that our studies were just as valid." After the 1991 strike, the striking students met with members of the administration and reached an agreement to look for Latino/a studies professors, according to a Record article from that spring. However, the two chosen candidates were only offered one-year visiting professorships for the 1993-1994 school year, and both turned down the offers, according to another Record article.
While the 1993 strike criticized the College's treatment of Latino students, some panelists said that many gravitated towards the movement because they cared deeply for the College. "Because we love Williams, we were pushing the institution to be better… We knew we had something to offer about how this college could grow," Ponce de León said.
During the strike, participants remained committed to their academic and extracurricular responsibilities. Many said they had to fight through the fatigue brought on by a lack of food and continue to prepare for and attend classes. Núñez, who was the first woman of color on the varsity women's softball team, recalled having to balance striking with playing in the women's softball championships that year. Though the strike ended before the championship began, she was prepared to not play. "I had my priorities, and [the strike] was much more important to me," she said. 
Throughout the strike, the panelists said they found aid in the College community. They cited various student groups — including the Williams College Jewish Association (WCJA), the Queer Student Union (QSU), the Black Student Union (BSU), and Asian American Students in Action (AASiA) — as sources of support in their fight for a more inclusive education. "I think the reason that it was successful was because it was a united front — cross-racial and cross-ethnic," Ponce de León said.
Not all student groups supported the protest, however, Ponce de León recalled. "The Republican Club … sent in a whole pile of pizzas, delivered to Baxter Hall, right in the middle of it," she said. The strikers saw this action as a mockery of their efforts, immediately removed the pizzas, and distributed them to other students at the College. 
Similarly, when two WCJA board members created a poster in support of the strike, it was defaced with a drawing of a swastika, according to a Record article. The sign read, "Stop! This is not just a cause of Latino/a students, it relates to all of us. We support the ongoing struggle." 
On April 26, 1993, the third day of striking, the strikers met with faculty and administration negotiators, who presented them with four resolutions that included a motion of support for the appointment of a tenure-eligible professor in U.S.-Latino studies and a "specific, limited role" for students to play in the search process to fill the U.S.-Latino studies position, according to a Record article from May 4, 1993.
The panelists remembered entering the negotiation room and finding that the present faculty had arranged the seating in such a way that the strike participants could not sit together, isolating them as they began negotiations.
The strikers did not agree to the administration's proposals and re-negotiated terms with them on April 27. At this meeting, however, all parties agreed to the formation of an ad hoc student-faculty committee on hiring, which led to the end of the strike on the morning of April 28. 
Reflecting upon the support offered throughout the strike, the panelists also mentioned the importance of ethnic studies programs at the College and advocated for the creation of an Asian American studies program at the College. "This school is doing a disservice to every single person if they're not offering courses that include Asian American studies," Rodriguez said in reference to a recent teach-in Vista, AASiA, and BSU hosted to support Asian American studies.
The alum speakers also gave advice to future leaders around campus, particularly those involved with the Asian American Studies Movement: "If you are upsetting administrators, upsetting faculty, and upsetting mainstream cis white male students on campus, you are doing it right," Dodge said. "If you are collaborating with other BIPOC … populations on your campus, you're doing it right."
After the panel, Mariel Baez '26, who attended the event, shared her takeaways from the panelists' discussion, noting that it reminded her of a Frederick Douglass quote. "On [Frederick Douglass'] deathbed, he … said 'Agitate, agitate, agitate,' and I think that carries the spirit of activism in general in America and on this campus," she said. "Faculty and higher-up [administrators] should do more for the students of color and put in more systemic changes, because here we are still fighting for the same damn things." 
In an interview with the Record, Vista Historian Lucia Rios '24 said that Vista envisioned the event as a way to help students remember the history of on-campus activism. "It's important to know that a lot of these [ethnic studies] programs aren't given," she said. "They were fought for, and there was a lot of pain and struggle behind them."
Rios found it heartwarming that she and other Vista board members could connect with alums and reflect on how much has changed since the hunger strikes. "It felt like they really … cared and wanted to build connections, and that was something that I thought was really powerful," Rios said. At the event, Ponce de León said it was special to hear about the Latino/a studies courses now offered — that Vista board members are able to take — because of the program's establishment. "Honestly, that's a dream come true. It was only a dream, it was only imagining something, and now you all are living it."
Despite the increase in Latino/a-listed classes, Rios noted that there are only a few professors specifically teaching in Latino/a studies, while several of the courses are cross-listed from other departments.
"It was not a surprise, but I was very glad to see that a lot of [the alum panelists] work in education and within diversity and equity programs, and they're continuing that fight even within their careers right now," Rios said, noting that five of the seven panelists work in education. 
"I think it's easy to fall into [a mindset of] 'This is unfortunate, this is so hard, what am I even doing' when doing [activist] work," Rios said. "Seeing them thriving — being such successful women and mothers and whatever they are — is just such an inspiration."