New York State Teacher of the Year Billy Green '03 reflects on time at the College, transformational teachers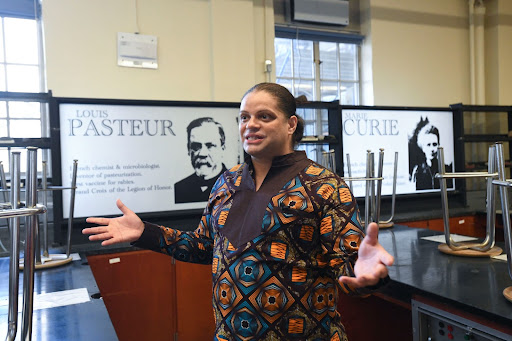 From early in his life, Billy Green '03 was taught the value of education. "My mother had the foresight to put me in school very early because she saw that I had an academic curiosity," Green said in an interview with the Record.
Green, who was recently named the 2023 New York State Teacher of the Year, was born and raised in Harlem, where he attended public schools. It wasn't an easy childhood, he said. At 12, Green became homeless, and by his senior year, both of his parents were in prison and his sister was taking care of him.
Throughout these hardships, however, Green remained devoted to his education. "My mother knew that, if everything else in the world was falling down and I believed in the hope of education, it would save me from a lot of the ills that were happening in the streets of East Harlem," he said.
This persistence paid off when Green met the first of many educators who would transform his life. "Jane Higgins was the conduit for me to Williams," he said of his teacher at the Leadership and Public Service High School in Manhattan. She encouraged Green to apply to the College, and after his acceptance, even met with Green's mother in prison to convince her to let him attend.
In the summer before Green's first year at the College, it was Higgins who drove him from New York City to Williamstown to drop him off at the Summer Science Program (SSP), a five-week intensive for incoming first-generation students and students from historically underrepresented backgrounds in the sciences. 
"I went from a shelter to Perry," Green said. "I was like, 'Oh shoot. What is this? I have a whole house to myself.'"
SSP allowed Green to get a head start academically and marked the beginning of his relationships with professors at the College. "Those professors became our mentors," Green said of his SSP instructors. "They guided us through the academic experience at Williams."
Green now teaches both math and chemistry at A. Philip Randolph Campus High School in West Harlem, but the latter was not always his strong suit. "Math was my favorite subject — I'd always excelled in math — however, the Williams chemistry department was unstoppable in academic engagement and teaching practices," he said. "How dare they have [Former Professor of Chemistry Charles] 'Chip' Lovett teaching Chemistry 101? That's like Bill Nye to the millionth power."
Green and his fellow students immediately formed a relationship with Lovett, who would get meals with students and invite them for dinners at his house. "He treated us as his peers in the science world, which allowed for Black and Brown students to feel like we belonged in chemistry," Green said.
Green's relationships with professors at the College were meaningful outside of academics, as well. Though he never did well in biology classes, Green described a special connection that he formed with Former Dean of the College and Professor of Biology Nancy Roseman. "I was struggling with my sexuality at Williams and how out I was," he said. "Dean Roseman was the only out professor at that time that I had seen active in the sciences. To me, she represented something bold — something I wanted to be."
As an openly queer man at the College during the early 2000s, Green faced harassment for his identity, even when his professors stood by him. He remembered one instance where a student refused his help as a teaching assistant for former Professor of Mathematics Olga Beaver, calling him a homophobic slur. "[Beaver] said [to the student], 'Well, I guess you don't want an A,'" Green recalled.
Green said that tensions over his queerness became so hostile that the College asked him to take a period of leave, following an incident that Green characterized as a situation he let "get out of hand."
During his semester off, though, Green had no home to return to in New York City. Instead, he stayed with friends in their dorm rooms at the College. "My friends were not going to let me be homeless," he said. "The Williams Black and Brown communities were like, 'We will not let you fall.'"
Likewise, Green did not let this hiccup stop him from making his mark on the College community. "I had just gotten kicked out of Williams and a group of friends of mine said, 'Billy, use dance as your healing,'" Green said. He would go on to start the hip-hop student dance group Nothin' But Cuties (NBC), even while on academic probation.
Despite the profound influence of his teachers thus far in his academic career, it wasn't until a Winter Study opportunity brought Green back to New York City public schools that he considered a potential future as a teacher.
For a month, Green interned at a school near his neighborhood, allowing him to live with his mother again. "My mother saw me every single day go to this internship and the joy that [I had] creating lessons in chemistry and mathematics for members of my Black and Brown community in the Northern Bronx and the underserved Title 1 schools," he said. "She was like, 'Wow, this makes you so happy.'" It was then that Green discovered his love for teaching.
Following his graduation from the College in 2003, Green moved back to New York City and officially started his career in education, motivated by a passion to serve the communities that need the most support. He has made a point to always work in Title 1 schools, a designation given to schools with large percentages of low-income students.
"Because of homelessness, incarceration, family separation … I have to take charge in the classroom and utilize the privilege that I have," Green said. "I use [my past educational opportunities] to uplift the voices of urban youth and marginalized voices."
Green has also made waves in his work with queer youth in New York City. After a partnership with SCAN-Harbor, a youth service provider in Harlem, he transformed what started as informal mentoring to his queer students into a program that serves roughly 1,000 students through interactive programming, he said.
This advocacy has not come without its criticism. Following his recognition as Teacher of the Year, a parent advocacy group claimed his teaching style was too "woke," according to the New York Post.
Green said he is unbothered by the response. "When people think I'm talking about being culturally responsive, they conflate it with being Black or white," Green said. "When I talk about being culturally responsive, I talk about 'What is the culture of this classroom? Is it welcoming? Is it affirming? Is it uplifting?'"
Even after receiving statewide recognition for his academic contributions, Green can only imagine a future that involves teaching. "I expect to be teaching for the next 80 years," he said. "I treat this practice as an art, and I get better at it every day."