Number of JAs drops from years past, incoming cohort remains optimistic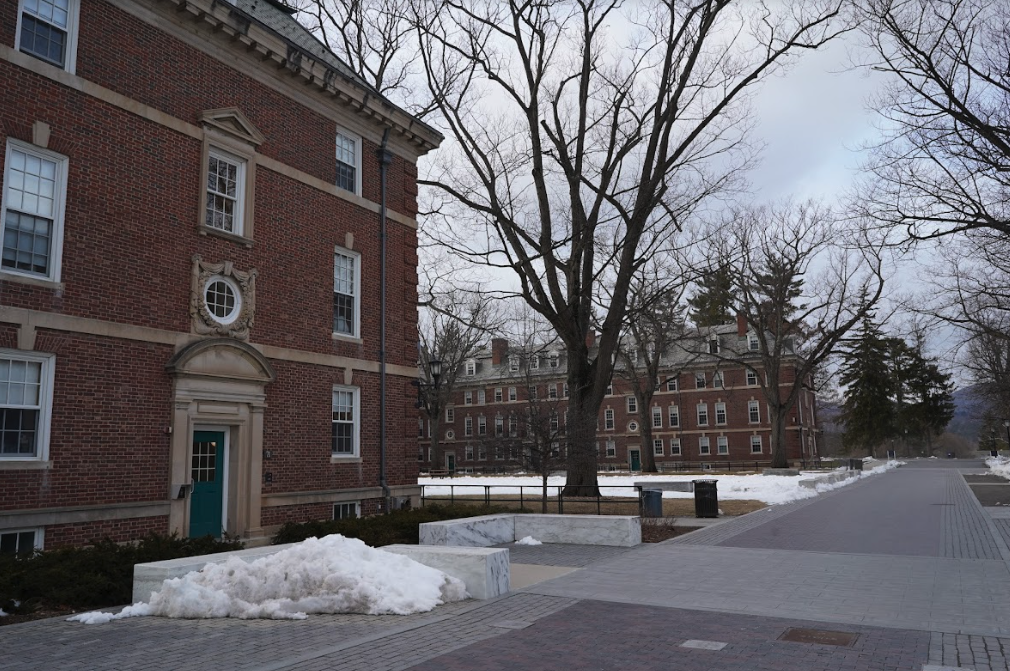 The Junior Advisor (JA) Selection Committee (SelCom) released a list of 43 JAs to the Class of 2027, marking an ongoing decrease in participation in the program. Between 52 and 57 JAs served the Classes of 2024, 2025, and 2026.
Because of the size of the cohort, many of next year's entries will have only two JAs, one fewer than most entries this year. Still, co-presidents of the 2023-2024 Junior Advisor Advisory Board (JAAB) Jahnavi Kirtane '24 and Daniela Sanchez '24 said that they do not expect the responsibilities of incoming JAs to shift significantly.
In 2017, 70 sophomores submitted applications to the program — the lowest number SelCom had ever received — leading JAAB to reconfigure the entry system. Instead of two JAs overseeing approximately 20 to 25 first-years, three or four JAs became responsible for approximately 30 to 50 members of the Class of 2022. The applications rose the following year but have been decreasing since: 118, 109, and 95 rising juniors applied to serve as JAs for the Classes of 2023, 2024, and 2025.
Co-presidents of the 2022-2023 JAAB declined to share the number of applications for the Class of 2026, and Kirtane and Sanchez declined to share the number of applications they received this year, citing a concern for confidentiality.
Kirtane and Sanchez attributed the decrease in applications to a variety of factors, including students' desires to study abroad. They also said the JA role has changed since the pandemic, when the line between serving as an advisor to first-years and as an enforcer of COVID-19 rules became blurred.
Prairie Resch '25, who will serve as a JA to the Class of 2027, said that next year's cohort remains optimistic. "[We've] been very much like, 'We'll take it in stride. We'll figure it out,'" she said. "It's a lot of 'can-do' attitude."
Kirtane said she suspects the primary reason that students turn down the JA position is to study abroad. Jesse Schumann '25, for example, rejected the offer to become a JA to the Class of 2027 to study in Madrid, Spain. "If I had the chance to be [a JA] and still go abroad, I'd definitely still do it," he said.
"There's something that really appealed to me about breaking up my Williams experience and not having four continuous years on campus," Schumann continued. "Then, I can come back senior year and have a new appreciation for Williams after having a little break."
Along with its regular perks, studying abroad can also be the most financially responsible option for juniors, Kirtane said. JAs began to receive a stipend of $4,000 per year beginning this year, but the College's tuition has also increased to account for inflation. For the 2023-2024 academic year, the College's comprehensive fee — which includes tuition, housing, meals, and mandatory student fees — will be $81,160, Vice President for Finance and Operations Michael Wagner announced in an email to the campus community on March 1. With the exceptions of Williams-Mystic and Williams-Exeter Programme at Oxford, students pay their own study abroad program rather than the College for their semester or year away. As a result, a semester abroad typically costs less than one at the College, Assistant Director of Study Away Isabel Hansen wrote in response to Record inquiry.
"A lot of people would be losing money if they stayed on campus and were a JA," Kirtane said. "That is something we really do understand."
The expectations for and perceptions of the JA role have also changed significantly since the program's inception 98 years ago, Kirtane said. In the past, the relationship between a JA and their first-years was much more informal, she said. The relationship has since become more serious, especially for the current class of JAs, as their JAs were expected to enforce COVID regulations when they were first-years.
"While this year has been challenging for everybody, the stress and pressure of being a student have been especially amplified for JAs," the Record reported in March 2021 about JAs to the Class of 2024. "COVID restrictions have put JAs in the position of trying to enforce new rules and public health guidelines, which has made many of them uncomfortable."
Sanchez also mentioned that many JAs to the Class of 2024 had to monitor their first-years. "[They] had to shut down things and confiscate things and be just a bit more vigilant throughout the entry," she said. Consequently, the perception of JAs and entry experiences changed greatly, she said.
Beyond the altered nature of the position, students like Harry Albert '25 turned down the chance to become a JA because of the emotional burden they believe the position carries. Albert spoke to current and past JAs before making his decision, and many of them shared experiences in which they helped their first-years with serious mental health concerns, he said.
"You can't receive adequate training to help a student or a friend deal with mental health issues in a real way," Albert said. "What that training would look like would be becoming a mental health professional, yet [JAs] are expected to do that within their role — [that's] the impression I got from speaking to JAs."
Though Albert wanted to foster community among first-years as a JA, he ultimately did not deem the trade-off worthwhile, he said.
Similar factors contributed to Schumann's decision to decline the offer. "There are definitely times, even in my sophomore year, where it feels like I'm still very much figuring out how to navigate college," he said. "Taking on this role is assuming that you can guide frosh to have their best experience at Williams — and it still feels like I'm figuring that out [for] myself."
Through their roles on JAAB, Kirtane and Sanchez said they aim to prioritize the safety and health of the JAs in the same way they prioritize the safety and health of first-years. Specifically, they hope to emphasize the importance of boundaries and self-care to the incoming class of JAs. "We really want to show [that] we are links to our campus partners and our on-campus resources," Kirtane said. "Instead of being a therapist, we can connect frosh to meeting with the deans and the other variety of levels of support on campus.
"It's not realistic to expect the JAs to be doing everything," she added. "Being really, really clear about those expectations from the get-go is something that we are prioritizing."
Despite the work that the position entails, Kirtane said that becoming a JA has been the most rewarding experience of her college career. "You are truly, truly influencing the experiences of very impressionable first-years — and I think that is really special."