Advisor or enforcer? JAs grapple with ambiguous COVID-era responsibilities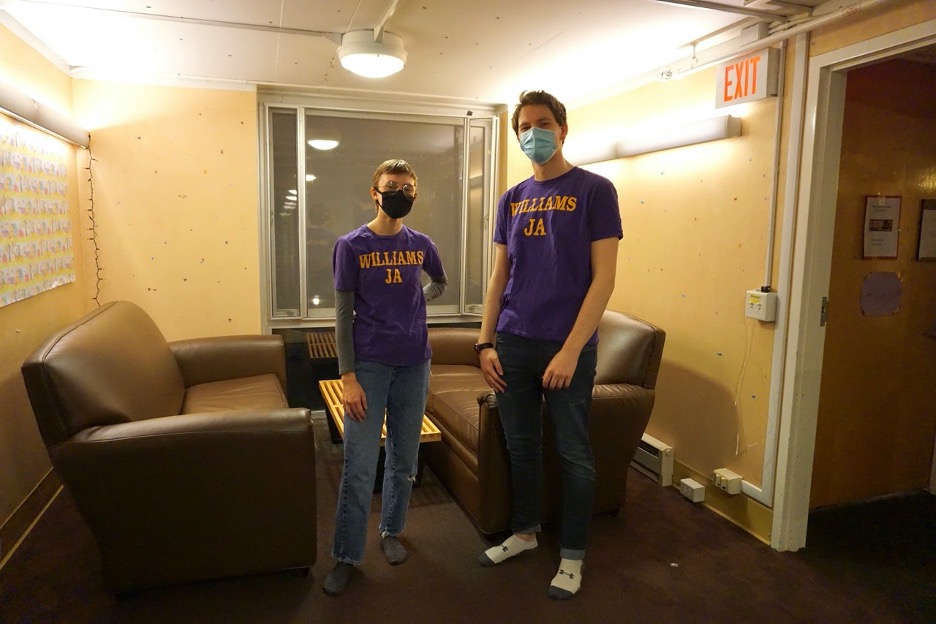 When Emma London '22 decided to be a Junior Advisor (JA) to the Class of 2024, she was looking forward to a fun year full of personal growth and bonding with first-years. "I wanted to step outside of my comfort zone, like what I was familiar with at Williams, and kind of grow as a leader," she said. 
Early this semester, however, London made the decision to step down from the role. "I definitely wouldn't say that it was me feeling like being a JA wasn't for me," London said. "I kind of just felt myself feeling an unhealthy amount of stress … to the point where I just felt like I wasn't able to engage with the role and my cos [fellow JAs] as I wanted to."
While this year has been challenging for everybody, the stress and pressure of being a student have been especially amplified for JAs. Having accepted their position before the true magnitude of the COVID-19 pandemic had sunk in, JAs have had to come to terms with the realities of this unorthodox year.
"I thought it was my only chance to be [a JA], even though it kind of sucked that it was during COVID," Caroline Case '22, a JA for AP1, said. "Before the semester even started, I already felt kind of overwhelmed with just trying to figure out ideas of how to even create community within an entry when usually you can at least all gather together in the common room."
COVID restrictions have put JAs in the position of trying to enforce new rules and public health guidelines, which has made many of them uncomfortable. "I don't enjoy it at all,"  Becca Brody '22, a JA for Lehman Hall, said. "It's not something that I think is fun. I think it's important sometimes, but not something that I would like to do." 
"Part of the aspect is that administration and CSS has been very inconsistent with the way they choose to enforce guidelines, and so more has fallen on student leaders to sort of decide how much they hold people accountable," she added.
Case said that the administration has welcomed JAs to reach out and ask them questions, but that the answers have not always been clear. As a result, JAs had to come up with rules that both they and their frosh were comfortable with — and that the College would approve of. 
For example, Case's entry only has one common room, meaning that many of the COVID rules designed for suite-style living are inapplicable. "It's very unclear where people are allowed to be and when, and they [the College] didn't ever set guidelines for that," she said. 
Danny Levine '22, Case's co-JA, expressed similar sentiments. "The JA class has really struggled a lot with what is our role in enforcing COVID restrictions," he said.
Peter Le '21, co-president of the JA Advisory Board (JAAB), agreed that JAs have been forced into a situation where they are pressured to enforce College guidelines.
"It's really weird with how things were set up this year because [JAs] are not responsible for the enforcement of the rules, but they have to at least make an effort to be a role model that follows the rules or encourage others to follow the rules, and I think it's hard for them because they are very much alone in that work," Le said. "The administration puts out messages and whatnot, and there are informational campaigns out there, but on the ground level, the person who sees the crowd and tries to remind people to follow social distancing — that ends up being the JA."
According to Le, many JAs have grown frustrated with the lack of transparency and clarity from the administration. From negotiations over affinity pods during the summer to controversy over the removal of a JA from campus in the fall, JAs and administration have often clashed over the College's policies.
"Unfortunately, this year, it has not been a good relationship," Le said. "Compared to last year, there's a lot of modification that has gone on, and I think especially in the summer last year, it was hard for JAs to have an input in [that] process… We didn't know what was going on until it was decided upon and told to us." 
The relationship between JAs and the administration has been especially strained by JAs' ambiguous role in enforcing COVID guidelines. "[The] administration was essentially guaranteeing that we don't have to 'enforce' anything, and 'enforcing' in their mind is like writing someone up [or] citing someone for an actual violation," Le said. "I don't think they understand the dynamics that JAs navigate with frosh in terms of rules."
A lack of clarity regarding the JAs' day-to-day role during COVID became especially frustrating for Case. "I didn't feel like any of the JA training was very COVID specific, which is all I really needed training about, and nobody really had answers," she said. "I don't have any clue what to do if a frosh is throwing a party in my croom [common room]. Do I call CSS? I have no idea."
Although Brody said that the College has become more transparent as the year went on, there still remains a disconnect between the administration and the JAs. "They're making more of an effort, but there's definitely been times where we don't really hear from them, or they expect us to deal with circumstances without additional guidance," she said.
In an email to the Record, Dean of the College Marlene Sandstrom acknowledged Brody and other JAs' criticisms. "I completely sympathize and agree with the sentiment from JAs that this past fall was challenging, especially with regard to COVID guideline compliance," Sandstrom wrote. "We were all learning while the plane was in the air."
Sandstrom said that the College had taken JA feedback into consideration. "We met with JAAB on several occasions, and held an open meeting with the JAs in order to clarify expectations and troubleshoot," she wrote.
Sandstrom added that the administration's goal was not to make JAs feel like they had to police their entries. "We never envisioned JAs as policy enforcers," she wrote. "Good role models, yes, but not compliance officers."
Nevertheless, JAs have continued to contend with unexpected responsibilities this semester. For London, who started out as a JA for the 73-student remote entry, the pressure she felt as a JA after coming on-campus was no longer healthy. "It personally took getting to campus and getting back into the swing of things to realize that I didn't have the mental capacity to deal with it all," London said. 
"We were helping, in the middle of the year, like 40 frosh move in on-campus," she continued. "Knowing that I would be getting back into a routine on campus while everyone had already been in the swing of things, helping these frosh essentially go through orientation and familiariz[ing] them with the campus, I realized that I needed to step back and focus on other things."
According to Le, 11 JAs have made the decision to step down from their position this year, with the bulk of those coming in the summer before the fall term started. "It's worked out in the end, numbers-wise, just because we don't have a full class of freshmen either," he said. "So we were able to redistribute frosh in a way that no one entry had a wildly off ratio."
Le stressed that being a JA was a choice instead of an obligation. "You're doing it because you want to do it and you're able to do it, and you have the space mentally and physically," he said. "We don't want to obligate anyone to stay if they don't want to continue in the position."
"If any JA wants to step down, we're pretty open with that process," he added. "As long as they talk to their co, they don't just drop out of nowhere, and there's a sense of understanding between them and their co, it's okay."
In the end, most of those who chose to stay were satisfied with their decision. "I think [the administration has] done a lot better … especially in terms of communication," Levine said. "I think on the whole, it definitely has been a positive experience." 
Case agreed. "It's definitely been tough, but I'm glad I did it," she said. "I'm so glad."