QSU, nonbinary students react to new gender-neutral bathrooms on campus, call for more trans inclusion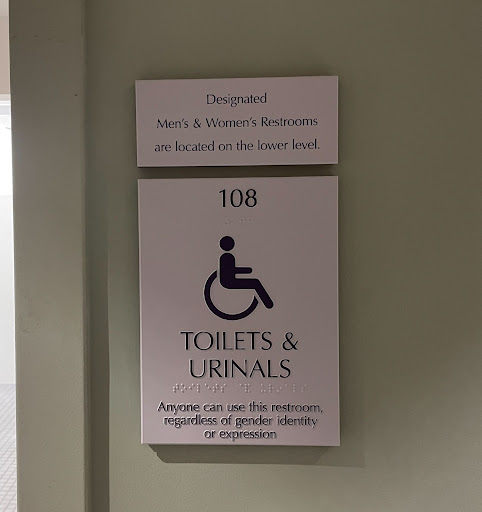 In November 2021, the Queer Student Union (QSU) published an online petition in recognition of Transgender Day of Remembrance, calling for the College to more widely implement accessible gender-neutral bathrooms on campus. "Having accessible gender-neutral restrooms in all buildings on campus is necessary to the protection, acknowledgment, and inclusion of transgender and gender non-conforming individuals," the QSU wrote in the petition. 
Following the publication of its petition, QSU began conversations with the Office of Institutional Diversity, Equity, and Inclusion (OIDEI) and the Trans Inclusion Committee, a College committee that works to make campus inclusive for trans and nonbinary students, regarding the implementation of gender-neutral bathrooms. As a result, the College has changed the designation of some bathrooms on campus — including in Paresky, as well as some academic buildings — from gendered to gender-neutral.
"QSU leadership wanted to do something that we felt was appropriate to the needs of our community," said Manny Copeland '23, who is chair of QSU. "We started up a petition last year for increasing the amount of gender-inclusive bathrooms, since a lot of spaces around campus generally do not thoughtfully include trans people."
Robin Henrikson '24 expressed that they were excited by the prospect of these changes. "Gendered spaces in general, as a nonbinary person, feel uncomfortable because I don't identify with the gender they are for," they said. "When I'm in those spaces, a lot of people don't see me as nonbinary — they just see me as the gender of other people in the bathroom, and that is uncomfortable."
According to Vice President for Institutional Diversity, Equity, and Inclusion Leticia S. E. Haynes '99, community feedback influenced the College's actions. "Over the years, OIDEI, which includes the Davis Center, has worked with campus partners on establishing gender-neutral restrooms," she wrote in an email to the Record. "Student input, as well as faculty and staff input, have always been central to these efforts."
Copeland, however, was frustrated by the College's lack of urgency in establishing more gender-neutral bathrooms. "The fact that this is something that is very simple and needs to be implemented now, I think, was something that we were active in communicating," they said. "This is a constant struggle for people. This is not something that can just go in the strategic plan."
Haynes noted that there may have been procedural constraints that delayed the project. "Sometimes if there are financial costs associated with a project, the costs must be included in the budget for the next fiscal year," she wrote.
"It's a really small thing to change the signage, so why not do it?" asked Hen Carnell '22.5.
It took almost a year after the petition's publication before the College changed the designation of the bathrooms on the ground floor of Paresky, one of the locations the QSU explicitly mentioned. "We were having these conversations in November [2021], and it took until the fall semester of the next year to have the restroom signs changed," Copeland said. "So yet another [class] year graduated without having safe and comfortable restrooms for them to use, and I think that is very sad."
While Carnell, who is nonbinary and trans, said they appreciated the College's implementation of gender-neutral bathrooms, they expressed frustration with the College's lack of messaging about the change. "It was a change without any sort of education, and so people genuinely didn't understand the importance of gender-neutral bathrooms," they said. "Then the trans people whom [the College] was trying to include ended up getting hate or having to do more emotional labor to explain the changes… That's honestly had the biggest effect on me."
Henrikson noted that, while bathrooms in Paresky are now labeled as gender-neutral, the effects of their past gendered designations still linger. The sign outside of the bathroom formerly assigned to women now reads "Toilets," and the sign outside of the bathroom formerly assigned to men now reads "Toilets & Urinals."
"I know their designations from beforehand, so I still go into the same ones out of habit, and I think a lot of people continue to do that as well," they added. "They still end up being slightly gendered spaces, in a way." 
Henrikson hopes to see the College implement more single-stall bathrooms, such as those in Wachenheim, which they said would both remove former gendered affiliations and assuage concerns about safety in gender-neutral bathrooms. "I know a lot of people are worried about safe spaces for feminine people and that sort of thing," they said. "I think that single stalls are a really safe environment."
Carnell shared similar sentiments. "I don't think that gendering [bathrooms] is actually what's going to make people more comfortable," Carnell said. "I think that bathrooms should just have more privacy and individual stalls, and that would resolve anyone's discomfort."
Beyond bathrooms, students are also advocating for the College to support the transgender community on campus by updating health care policies, hiring more transgender faculty, and making athletic spaces more inclusive.
Carnell, who is a member of Nova, the College's ultimate frisbee team for trans, non-binary, and female players, said that they use the women's changing room with the rest of their team. "It's not necessarily the most comfortable place," they said. "It's really silly that [the College] would make gender-neutral bathrooms [in some spaces] but then have zero gender-neutral options in the gym." Haynes said that OIDEI is actively working with the Athletics and Facilities departments to create gender-neutral bathrooms in those spaces.
Copeland also expressed hope that the College would take more initiative in the future. "I definitely think there's a lot more the College needs to do regarding creating safe and welcoming spaces for trans people, and [it needs to be] more proactive in doing so," they said. "I think a lot of the work is often pushed off to the OIDEI to get to it eventually."
Aly Corey, who is the associate director of the Davis Center and worked alongside the QSU to establish more gender-neutral bathrooms on campus, also recognized the need for further progress at the College. "Changing signs is a small but crucial step toward making this campus more welcoming," they wrote in an email to the Record. "It can be somewhat more challenging to transform our culture."
Working to create safer spaces, Copeland said, would reflect the College's support of the trans community more broadly. "I think it sends a clear message about what the College believes regarding who they want to protect and who they feel is worth protecting," they said. "I think that should include trans students, faculty, and staff."