Nonbinary athletes share experiences, lead initiatives towards gender-expansive inclusivity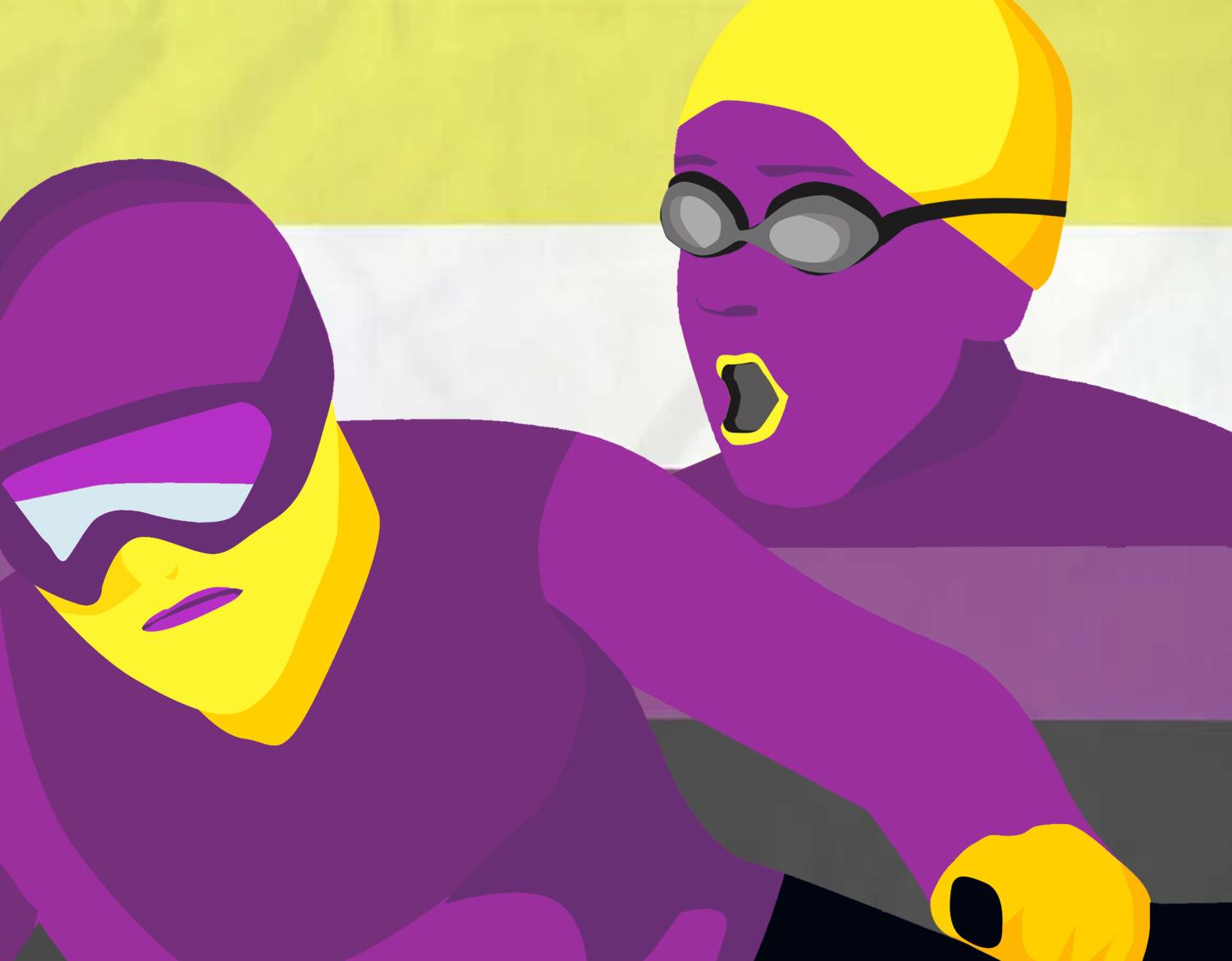 This month, the College's non-male ultimate frisbee team changed its name to Nova to remove gendered aspects from the name. The team was previously called La WUFA, a feminine counterpart to the men's team name, WUFO, all housed under the Williams Ultimate Frisbee (WUF) organization.
"There was huge resistance to [a] name change my freshman year," said Alice-Henry Carnell '22.5, noting that when they were a first-year student during the 2018–2019 school year, older teammates felt that the name was integral to the team's identity.
"Over my four years, that sense has completely dissipated," they said. "Now, there are more trans and nonbinary people on the team … and I think having [a nonbinary gender identity] … shapes the way you view and talk about something, and it also shapes the way that people around you feel about it."
Nova replacing the name that Carnell described as "clearly super gendered" comes into being as the National Collegiate Athletic Association (NCAA) instituted a new policy that enables it to determine the eligibility of transgender athletes on a case-by-case basis for each sport. While the NCAA only governs varsity teams, the new policy has sparked conversations across both club and varsity teams across campus. "If you're in athletics, there's nothing worse than changing the rules in the middle of the game, which is what just happened," Athletic Director Lisa Melendy said. "[This] has caused a huge uproar, appropriately."
But, as multiple student-athletes noted, the experiences of nonbinary athletes is shaped more by team culture than nationwide rules — and, in recent years, students have reported shifts towards gender expansiveness. The Record spoke to five nonbinary current and former athletes on the frisbee, crew, Nordic skiing, rugby, and water polo teams at the College.
'A billion other barriers'
For Joanie Cha '24 — one of Carnell's teammates on Nova — discussions of nonbinary and transgender athletics have often focused on medical transitioning or hormones, which they said do not encompass the wider array of difficulties that nonbinary athletes face. "While the medical struggles are totally [relevant] for a lot of people when competing and trying to join teams … you don't even get to that spot without facing a billion other barriers," Cha said.
In addition to playing frisbee, Cha was recruited to the College row for the women's crew team. Because both crew and frisbee had shortened practice and competition schedules in the 2020–2021 school year, Cha was able to play on both teams. 
"I wasn't always certain that I was going to row in college … and part of it was a question of whether or not I wanted to continue life on women's sports team," they said. "But also, that has been an ongoing decision that I've been making my whole life."
Cha said they found the College very supportive during the recruitment process. "The summer before my freshman year, I had top surgery," they said. "I was pretty nervous about communicating that with the coaches, but actually, I was very relieved and felt supported by them in my decision to do that."
However, upon arriving at the College, Cha said that they received no outreach or specific support regarding their gender identity. "When it came to support as a queer and trans athlete at this school, I had to find it myself," they said. "I did struggle a lot last year with feeling like I was alone in being a queer and trans athlete."
Carnell emphasized that "the [gender-specific] team that a nonbinary person chooses to be on is a super personal and super complex decision."
Carnell came out as nonbinary while attending the College, and was given the option to switch from playing on La WUFA to El WUFO. "I was considering going on testosterone … and I talked with captains and had to look into the frisbee rules," they said. "I decided that even if I was not able to compete, I still wanted to be on WUFA."
"That choice was partially because I felt really connected with WUFA — they were my community … and I felt like I would be a more authentic athlete and version of myself in that space," Carnell said. "It was a really intentional choice."
'The dynamic has definitely shifted'
Joining a team comes with joining a social community, and many students shared that the athletic social scene on campus has grown to be more inclusive in recent years.
Isaac Freitas-Eagan '23, a member of the men's Nordic skiing team until last month, said that the culture of Nordic skiing has improved since the start of their time at the College.
"When I first got here in 2018, the culture surrounding people who belonged on the LGBTQIA+ spectrum was very different than it is nowadays," they said. "There was a very masculine-dominated culture with [the] language of 'being hard versus being soft,' like if you can't get through a difficult workout you're 'soft,'" they said.
Freitas-Eagan also said that party spaces played a role in reinforcing gender dynamics between the men's and women's Nordic teams. "The men's team would rarely eat with the women's team when I first arrived," they said. "The party space was something that was really tough in terms of gender and sexuality … the only time the men's and women's team would interact would be when they got super drunk, which obviously led to a weird dynamic," they said.
Carnell agreed, explaining how social spaces outside of practices and competitions can facilitate or impede on the creation of an inclusive environment. "There are ways in which the [WUF] organization has failed to create safe spaces for everyone," they said. Upon joining frisbee leadership, Carnell has made an effort to intentionally create safe social spaces, such as a trans weight-lifting group. "I make sure that we have not just big parties, but also smaller gatherings and non-alcohol-centric spaces."
Freitas-Eagan took pride in improving the Nordic team's culture while serving as team captain. "We tried to focus on making party spaces that were about being in community with each other and enjoying each other's company," they said. "I enjoyed being intentional about trying to make the space more welcoming for people who didn't have traditional relationships with their sexuality or gender."
According to Freitas-Eagan, inter-team dynamics have now taken a shift for the better. "I think the men's and women's teams nowadays are pretty inseparable," they said. "I think that happened because some of the older men left and there are more folks who are sensitive to the complicated gender dynamics which can exist on a sports team … the culture is pretty good nowadays, especially in comparison with the way that it used to be, which was pretty toxic and not easy to be out in."
Carnell also stressed the importance of queer and nonbinary representation. "When I was a freshman beginning to think about my gender, there was no one who [shared] that experience," Carnell said. "So I made sure that I was vocal about my identity, and I would like to think that helped people feel more comfortable."
Speaking openly about their gender was also an important aspect of Freitas-Eagan's leadership, they said. "I tried to be so openly vulnerable and honest about the stuff I was dealing with … and who I was in terms of my gender," they said. "I enjoyed impressing upon people that it was okay to not be the 'ski dude' archetype — because that archetype definitely exists, and it's an archetype that I felt like I had to inhabit, especially early in my Williams skiing career."
Jordan Furtak '23, a captain of the club water polo team, echoed the importance of queer and gender-expansive representation in athletics. "I think that students have a lot of power in these spaces," they said. "Our wide array of leadership, many being queer and all who are very queer-positive, has been a big influence [on the] expanding membership of our team."
Club water polo has two teams: a co-ed team that competes in a men's league during the fall season and a non-male team that competes in a women's league during the spring season. Despite this formal difference, all players practice together. "I ignore the language of the league," Furtak said. "If someone [on the team] felt uncomfortable with that language, I think we would make our best effort to address that … the dynamic has definitely shifted [since my freshman year] to explicitly and intentionally make water polo a space for queer people to feel comfortable. It is one of [the club's] core tenets."
However, not every student participating in club sports felt that inclusion was prioritized. Jacob Chen '23.5, who practiced with the men's rugby team during their first semester at the College in 2019, said that the team culture was heteronormative and cisgender-normative because no other team members openly identified as nonbinary or non-straight.
"The rugby events were very much like, 'You can only be there if you're on the men's rugby team,'" Chen said. "So there was never anyone who was not a cisgender man in that space." They noted that this culture may have shifted since their participation.
'I had to make space for myself'
To all students interviewed, the importance of inclusive social spaces and queer representation plays a major role in athletics at the College, both positively and negatively.
"A big difference between [frisbee and crew], in my experience, is that it almost felt like frisbee had the infrastructure to welcome and support people of different gender identities or people that weren't women, whereas it didn't necessarily feel the same way for crew," Cha said. "That is not to say that they had different attitudes about gender-expansive people joining their team, but maybe crew wasn't as prepared for it."
This difference in team culture led to Cha having very different experiences on each team. "A lot more people misgender me [on crew] and a lot more people use gender-specific, woman-specific language, which made me feel a lot more exhausted being on the team," they said. "[I was] feeling like I had to make space for myself and explicitly prove why I was part of the team."
Freitas-Eagan also highlighted the potentially harmful role of gendered language. "If you're in the heat of the moment, and people are like, 'Let's go boys,' — it can definitely take you out of it," they said. "There's … an assumption that because this person was recruited to be on the men's team or the women's team, they want to be coached [in the way that] you think you should coach men or women."
"I don't think that the crew team was ever intentionally exclusive, but I think they use women-specific language a lot more than frisbee," Cha said. "In cheers and encouragement or just when addressing the whole team, everything is 'women, women, women,' or referring to us as 'ladies' or sometimes 'girls.' That would be very unlikely to happen on Nova."
Carolyn Miles, the interim head coach of women's crew, said that during her own collegiate rowing career, she found language that emphasized the increasingly central position of women in sports to be empowering, but has since shifted to using gender-neutral terms. "I have changed a lot of the way that I say things on the team," she said. "Stepping back into the coaching role this year, I'm like, 'Wow, not everyone on my team may identify as women,' so I stopped using that word. I would say the word 'folks' a lot, I'd say 'people,' I'd say 'athletes.' I personally had to work on this … that has been my own learning that I've done this year."
Miles also leads Anything but Straight in Athletics (ABS), an organization for LGBTQIA+ student-athletes on campus. Miles, who oversaw the revitalization of ABS alongside student leaders, described that the purpose of ABS began as "a space for student-athletes where they could talk about their experience on athletic teams … it was not just for varsity athletes — this was for all folks."
"The existence of that club was an exciting moment for me," Cha said. "There are a lot of queer [and] trans athletes but I think that their experiences are not highlighted… It's hard to recognize that there are other people, so actually having ABS and seeing that there were at least a handful of other people was nice."
However, they noted that "ABS does not have a lot of support or attendance… It's one of those clubs that's small and therefore it's hard for people to want to keep going. I think the club would be able to accomplish some really cool things if it had more publicity and support, encouraging more people to go and continue attending."
Melendy said that conversations around gender-expansiveness within the athletic department are often concerned with making facilities more inclusive, such as building gender-inclusive locker rooms. "I think we can continue to do better," she said. "We've been having a lot of conversations around facilities, but not necessarily as much as we might about how we are supporting people."
"We do train coaches around DEI [Diversity, equity, and inclusion] issues," Melendy said. "I will admit, I think we can do better in this area — there's still work to be done."
Cha recommended that "the [DEI] training should be explicit about having coaches be familiar with pronouns, using pronouns, and introducing pronouns."
In addition to having internal support from coaches, Carnell suggested that more institutional support for club sports could help build community among gender-expansive athletes. "In order to adequately support trans [and nonbinary] athletes, you have to adequately support club sports, because that's right now where trans athletes feel most comfortable being," they said.
For varsity sports, Cha said that all teams on campus that are open to nonbinary athletes should be open about their status so that prospective and current students could know that they would be accepted by their teammates and coaches.
"Even if there aren't trans and nonbinary people there in the first place, [clear language] makes it easier for trans people to start taking that first step if they want to," Cha said. "This puts the idea in people's heads that [sports] are a space that trans people can be in."
Correction: A previous version of this article incorrectly referred to the men's frisbee team as "El WUFO." The team is currently called "WUFO" and is also open to nonbinary students. The name was never meant to reflect gender-conventions, the captains say.