College raises student weekly work limit to 20 hours, TA positions to become hourly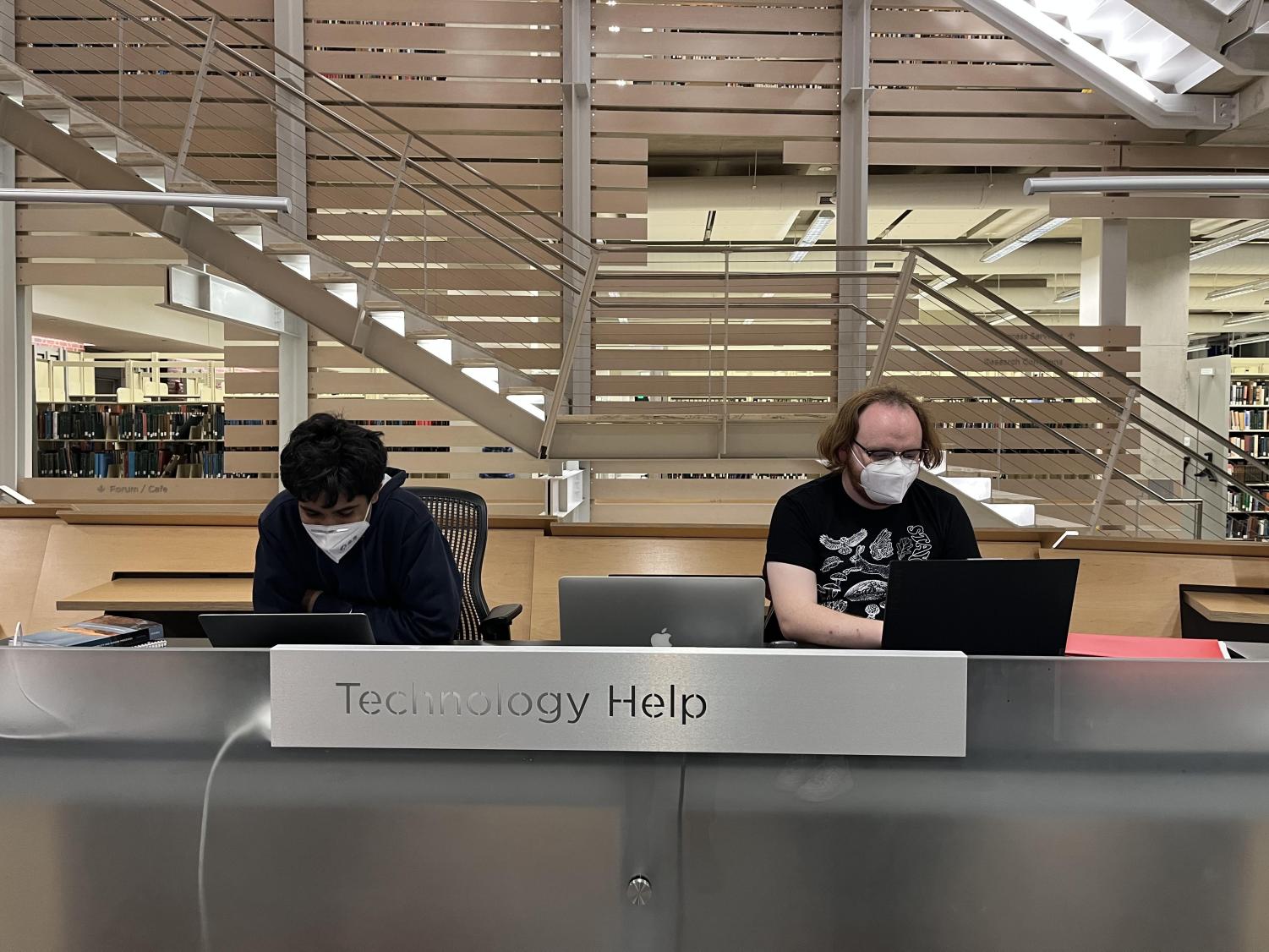 Effective for the next academic year, the College will raise the limit on the number of hours students can work on campus to 20 hours per week from the previous 10 hour limit, convert teaching assistant (TA) jobs to hourly positions, and allow paid residential leadership position holders, including Junior Advisors (JAs), House Coordinators (HCs), and Residential Directors (RDs) to hold other paid on-campus positions.
Manager of Student Employment Janine Burt announced the changes in an email to the student body on April 26, noting that these new policies follow the College's recent transition to an all-grant financial aid program effective next academic year and elimination of work-study requirements. "The recent changes related to student employment are all interrelated of course, though there isn't a direct association between eliminating the work-study requirement and the hours increase," Burt wrote in an email to the Record. She added that the current on-campus hiring priority system, which prioritizes students based on levels of need, "will no longer exist as the playing field has been made more even with the all grant financial aid program."
Burt framed these changes as responses to financial aid updates. "The hours increase is a direct response to community feedback and student employee desires for more flexibility," she wrote to the Record. Even so, some students do not think they will do enough to address financial inequity at the College. "While the change certainly allows students to choose how much time they spend working, it is still within the restraints of inequity since some students will be more inclined to work than others due to finances," Taylor McClennen '22 said. "While I certainly respect the College's decisions and do believe these are attempts to mitigate financial disparities, I don't think it fully solves the issue."
Student employees have told the Record that they have regularly exceeded the current 10-hour work limit with no ramifications. "I have worked more than 10 hours before," McClennen, who serves as, among other things, a North Adams Public Schools Student Leader for CLiA, told the Record. "There were no repercussions of doing so — I got paid for all hours and never was spoken to about my hours."
Burt told the Record that raising the weekly limit was influenced by "numerous requests from students, faculty, and staff for flexibility around the number of hours students are permitted to work."
Given the raised limit on working hours, Burt noted in her email that exceptions to it will no longer be made. "Exceptions to this limit will not be available due to IRS regulations and the ability to participate in student employment may be jeopardized for those who habitually exceed the limit," she wrote.
Students expressed appreciation that the College formally committed to allowing students to work more, but some also noted reservations about the significant increase. "I definitely support the increase in work hours, but I don't know if 20 is the right number," McClennen said. "As someone who has worked more than 10 hours in the past, it is a big time commitment. Especially for students who participate in intense extracurriculars where many hours are required a week, an additional work-study that is equivalent to a part-time job would significantly decrease free time. Although this is technically a freedom for students to choose, the additional pay may be necessary for some students and so they will forgo the free time that would otherwise be used for social life or mental health."
In response to comments like McClennen's, Burt wrote that eliminating the work-study requirement is "intended to reduce the pressure that students may feel to hold a campus position," but added that "the option for student employment isn't going away. Those students who wish to earn income from a campus job, even with an all-grant financial aid program, will still have the opportunity to do so… We expect some will continue to work and hope that others will feel empowered to use that gained time in other ways that they get to choose."
Charlotte Luke '25, who works as a tour guide and for CLiA, said that she approved of raising the limit, which, to her, sets a reasonable balance and equalizes opportunities. "I think 20 is a pretty good upper bound limit," she said. "I don't think a student could feasibly fit more than 20 hours of work into their week. [The raised limit] gives students more ability to work while still setting the expectation that it would be unrealistic and unrecommended for students to work a campus job more than 20 hours a week in combination with schoolwork and other commitments."
Luke pointed out that students who work off campus are not limited to 10 hours of work per week. "It seems unfair that students who exclusively work on-campus jobs aren't able to make the same amount of money due to that time limit," she said.
Hailey Brown '24, who works as a student employee in the Communications Office, echoed McClennen and Luke, saying that the current weekly maximum is too limiting. While she noted that the limit is meant to protect students from overworking, she added, "We are all adults; we need to have agency over our own financial situations and our own [work] schedules."
Burt noted that, despite the increase in the weekly student employment cap and the shift to hourly pay for TAs from the current full-time, half-time, or quarter-time designation system with corresponding stipends, students will not be permitted to log 20 hours per week as a TA. She added that guidance for students working as TAs will be forthcoming in collaboration with the office of the Dean of the Faculty.
Burt wrote to the Record that transitioning TA payments from stipends to hourly wages aims to "bring the positions in alignment with other Williams student employment positions and best practices in payroll" and "create greater accuracy in reconciling number of hours worked and compensation." She added that compensation for Language TAs, who are not undergraduate students at the College, will not be changed at this time.
Petros Markopoulos '23, who currently works as a TA, said that he wasn't sure how he felt about the new hourly payment system for TAs. He said that the computer science department, for which he has worked as a TA, "really needs TAs, especially for intro classes" and he finds it "unlikely that it'll be good for them to have people that can log individual hours because a consistent schedule is important." He noted that "maybe the change will only be in how logging is done, and [that change will] really add flexibility" but expressed uncertainty about how the changes would be handled.
Effective next year, students who work in Residential Life will still be paid a stipend, as announced by the College in February. In past years, JAs, HCs, and RDs were all volunteers, though this year, JAs were granted an ad-hoc stipend. As part of Burt's April 26 announcement, she noted that holders of these positions will be able to hold other on-campus jobs going forward.
Taylor Braswell '23 and Sarah Dean '23, who are currently JAs and the co-presidents of the JA Advisory Board, wrote to the Record that they support this change. "It is so important that JAs are allowed to maintain and explore the interests that made them such strong candidates for the JA role in the first place," they wrote. "We're excited that JAs will be able to undertake critical community-building work while continuing to hold other positions on campus that are important to their campus identity and interests, if they so choose.