Independent investigation finds former WPD chief, sergeant engaged in sexual and racial workplace harassment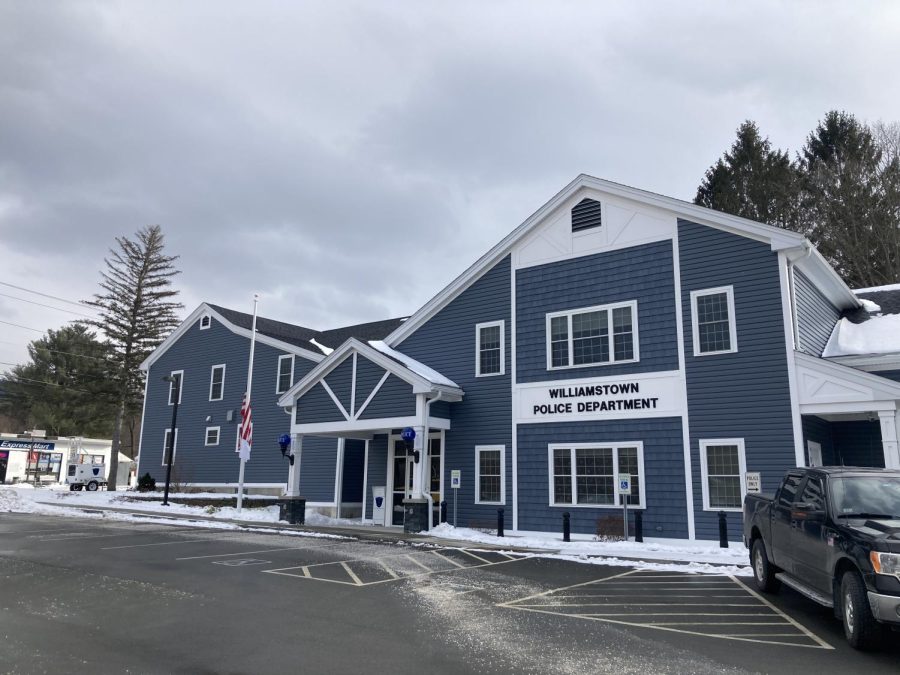 Editor's note: This article describes instances of sexual and racial harassment.
An independent investigation commissioned by the Williamstown Select Board concluded that former Williamstown Police Department (WPD) chief Kyle Johnson and former WPD sergeant Scott McGowan engaged in multiple instances of sexual and racial workplace harassment from 2002 to 2019.
The Select Board initiated the investigation in February 2021, hiring attorney Judy Levenson to investigate allegations of harassment and retaliation that McGowan had made in an August 2020 lawsuit against the Town, Johnson, and former town manager Jason Hoch '95. In March, the Select Board hired private investigator Paul L'Italien to supplement Levenson's work by investigating new allegations — detailed in an employee complaint signed by nine rank-and-file WPD members — that McGowan had himself racially and sexually harassed coworkers.
According to Levenson's investigative report, Hoch and Johnson did not retaliate against McGowan for criticizing sexual assault and racial harassment in the WPD. Her report rejects allegations from McGowan's lawsuit that he faced retaliation for opposing misconduct in the department. McGowan's lawsuit set off a wave of public uproar that ultimately resulted in the resignations of both Johnson and Hoch in December 2020 and February 2021, respectively.
Both Levenson and L'Italien concluded their work in August, and the Record obtained reports on the investigation's conclusions via a public records request submitted last week. According to the reports, both Johnson and McGowan made racist remarks targeting officers of color during Johnson's tenure. The investigation also found that both Johnson and McGowan rubbed their clothed genitals on other WPD employees. According to employees whom Levenson interviewed, this conduct was an example of a workplace culture under Johnson that included "inappropriate horseplay" and "stupid and immature behavior."
"Over time … conduct that once may have been tolerated as 'inappropriate horseplay' or 'immature' eventually became objectionable, intolerable and/or worse when left unaddressed," Levenson wrote in her investigation report.
Interim Police Chief Michael Ziemba, in an email to the Record, wrote that the investigation's findings confirmed for him "the amount of work that needed to be done to fix the problems at hand" — work that he said is already underway in the WPD. "The current department today does not in any way operate the way it did during the time period of the events detailed in the reports," he wrote.
The two investigators based their findings on interviews with dozens of current and former WPD employees and a review of police logs and written communications between officers.
L'Italien's report on McGowan
A report written by L'Italien on the employee complaint's allegations against McGowan criticized what L'Italien called "failure at many levels of the Williamstown Police Department," including "failure of management; (Former Chief Kyle Johnson)," "failure of policy," and "failure of on-duty officers to fulfill their duties and responsibilities." The report also affirmed several of the complaint's allegations about McGowan's mistreatment of coworkers.
According to L'Italien's report, officers did not hold McGowan accountable when they responded to calls involving his off-duty actions. This included, for instance, a 1997 incident when a WPD officer found McGowan driving on a College lawn with a female minor who had alcohol in her possession.
L'Italien also said that Johnson did not properly investigate or document a 2005 incident in which McGowan allegedly assaulted a student at the College and changed the police log to conceal his conduct. Though L'Italien could not conclude whether McGowan had changed the log, he wrote that Johnson's only apparent response was to schedule a meeting with McGowan and McGowan's father, who is a retired Williamstown fire chief.
McGowan resigned in October of last year, eight months after the employee complaint was filed alleging that he had created a hostile work environment. L'Italien's investigation sustained the complaint's allegations that McGowan had been "discourteous" with co-workers, violating departmental policy. L'Italien also found that McGowan had violated the WPD's rule for "devotion to duty," citing instances in which McGowan spent time at his home during his shift.
In a statement provided to the Record through his attorney on Friday, McGowan said that the Town's investigations "were not fair or impartial," arguing that McGowan's "whistleblowing activity" had made him a target for "character assassination."
Johnson could not be reached for comment by publication time.
Levenson's report on Johnson, McGowan, WPD culture
Levenson's investigation concluded that both Johnson and McGowan "initiated, participated in, and tolerated" racial and sexual harassment within the WPD. 
In particular, the investigation report said that both Johnson and McGowan pressed their clothed genitals against department members; Johnson and McGowan — as well as other members of the WPD — referred to a female dispatcher by nicknames such as "bae" and "baby girl"; and McGowan mimicked sexual intercourse with and pretended to slap the buttocks of a female officer whom he was standing behind.
At least two members of the WPD told Levenson that they heard McGowan use the N-word to refer to his Black roommate, who was also a WPD officer. The investigation concluded that McGowan often remarked that a female WPD officer of Puerto Rican descent "came over on a rubber tube, saw the Statue of Liberty and said, 'I made it to America.'"
The investigation also confirmed an allegation from the August 2020 lawsuit that, when Johnson saw a person of color enter the station or appear on television while a Black officer was present, Johnson would rub his eyes, look back and forth between the person of color and the officer in front of him, pretending to be confused.
Levenson wrote that her investigation was inconclusive on several claims from McGowan's federal lawsuit and the WPD officers' complaint against McGowan. Still, she noted that officers' detailed testimonies, as well as other offensive incidents that happened within the department, add credibility to some of those inconclusive claims.
These include claims that McGowan "watched and laughed as a male officer touched a female officer's breasts" and that a Black officer requested a transfer to a different police department because of racial discrimination within the WPD.
Levenson's report confirmed the allegation that an officer hung a photo of Adolf Hitler in his locker for two decades, and stressed that neither McGowan (in his supervisor role as sergeant) nor Johnson took action in response to the picture. The officer, Craig Eichhammer, has said that he hung the photo as a joke.
"None of these circumstances [officers calling the photo a joke] justifies the unprofessional conduct and poor judgment demonstrated by displaying for almost twenty years a racially and ethnically offensive photo, which many people regard as a symbol of hate, including [the officer] moving it from a basement locker to a walk-in closet/locker located on the second floor [of the station]," Levenson wrote. "Similarly, the fact that some officers who saw the photo may have regarded it simply as a 'joke' or 'story' underscores the gravity of the issue."
Town begins adopting recommendations 
Levenson's report also included recommendations for policy changes based on the findings of her investigations. These included recommendations for the department to update its harassment policy, implement anti-discrimination and bias training, and hire an internal affairs investigator.
L'Italien recommended that the WPD update its rules and regulations, adopt an employee evaluation system, and train supervisors on how to manage subordinates. In anticipation of the state accreditation process — and in response to the turmoil in the department in the last two years — the WPD is in the process of revising departmental policies.
"I did not see the reports until well into my interim role," Ziemba said of the investigators' recommendations. "I had already started or completed some of the recommended actions in the report. There were a couple other actions that I immediately undertook once seeing them."
The department has created written expectations for job responsibilities, conducted personnel evaluations and, Ziemba said, pursued "more accountability, discipline and documentation."
Since McGowan filed suit in August 2020, the Town and WPD have been under intense public scrutiny, especially for their disciplinary practices following revelations of officer misconduct. Most recently, in August, advocates criticized the Town for retaining Eichhammer, the officer who hung the photograph of Hitler. Eichhammer also admitted in 2011 to misconduct and to lying about it during a criminal investigation.
In January, Ziemba revealed that three WPD officers had illegally searched the records of department critics; in response, he temporarily suspended the officers. A few months earlier, in November 2020, a WPD dispatcher who had shared racist social media posts resigned — the same dispatcher who, as Levenson's investigation noted, shouted the N-word while a Black Williams student was visiting the police station.