WPD dispatcher who shared anti-Black racist Facebook posts resigns
Editor's note: This article contains images and descriptions of anti-Black racist and violent language and imagery.
A dispatcher with the Williamstown Police Department (WPD) resigned on Thursday after he acknowledged making a series of anti-Black racist Facebook posts over the summer. WPD Chief Kyle Johnson, who has himself been under scrutiny in recent weeks, recommended the dispatcher's termination following an internal investigation. 
Bill Jennings, the dispatcher, made the majority of his anti-Black racist posts in June and July, as Black Lives Matter protests were taking place across the country after the police killing of George Floyd in May. The posts used violent and dehumanizing language and imagery to refer to Black people.
Town Manager Jason Hoch '96 told iBerkshires that Jennings is the same dispatcher who, in 2014, shouted the N-word when a Black student from the College was being given a tour of the police station. The Town previously admitted to the 2014 incident in its response to a 2019 Massachusetts Commission against Discrimination complaint, although the dispatcher was not named. According to the complaint, Johnson took "no official disciplinary action" against Jennings in response to the 2014 incident.
Hoch, Johnson and Jennings did not respond to Record requests for comment by the time of publication. 
The Record obtained screenshots of the posts from an anonymous source who confirmed that they were shared by Jennings. The posts have since been taken down, but they were originally shared with the public.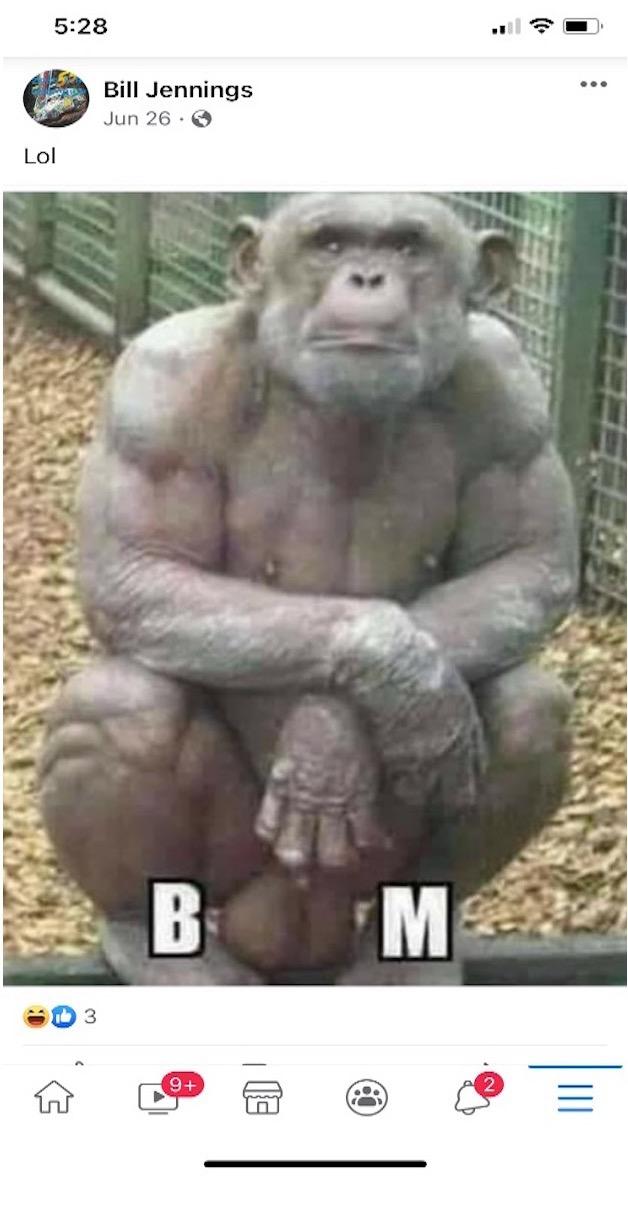 In one post from June 26 referencing the Black Lives Matter movement, Jennings shared an image of a gorilla with white text spelling "B M" superimposed on either side of it, the implied "L" being blocked by the gorilla's genitals.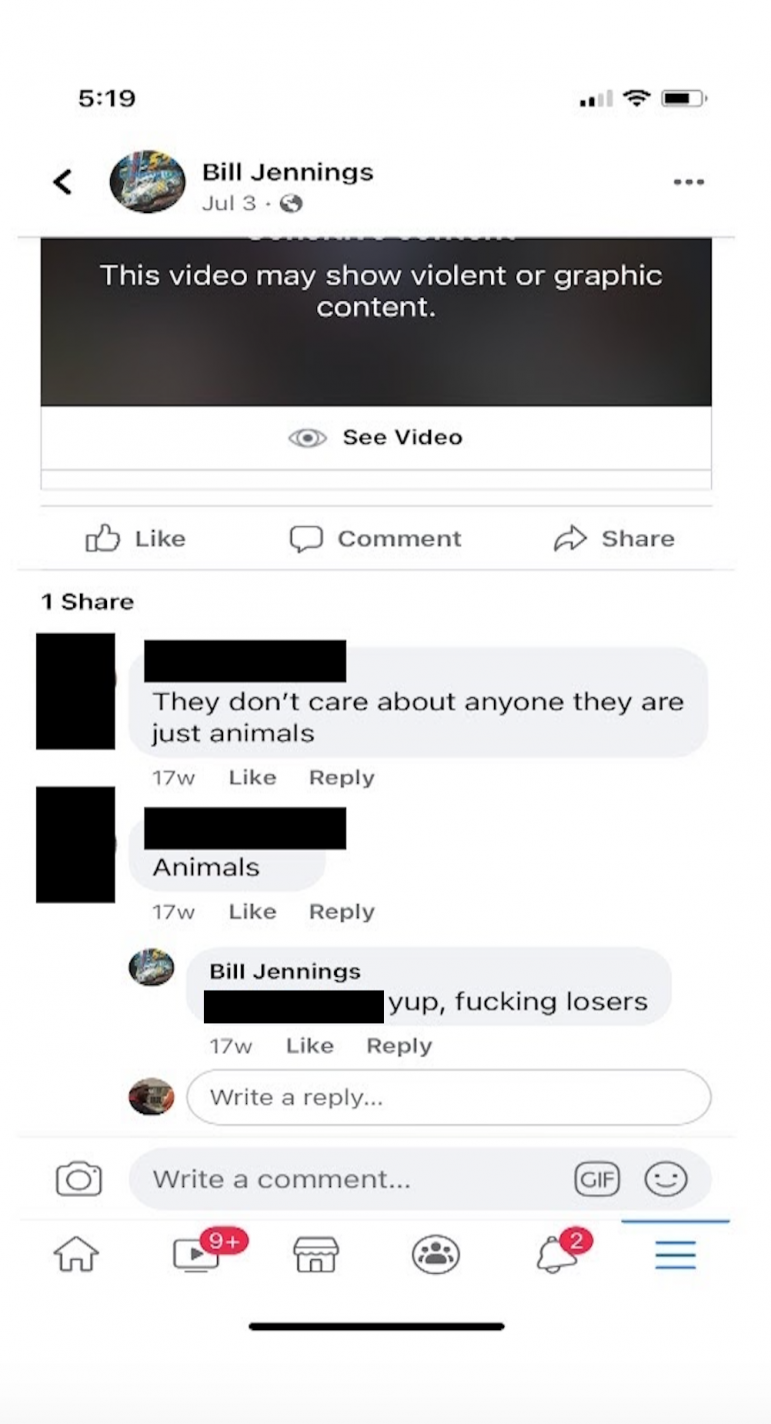 The following week, he shared a video in which a group of Black people take part in an apparent altercation at a convenience store. One comment on the video said, "Animals." Jennings replied to that comment writing, "yup, fucking losers."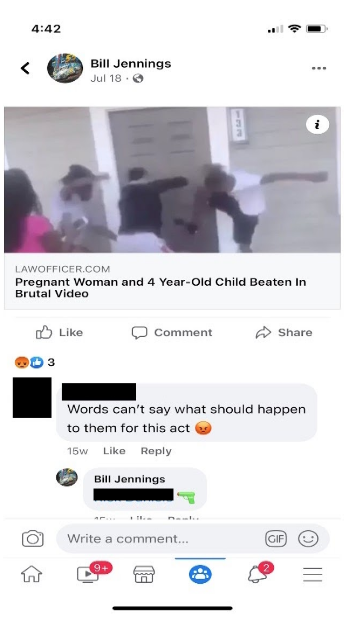 In another post from July 18, Jennings shared a video from "lawofficer.com" depicting a physical confrontation within a group of Black people. The headline of the video was "Pregnant Woman and 4 Year Old Child Beaten in Brutal Video." An individual commented on the post, "Words can't say what should happen to them for this act," to which Jennings replied with a gun emoji.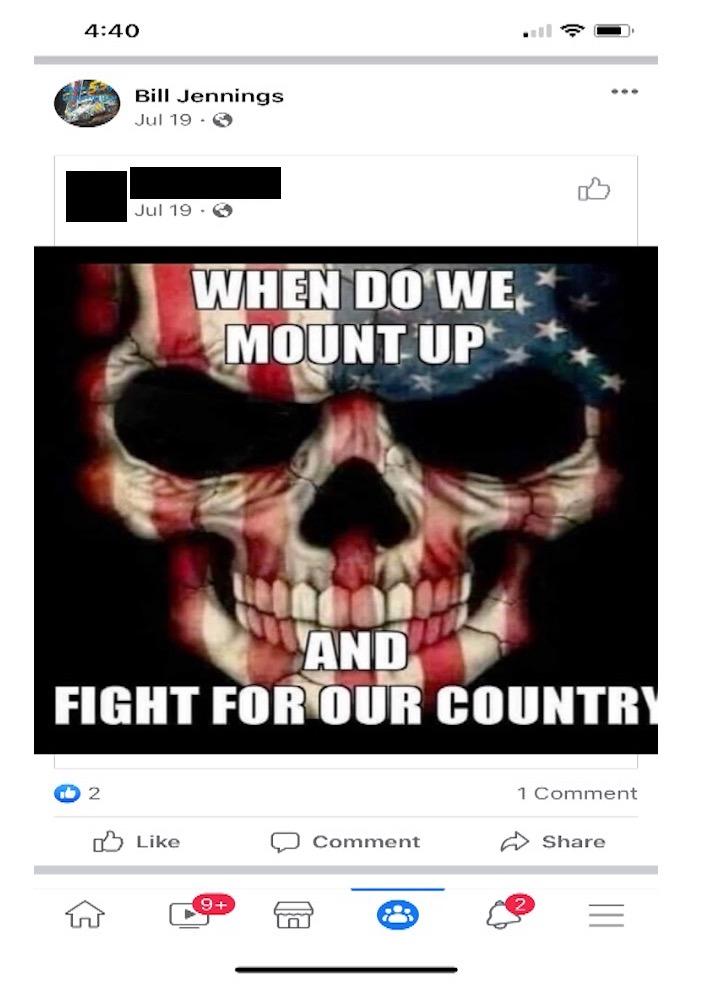 In a July 19 post, Jennings shared an image of a skull colored like the U.S. flag, with the words "When do we mount up and fight for our country," superimposed.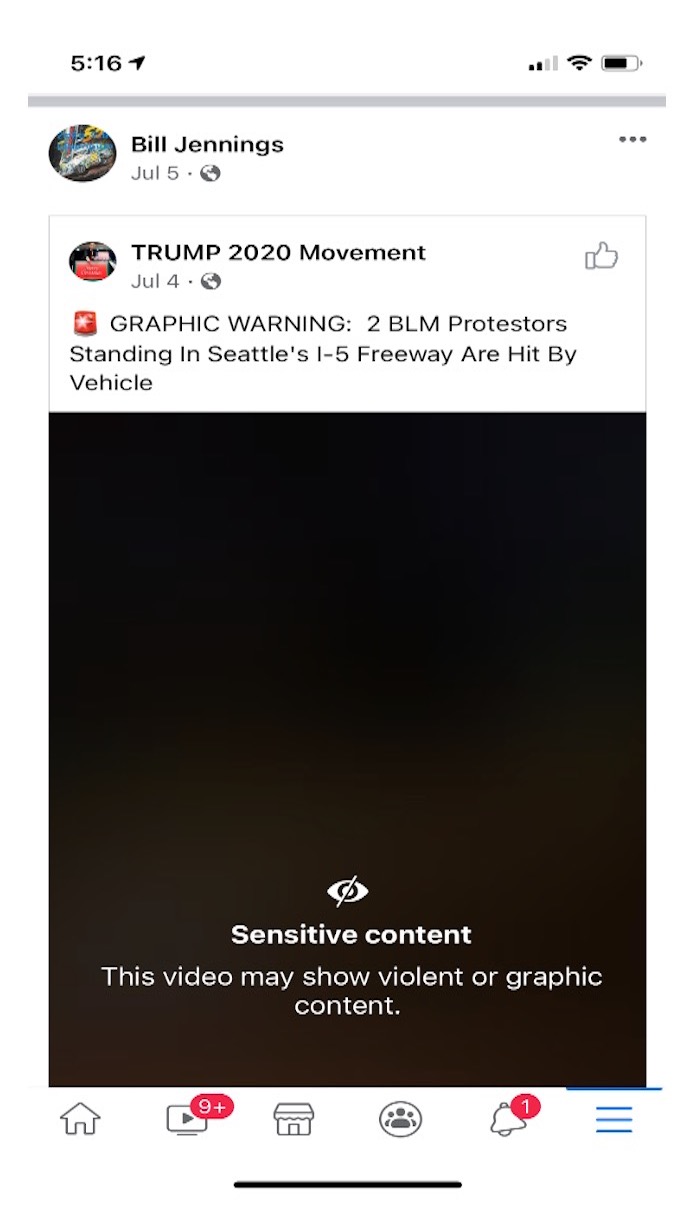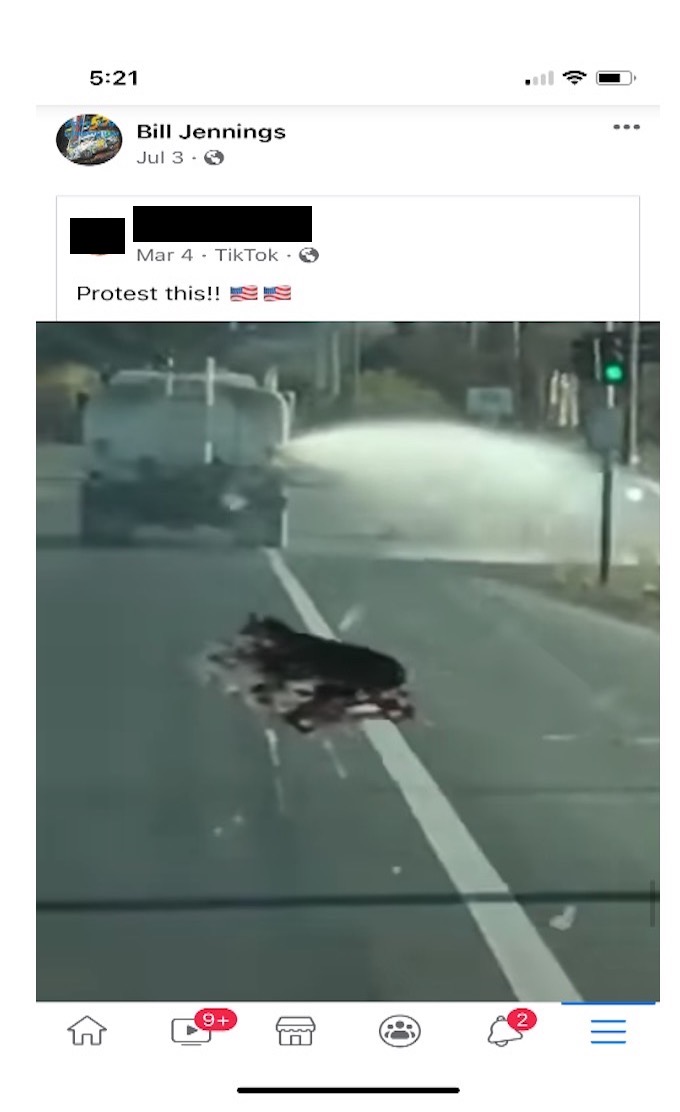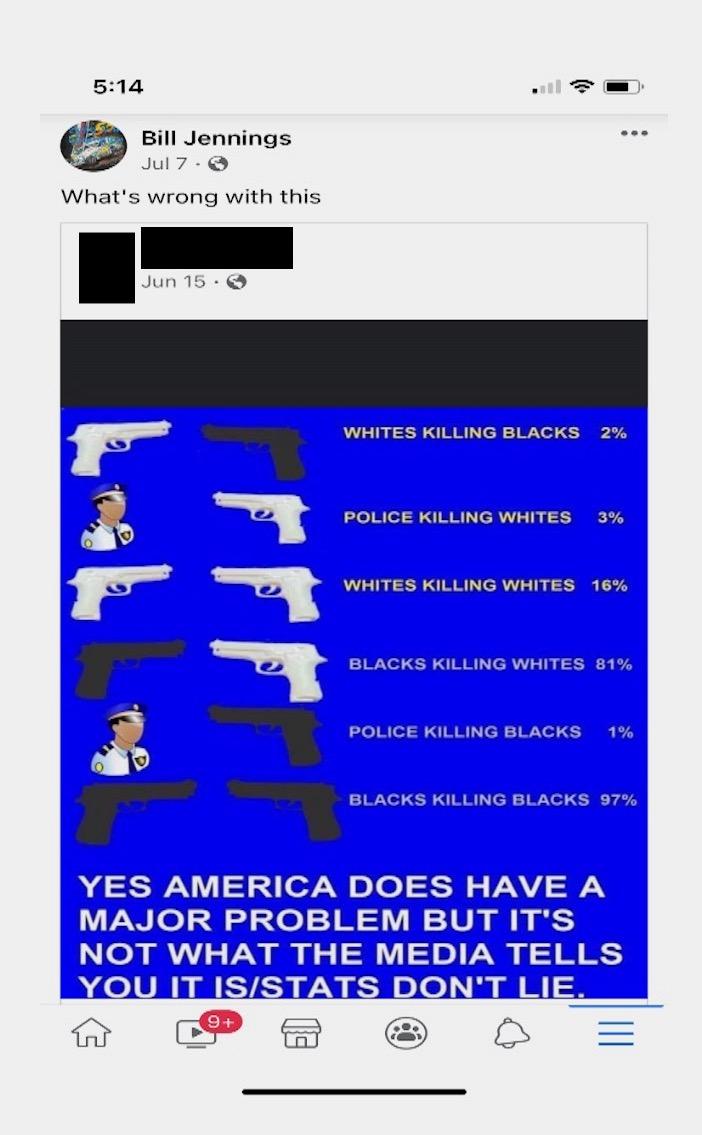 Other posts included videos of violent attacks on Black protesters with vehicles and fire hoses and incorrect statistics that supported racist tropes of Black criminality. Jennings also shared multiple posts denigrating the Black Lives Matter movement and two ridiculing Chinese and Mexican people. 
Johnson previously placed Jennings on administrative leave when the posts were first reported to him, Hoch and the Select Board on Saturday morning. According to the statement released by Hoch announcing Jennings' resignation, Johnson had determined by Thursday that "there were posts that were inconsistent with the Department's rules for professional conduct and responsibilities and conduct unbecoming an officer" and recommended his termination. 
Jane Patton, chair of the Select Board, told the Record she was pleased with the speed and transparency of the response by the Town to the particular incident. 
"It's the first few steps in a 1,000-step journey, or 10,000-step journey," she said. "We're a long way from perfect. But this is dramatically different than how it has been historically."
In his statement, Hoch said that the posts did not "appear to have represented an intentional threat to our community" — a claim that was criticized by community members. He previously said at the Select Board meeting on Monday that the posts "reflected racial bias."
Bilal Ansari, a member of the Williamstown Diversity, Inclusion and Racial Equity advisory committee, said that the statement showed that the Town was not living up to its "Not In Our County" pledges in Article 36 and 37. 
"For it to be characterized as not threatening, [as] 'racial bias,' I think that really missed the mark and I think if people viewed each post as shared to me and had my lived experience as a Black man in America, I don't think you would characterize it that way," Ansari said. "No one, but especially an employee of a police department, should advocate or promote such bigotry and hate in response to George Floyd's public execution." 
Jennings' resignation came as local police accountability organizers have called for Johnson's removal, in light of incidents of confirmed or alleged misconduct by Johnson and WPD officers under his command. The Berkshire County Branch of the NAACP also sent a letter to the Select Board on Thursday calling for Johnson, Hoch, Craig Eichhammer — who was placed on the Berkshire District Attorney's Brady list — and other "problem officers" to be put on administrative leave pending a full external investigation. 
Peg Kern, an organizer with the Williamstown Racial Justice Police Reform group, said that the posts, and the continued employment of Jennings since 2014, underscore the need for structural change.
"These are the precise sort of posts and sort of mentality that gets Black people killed in this country and hurt in this country every day," Kern said. "And if they are not able to recognize that, as a police chief who's supposed to be in charge of public safety… This community deserves better than this. It is completely reasonable for this community to expect new leadership."