College to loosen COVID restrictions, graduation ceremony guest limits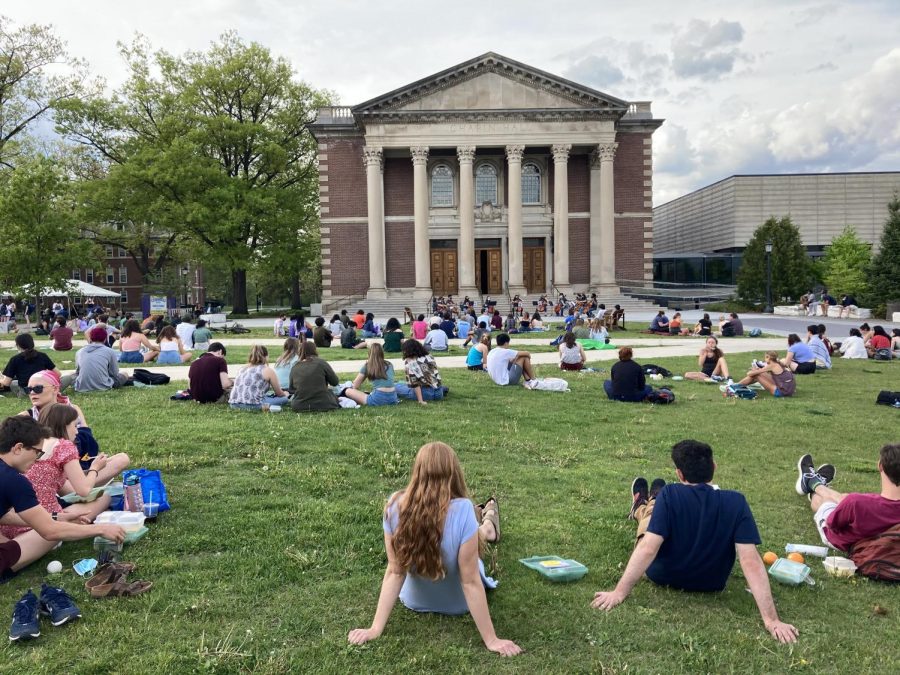 The College will loosen its COVID-19 restrictions in accordance with state rules, as well as broaden participation in the Class of 2021's graduation ceremony, President Maud S. Mandel announced in an email to the College community on Tuesday. 
These changes come in the wake of updated mask-wearing recommendations by the Centers for Disease Control and Prevention (CDC) and recent changes to state guidelines in response. Massachusetts Governor Charlie Baker announced on Monday that the state would lift all remaining COVID restrictions on May 29, allowing all industries to reopen at 100-percent capacity, rescinding the gathering size limit, and no longer requiring mask-wearing except in certain situations. 
Mandel's email noted that the College would adjust its guidelines to more closely align with the state's. "Starting immediately and through Friday, May 28, Williams will no longer require faculty, staff or students to wear masks outdoors as long as you are not at an event and you maintain six feet of distance from those around you," Mandel wrote. This change applies to both vaccinated and unvaccinated people, although size restrictions on gatherings remain unchanged.
Fully vaccinated people will no longer have to wear masks or social distance at the College beginning May 29, as per state guidelines. People who are not yet fully vaccinated must still wear masks indoors and at outdoor events, as well as practice social distancing.
Starting on May 29, students will also be allowed to leave campus without first seeking approval from the College.
Mandel also announced changes to the Senior Celebration, the Class of 2021's graduation ceremony, for which each senior was previously limited to two guests. Each graduating student may now bring six guests, as in typical years, and faculty and staff will also be allowed to attend.
Originally, the College's Senior Celebration plan allowed for no guests. But after backlash from the senior class, including a survey sent out to the senior class where 87.2 percent of 187 respondents expressed interest in a ceremony with a limited number of vaccinated guests, the College reversed its policy and decided on allowing two guests per senior. (The College is not calling the Senior Celebration a "commencement" because graduates will receive their diplomas only a few weeks after, once professors have submitted final grades.)
Some seniors expressed appreciation that the College administration changed its decision yet again. "A year ago, and really even a few months ago, having guests at graduation seemed like an impossible feat given the state of the pandemic," class officer Hayden Gillooly '21 said. "I truly do not have words to describe my gratitude to the administrators and everyone that helped to make this dream a reality. Everyone on campus has been working extra hard this year to keep us safe and to provide us with the most 'normal' college experience possible this year, and that does not go unnoticed."
The plans for Senior Weekend, however, remain unchanged. Many seniors had expressed disappointment with the College's decision to truncate the traditionally week-long senior activities, noting that many activities could be safely conducted outside.
But Mandel said the College could not change its plans for Senior Weekend this late in the semester. "Much as we would like to return to a 'normal' year all around, with only two weeks' notice for this huge change we need to focus on delivering a wonderful senior celebration and welcoming many more guests than we previously imagined possible," she wrote.
Though seniors had originally hoped for an extended Senior Weekend, with 96 percent of the senior survey respondents expressing interest in a non-abbreviated Senior Week, some still expressed satisfaction with the plans the College has made. "Of course, we all wish that we could have had more Senior Days events, but I am looking at the situation glass half full," Gillooly said. "Above all else, I am feeling thankful to be able to celebrate our huge milestone together and to be able to share that day with faculty, staff, family, and friends."