College to allow limited commencement guests, faces criticism from senior class officers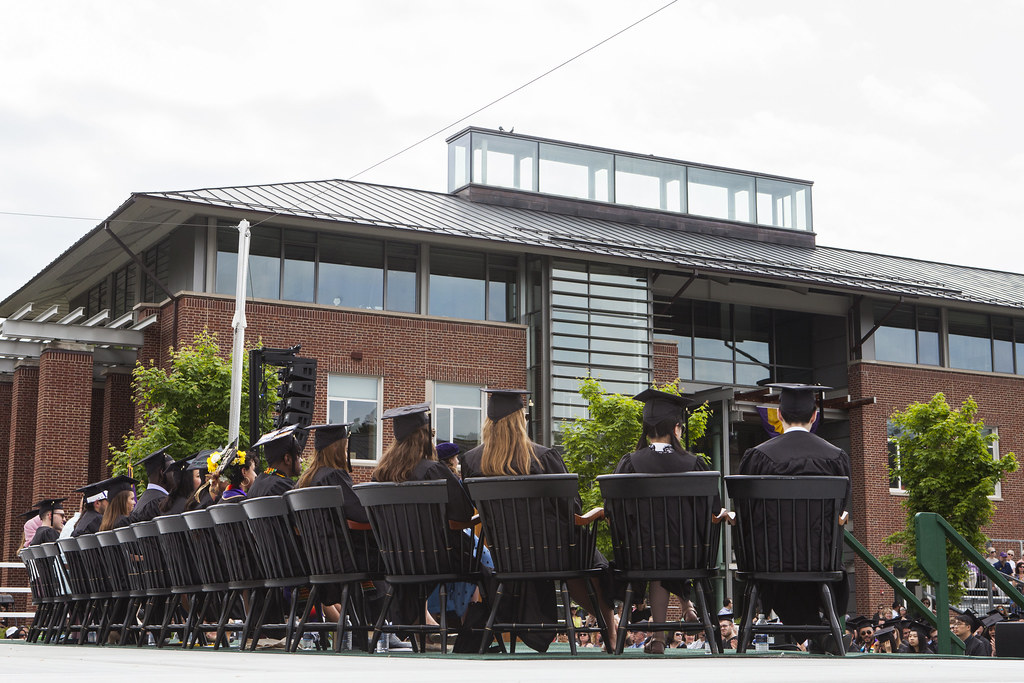 President Maud S. Mandel announced in a March 22 email to the College community that the College will now allow two in-person guests per graduating senior at the 2021 commencement ceremony. This announcement marks a change from the College's previous decision that no in-person guests would be permitted. 
In the email, Mandel and College Marshal and Professor of Chemistry Jay Thoman '82 referenced new commencement guidelines that the state issued on Friday as a factor in their recent decision. While the Massachusetts guidelines limit guests to no more than six per graduate, Mandel said that the state's more generous six-person limit "was designed to accommodate schools with arenas and other high-capacity venues," which does not apply to Williams. The email did not clarify what their policy for guests will be regarding vaccinations. 
The state guidelines also prohibit food or drink in the venue, as well as "communal gatherings and receptions before and after the ceremony itself."
Mandel and Thoman confirmed in their message that "students who completed their degree requirements in December 2020, as well as those on track to complete their requirements in December 2021" are eligible to attend the in-person commencement ceremony and Senior Days events. However, "participation in Senior Days has to be limited to seniors only, with no guests," the email said. 
Activities for the senior class in the week between the end of final exams and the commencement ceremony are traditionally referred to as "Senior Week." This year, "Senior Days" will take place over only a day and a half immediately following final exams — a decision by the administration that prompted push back from many seniors.
The decision to allow in-person guests itself follows opposition from the senior class over the previously restricted ceremony. After Mandel initially announced that no in-person guests would be allowed, the senior class leadership team sent out a survey soliciting feedback from seniors on the possibility of extending Senior Week and permitting vaccinated guests at the commencement ceremony. Of the 188 survey respondents, 96.2 percent said they would be interested in a full-length Senior Week and commencement and 87.1 percent said they would like for a limited amount of vaccinated guests to be allowed at the ceremony. 
Many seniors also said in their survey answers that they would prefer a longer Senior Week or extended time on campus after exams over having in-person guests, if a tradeoff was necessary. "Many Senior Week events can be done safely outside and following COVID guidelines," one survey respondent said. "There should be no reason why the College isn't giving us this opportunity to celebrate our success after an immensely difficult year — we should have the space to be with our class and acknowledge the disproportionate hardship we've endured throughout the year."
According to the senior class officers, the College did not see both a full Senior Week and guests at commencement as an option. "With the health situation improving, we were told that the issue had more to do with the 'administrative lift' of scheduling a Senior Week than it had to do with safety," class officer Vince McNelis '21 said. 
In the end, however, the administration made the decision to have guests but an abbreviated Senior Week. "We weren't really given the opportunity to choose between a Senior Week or guests," class officer Theresa Morley-McLaughlin '21 said. "In the negotiation that happened, it was established that guests would be allowed and a Senior Week would not be despite us showing the senior class preference. That preference was not taken into account, and we weren't able to choose which of the two options would best fit with our class' interest."
The senior class officers also expressed frustration about a lack of transparency and inclusion of students' perspectives in the College's commencement planning. "The senior class was easy to represent — they made their position clear," McNelis said. "The real challenge was finding our place at the table. It was often very difficult for us to access the conversations taking place, and when we were admitted, we weren't always well-received. By the time we got in, we were told that everything had already been 'finalized.'"
"It was like we had to explain why we deserved a right to voice our opinions," McNelis added. "It felt like we were breaking into a conversation that wasn't really meant to accommodate our perspectives."
Director of Commencement and Academic Events Carrie Greene '02, however, pointed to the changes made to the original commencement plans as evidence of the senior officers' involvement. "Senior officers played a far greater role in the shaping of commencement than any other I've worked on," she said. "They did not get everything they wanted, but that does not mean they were shut out."
Traditionally, the senior class leadership plays a role in planning Ivy Exercises and elections for class artist, historian, poet, speaker, and elected class marshals, but the Marshal's Office plans for the rest of the commencement weekend activities, and the Calendar and Scheduling Committee sets the dates for commencement years in advance. 
"In the past, commencement always has the same traditions, so the senior class leadership is not typically involved in these conversations because there is usually little to adapt," class officer Hayden Gillooly '21 said. "So perhaps that was an obstacle in why we were not included in the conversations throughout."
Gillooly suggested that as a "lesson to future years," the administration should solicit more student input in commencement planning, even after the pandemic. 
One change the class officers proposed was shifting commencement from Monday, May 31, which could be inaccessible for some families, to Sunday, May 30. However, Greene said the College was unable to change the date that late in the process due to the "confusion [the change] could cause for students, families, College staff, trustees, outside vendors, and the local community."
"But had we been involved in conversations earlier, that could have been a total non-issue," Gillooly said. "So I think that that point alone really highlighted the need to have student voices and needs heard in the conversation sooner."
No final decisions have been made about the events that will make up Senior Days, although previous years' activities have included a dance at Mount Hope and a Champagne Brunch. The class officers said they hope to allow seniors to spend as much time as possible together. "A general consensus among the group is that we want to prioritize activities that allow people to see their friends and hopefully enjoy that last moment with the people around them," class officer Oriana Cruz '21 said.
The senior officers also emphasized the importance of giving the commencement funds back to the senior class. "I would like to see the funds that they're conserving by slashing Senior Week be reinvested in something meaningful that commemorates what the class has gone through," McNelis said. "That's what the point of Senior Week is anyway, to acknowledge what seniors have done, unpack their experience, and hopefully leave them with a positive message going forward."