Michelle Alexander delivers Claiming Williams evening keynote on restorative justice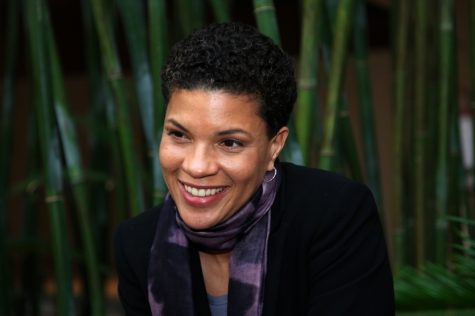 Michelle Alexander, civil rights lawyer and author of the New York Times bestseller The New Jim Crow: Mass Incarceration in the Age of Colorblindness, presented the evening keynote address for Claiming Williams Day on Thursday to an audience of 605 viewers. The talk, held on Zoom and moderated by Distinguished Visiting Professor of Education Kelsey Jones '08, focused on Alexander's personal revelations about racial justice as well as the means by which the United States can move toward restorative criminal justice.
Having previously served as director of the Racial Justice Project at the American Civil Liberties Union, Alexander is now a visiting professor at Union Theological Seminary and an opinion columnist at the New York Times.
"My own journey has been motivated by pain and ignorance as much as anything else," Alexander said. Recalling her childhood in California, Alexander spoke of being "sheltered from the racial realities of the world" and unprepared for the racism she would experience in college. After leaving the West Coast for Vanderbilt in the 1980s South, Alexander experienced racial trauma for the first time, spurring her decision to become a civil rights lawyer. 
"I look back and I realized that some of the racial pain and trauma that I suffered, as well as a painful awareness of my own ignorance, really propelled me," she said. "I became passionate about wanting to learn as much as I could and to get on the right side of justice and partially because I had never really known what it felt to belong."
Alexander converted her personal experience into advice, urging those new to activism to focus on not only what brings them joy but also the pain and mistakes made in the past.
Alexander recounted a mistake of her own that led her to write The New Jim Crow. When she worked as a civil rights lawyer at the ACLU, a young Black man framed for drug possession and beaten by police came to her with his story. Alexander said she refused to take his case because of his prior felony conviction. She was searching for the "perfect plaintiff," one that could defy racial stereotypes and appeal to white audiences. Alexander later realized that she was on "the wrong side of justice" for doing that. 
"I wasn't wrong for just not representing an innocent guy," Alexander said. "I was wrong because I thought there was some path to racial justice that did not include him."
Alexander also spoke about the importance of creativity in reimagining the overflowing U.S. criminal justice system. The U.S. holds almost 2.3 million people in prisons, meaning 698 out of 100,000 residents are incarcerated in what Alexander refers to as "a racial caste system."
"Our justice system is so backwards, so punitive in its orientation that all it seeks to do is to … inflict harm and suffering on others on the idea that this is going to balance the scales in some way," she said.
Instead of a retributive, "eye-for-an-eye" system, Alexander emphasized the importance of restorative justice. "What I think is so promising about many of the movements that have been born is that they are so forward-looking, asking 'What does it take to reimagine justice? What would the world look like without police and prisons?'" she said.
Alexander stressed the role of "revolutionary love" and unity in activism, insisting that racial justice movements do not need to rely on the approval of white people but should instead fight for their community with "deep solidarity rooted in love," much like the Black Panthers did. She credits love for the endurance of the movement that started in Ferguson, Mo., after the police killing of Michael Brown in 2014.  
In addition to love, Alexander emphasized that organizers should work together rather than alone. "I formed women of color writing circles, have joined activist circles, and try to stay connected so that I am never in a position where I think that I'm totally on my own," she said. "None of us really are."
Alexander concluded her remarks by noting that while the country has made much progress in securing racial justice, the work is far from finished. 
"Right now we're in a moment where people want to think we're having kind of a leap towards progress because we defeated Trump and we can go back to normal," she said. Instead, she said progress requires "really being honest with ourselves about what 'normal' has been for poor people and people of color in this country, and whether that's something any of us would want to return to."