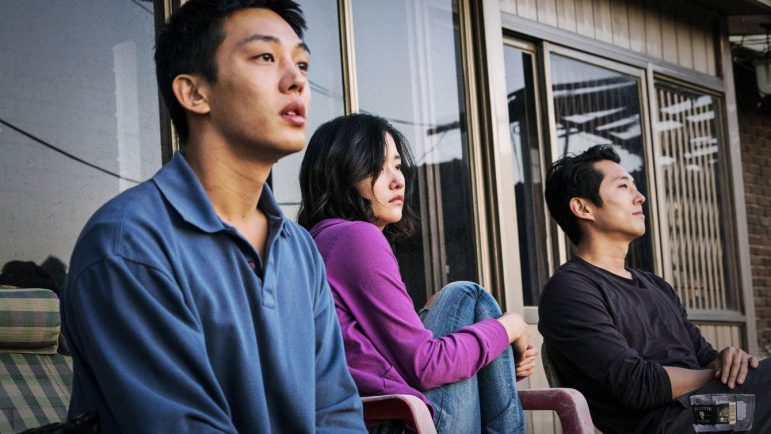 South Korean filmmaker Chang-dong Lee's Burning is a daunting, enigmatic tale saturated with social critiques. Lee's first film since 2010, Burning channels Lee's frustration with the South Korean economy and former president of South Korea Park Geun-Hye, who enforced a blacklist of 9473 artists, including Lee himself, for speaking out against the government.
Burning is full of political allegories, symbolism and ambiguous themes. Visiting Assistant Professor of American Studies Anthony Y. Kim, in his second "Box Office Hours" appearance, explained the cinematic style of Burning and Lee's films as a whole.
"Lee Chang Dong's films have always featured difficult subjects and stories that throw into question the progressive image of South Korean modernity," Kim said. "They expose the underbelly of a fraught 'democracy' that is still very much haunted by national division (for example, the North Korean propaganda broadcasts that you can hear from Jongsu's farm in Paju) as well as decades of brutal U.S.-backed military dictatorships."
The Korean genre-bending thriller is adapted from the Haruki Murakami short story "Barn Burning," which focuses on protagonist Lee Jong-su, played by Ah-in Yoo in the film, a part-time worker in South Korea. While completing a delivery, he runs into Hae-mi, played by Jong-seo Jun, a girl who grew up in the small rural town Paju with Jong-su. Their relationship eventually blossoms into a romantic one, at least by Jong-su's standards. Soon after reuniting, Hae-mi travels to Africa and returns with Ben, played by Steven Yeun, a mysterious, rich man whom she met in Nairobi, Kenya. As the three begin spending time together, Ben's character comes under scrutiny. He admits to odd hobbies like burning down abandoned tree houses, and Jung-su is increasingly perplexed by his personality and wealth, culminating in a strange sequence of events and mysterious disappearances.
From the opening shot, Burning is relentless, though not in a conventional sense – its subtle dialogue and captivating cinematography by Hong Kyung-pyo create an atmosphere that draws viewers in and never lets them go. Its unanswered questions linger long after the credits roll, but that's the magic of it. There's something to be said about complex story lines whose loose ends all come together at the end, but even more beautiful are those that can produce hundreds of interpretations. After all, movies like 2001: A Space Odyssey would not be the classics they are today without their open-ended inquiries.
Economic inequality across generations and the current unemployment dilemma for many South Korean young adults are explicitly addressed in Burning, particularly in the relationship between Jang-su and Ben. The current Korean economy is similar to a caste system, making economic mobility near-impossible.
"I think Lee uses the enigmatic, elliptical narrative template of Haruki Murakami's short story in order to express the structural and existential problems of the 'millennial' generation in South Korea – especially their pessimism and rage as they confront both the deepening class divide and income inequality (the worst in the Asia/Pacific region)," Kim said. "As well as the failures of dominant institutions like the government, the education system, and the workforce to actually improve their lives."
While the three main characters are each worthy of exploration, Hae-mi's character is distinct because it appears to be dependent on the two men's images of her. Viewers look at Hae-mi both in a third-person perspective and through the male gaze, exemplified by the toxic masculinity of Jang-su and Ben. After the film, Kim described to me his thoughts on Lee's goal of portraying Hae-mi in this way.
"We can think about some of the problems in terms of gender. Murakami's work is marked by an egregious 'disappearing woman' trope, and here, Lee uses that to think about the disposability of South Korean women at the hands of both capitalism and patriarchy," Kim said. "Yet, while both Jongsu and Ben are shown to embody toxic forms of masculinity, especially in the ways they use and seek to 'possess' Hae-mi, our ultimate point of view about Hae-mi is always just in relation to them, constrained by their gazes and desires."
Hae-mi is plagued by credit card debt; as a consequence, Ben maliciously targets her vulnerability, lavishing her in upper-class experiences and material goods. What results is an unhealthy, predatory relationship that is never fully resolved. Hae-mi continuously struggles between her urges to express herself and the patriarchal norms imposed by her surroundings. At one point, Hae-mi dances to jazz music during dusk above her old town, removing her shirt and emulating freedom with the motion of her arms moving up toward the sky. The shot is beautiful, placing her silhouette in the foreground with a deep blue, orange and yellow sky behind her. The moment immediately turns somber when she begins crying, but neither of the men attempts to console her. They do not seem to really care for her, but more about their competition to own her love, throwing Korean society's patriarchal structure into relief.
The stunning visuals of Burning converse with its sharp social commentary to produce a worthy and compelling film.