Syrian artist, architect brings Damascus to United States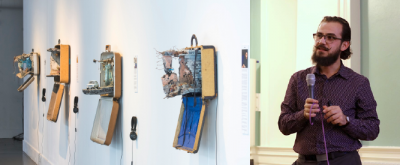 We are living in a world that wants to label us quickly – immigrant, refugee, illegal. But Mohamad Hafez, an eccentric Syrian artist and architect, likes to confuse people. "I have a curly [Salvador Dalí-esque] moustache and a beard. Am I an artist, or should you call homeland security?" he asked at the beginning of his recent lecture titled "HOMELAND inSECURITY: Art standing as a testament to the desolation caused by the Syrian Civil War." Immediately, Hafez set the tone – he is not afraid to talk about controversial topics. Hafez was born in Syria, raised in Saudi Arabia and educated in Iowa City, Iowa. While trained as an architect, he prefers expressing the juxtaposition of East and West through his artwork.
Hafez's visit was co-organized by the Muslim Student Union (MSU), the Davis Center, the Chaplain's Office, the Arabic studies department and the studio art department. "Hafez brings voice to the destruction [in the Middle East]; [his art] reminds people that people are still displaced from their homes, a reality that is very much ignored," Omar Kawam '20, MSU treasurer, said. "While people try to detach religious motivation from [their] civil or justice work, we wanted Hafez to talk about his religious inspiration."
For the past decade, Syria has witnessed a level of demolition unprecedented since World War II. "How do you weep creatively about the destruction? That the 100 year old Umayyad Mosque, part of a world heritage site, has been destroyed?" Hafez asked. Unable to leave the United States in over eight years, Hafez grew homesick, so he decided to do the next best thing. Interested in people, real lives and stories – and infatuated with the architecture of old Damascus – Hafez sought to recreate his hometown in meticulously detailed miniatures. Soon he was molding plaster, aging it to look like a 900-year-old wall. Adding hopeful words from the Quran in calligraphy to the façade, Hafez realized the power of architectural graffiti as a vehicle to send messages. In his later works, he abandoned the plaster and switched to found objects – miniature toys, piano keys, broken ceramics and even dried flowers.
"While you see a speaker on this minaret, that is no more than an acorn. Your human eye is so trained that I don't need to model everything from scratch, I just have to give you hints, and you will finish the sculpture," he said. Realizing that art could serve as a gateway for the truth, Hafez created HOMELAND inSECURITY: a collection of remodeled bombed-out buildings. What began for Hafez as a therapeutic way to remember home has transformed into a rich and complex project, ingrained in the horrors caused by the war.
Hafez's artwork extends beyond depicting Syria and into a broader commentary on today's political climate. His Majesty's Throne is a model of a bathroom above civilian houses; sitting above the toilet is a portrait of a defaced President Trump – Hafez cheekily notes the portrait "was a computer-generated image of a non-existing character and any similarities are a complete and total coincidence." "Everyone can relate to lunatics in power, who sit on their [throne] tweeting away, spewing out 'beautiful' messages," he said as the audience started chuckling.
Other pieces in HOMELAND inSECURITY present three-dimensional cities inside antique suitcases, many of which were donated by older refugee families. "Use the stories of yesterday's immigrants to tell the story of today's immigrant because history tends to forget our mistakes," one of the donors said to Hafez. Suitcases offer both physical and emotional standpoints to show that these refugees have left behind something substantial. "We have all left a life," Hafez said, pointing to an image of a miniature beautiful, baroque couch resting against the rubble of an abandoned living room. Not all of his work portrays destruction; most of it, in fact, is trying to romanticize what he has left behind. In Hiraeth – a Welsh word meaning homesickness for a home to which one cannot return, or a home which never existed – a minaret decorated in delicate gold and white engravings is featured, highlighting the beauty of Syrian architecture.
While the media has covered his work, the human storytelling aspect is not always present. "The media outlets are only interested in my miniatures," Hafez said. In the summer of 2017, Hafez and Iraqi-born writer and speaker Ahmed Badr created UNPACKED: Refugee Baggage, a multi-media installation revealing the physical and psychological trauma experienced by individuals forced to flee their homelands. Over tea and baklava, the duo interviewed five families – from Afghanistan, Congo, Syria, Iraq and Sudan – who are now building new lives in the United States. Hafez remodeled the rooms, homes and buildings that had been left behind by these families into suitcases, and Badr curated their stories (using their own voices) into 60-second clips.
On one wall hangs Joseph's suitcase, carrying the remains of an elegant living room – ornate wooden chairs surrounding a dining table and an embellished mantle piece with a golden cross, placed in the center. Joseph, from Congo, now drives for Uber in New Haven, Conn., and while he has probably interacted with thousands of people, no one has ever asked about his story. "This project was able to share that he was a prominent lawyer, married to a journalist who was targeted by the government. So they fled," Hafez said. UNPACKED: Refugee Baggage is not trying to romanticize these refugees, but rather to humanize their stories.
For Hafez, art draws a common denominator between people, allowing for conversations that are usually difficult to address. "Who doesn't have baggage? Who doesn't have an experience, [in which] they went into hardship? Their story might have started with suffering, but that's not where their story ends," he concluded amid the standing ovation.