Sing, Unburied, Sing author Jesmyn Ward speaks on storytelling
Kristen Bayrakdarian
October 17, 2018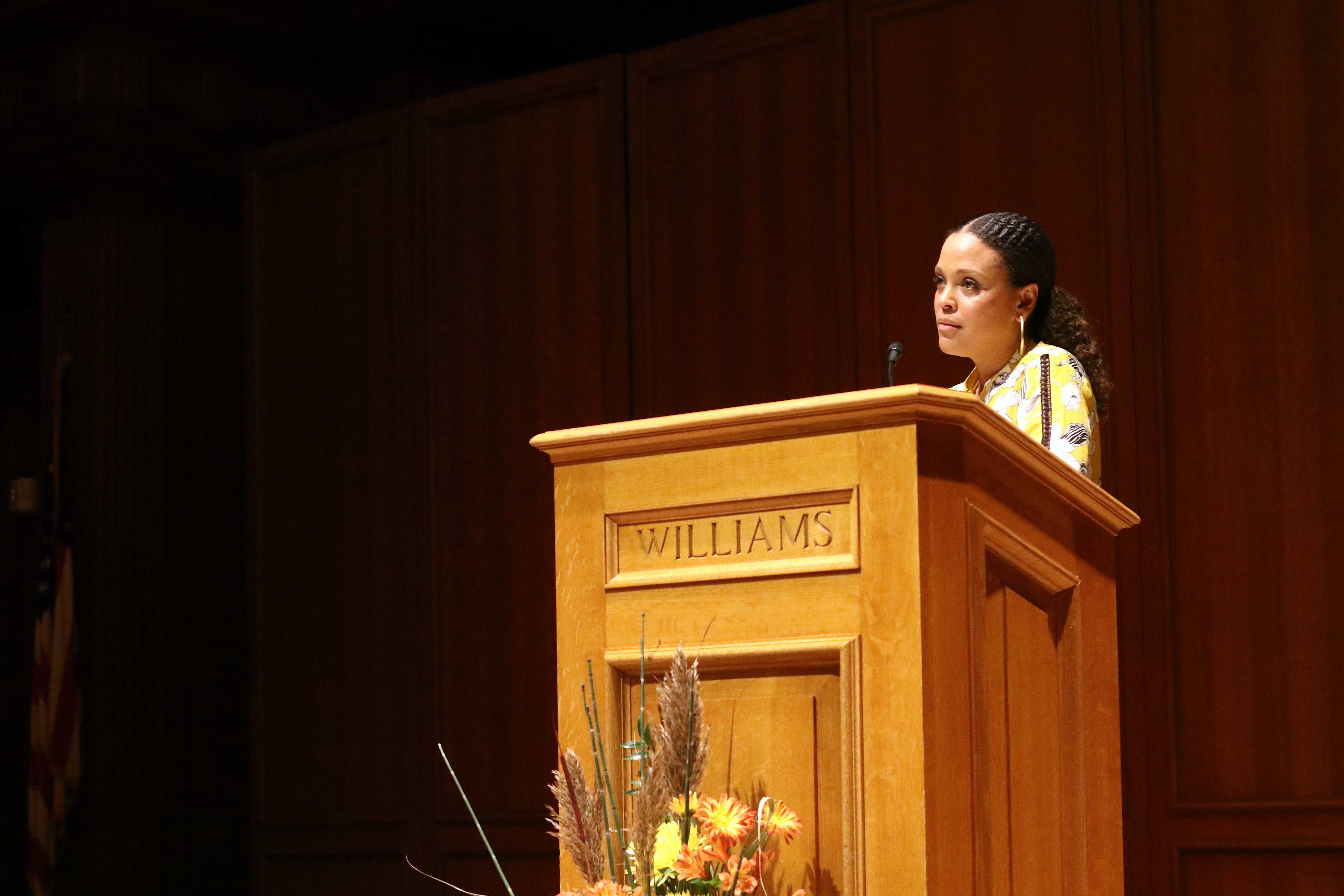 Last Thursday the College hosted Jesmyn Ward, author of this year's Williams Reads book, Sing, Unburied, Sing. Ward reflected on the events that have shaped her life and influenced her as a writer. 
Marlene Sandstrom, dean of the College, opened the talk by reaffirming the mission of Williams Reads, stating that the program is a way to "see and feel and understand the world through people who experience and see the world differently than us." Sandstrom was then followed by Professor of English Kimberly Love, whose courses focus on the intersection of literature and the black experience. Love introduced the author with a befitting forward on blackness and the American South, two themes that Ward's characters grapple with in Sing, Unburied, Sing.
Just as the lives of the characters in her book are shaped by drugs, violence, teen pregnancy, poverty and racism, so too was Ward's upbringing. "This is the modern South," Ward said soberly. She spoke about her sister, who became pregnant at age 12. She also talked about a variety of family and community members who became high-school drop-outs and addicted to the drugs they sold. She repeatedly mentioned her brother, who was killed in a car accident, while the man who hit him was merely convicted of "leaving the scene of the crime." Through telling her own family and community's experiences in southern Mississippi, Ward painted a clear picture of a country still plagued by the festering sores of racism.
As she discussed her upbringing as a poor and black child in the South, Ward recalled "trying to escape [her] world" through books, particularly ones about "stubborn, smart, underdog girls." Ward listed books like The Secret Garden, From the Mixed-Up Files of Mrs. Basil E. Frankweiler and Little House on the Prairie. She particularly identified with Cassie Logan, from Roll of Thunder, Hear My Cry, because just like her, Cassie was a "lonely, scrappy black girl." 
Her mother's employer paid for Ward to go to a predominantly white, privileged high school. As one of the only people of color there, she was often subjected to racist remarks, which led to feelings of inadequacy. "They think we are less … and this is the voice I internalized … that you are worth less … and this is what we are told today," she said. 
Ward spoke about the ways in which black people are depreciated by society, using the justice system as a key example. She emphasized the failure of the system to protect many people of color, including her own brother.
Ward explained that one of the first times she felt empowered by her writing was when she wrote the college essay that would help her gain acceptance into Stanford. This was her first of many experiences harnessing the power of storytelling. "I could speak, and people would listen to me," she said. "We are here, and this is what life is like."
And yet, in her first novel, Ward described how she could not tell her characters' stories honestly. She said that she "couldn't let [her] characters fall" because she loved them too much. They reminded her too much of her family. 
However, after experiencing the death and destruction of Hurricane Katrina, during which she was denied entry into a white household because there was "no room" and forced to take shelter in a field, Ward realized that if she wanted to honor her community with words, she needed to be honest. "I couldn't spare my characters like some benevolent god. Life does not spare us," she said. 
Despite the difficult and raw topics in her books, Ward explained that running through her work are also themes of hope and redemption. After Katrina, Ward recalled losing her voice for a while. But after seeing images of the aftermath of Mississippi's Hurricane Camille in 1969 and comparing them to Mississippi pre- and post-Katrina, Ward saw that everything could be salvaged. She realized that just as life had recovered and continued after Camille, so too would it after Katrina. 
At the end of her talk, Ward opened the floor for questions. "How do we navigate racism?" one student asked. "We need to all acknowledge the way the past bears on the present," Ward replied, invoking the haunting legacies of history that are core to her work, perhaps seen best in the tour de force that is Sing, Unburied, Sing.