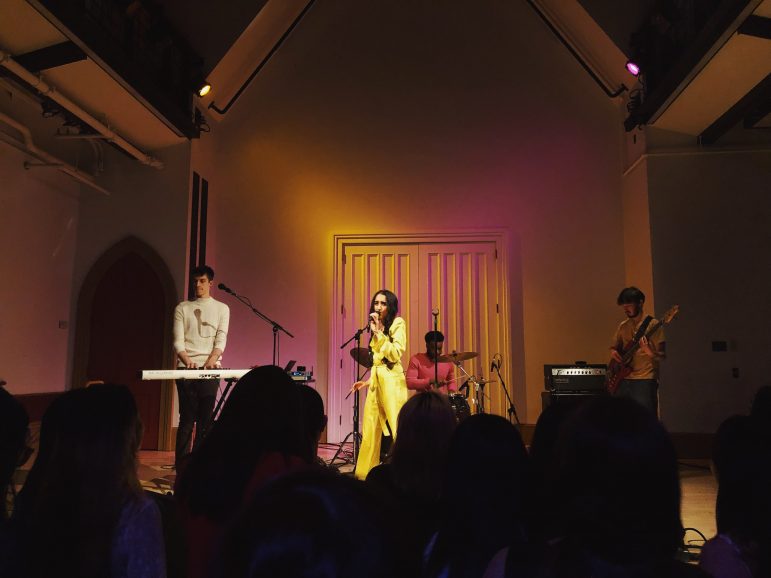 R&B singer Raveena Aurora and rapper Rocky Rivera put on a transformative concert to kick off Asian American and Pacific Islander (AAPI) Heritage Month at the College last Friday night in Goodrich Hall. While Rivera electrified the audience with her powerful lyrics, Raveena encouraged audience members to recharge and practice self-love.
To make this event happen, Olivia Tse '19.5 and Tyler Tsay '19, the concert organizers from Asian American Students in Action (AASiA), communicated and negotiated with the artists' agents, met with the Office of Student Life and AASiA to secure funding and handled logistical details throughout. When asked why they decided to bring Raveena, who is Indian American, and Rivera, who is Filipino American, to campus, Tse mentioned how she has "often felt like East Asian representation dominates AAPI conversations on campus" and how both artists "us[e] their music to heal and empower other women of color."
To get a better understanding of Raveena's artistic and personal journey, I sat down to talk with her in the Goodrich dance studio before the show. Despite all of the chaos happening around us, she brought the same peaceful, warm energy of her performance to our conversation. We discussed everything from our mutual love for Bend It Like Beckham, to her Indian American background, to her initial struggle to control her creative narrative. During our interview, I got the feeling that I was talking to someone on the cusp of becoming a very big deal.
Surabhi Iyer (SI): How did you get into music?
Raveena Aurora (RA): I started when I was maybe 10 years old. I listened to probably only Indian music and pop music up until that point, but somehow I came across Ella Fitzgerald and Billie Holiday, and the tones of their voices were just so magical. I just fell in love with soul music and had this deep connection to it.
SI: Is there anybody who has inspired you in your artistic journey?
RA: Sade's a huge influence. She makes timeless music, and she's always been driven by pure emotion and vulnerability. And I love artists who take the whole visual approach really seriously. Artists like M.I.A. [are] a huge influence, and women who have control over every single part of their career, who know every part of themselves completely – as brands, musically, visually; Solange, FKA twigs, Björk, are like that. So just, kind of, badass women.
SI: Was it hard for you earlier in your career to get complete creative control?
RA: Yes, I did struggle with it. I was signed with this really horrible publishing deal at one point, and they would only encourage me to write pop songs. This is right when I found Everett [Orr, her producer and longtime partner] and was just starting to make the music I loved, and they actively discouraged it. But once I found him, everything kind of clicked, and we've just been on this journey ever since.
SI: What does your creative process look like as a writer and as a singer?
RA: I feel like the creative process is literally just my everyday living and working. I work 12, 13 hours a day. I'm engaged picking out the exact shade of eyeshadow that I want to wear in a music video, or going to the studio and rehearsing for tour, and it's all creative. But for songwriting, it definitely happens by feeling. Usually we start out with an instrumental and I'll wait. I'll gather words for a while.
SI: Are there are any words or concepts that are appealing to you right now?
RA: I'm really into the concept of intergenerational trauma. Just like, looking at what women in my family have been through before me, and the sacrifices they made. Thinking a lot about different facets of love – I've been in a serious relationship for four, going on five, years – so thinking about how deep shit gets, when you're in it that much with somebody. Thinking about big girl things, like marriage and stuff. [Laughs.]
SI: How do you care for yourself?
RA: You can be a spiritual person but have these moments of anger and anxiety and fear, and it doesn't take away from your journey. It'll be a constant process of self-care and self-learning; you're going to keep falling and getting back up. And that's been something for me to learn, because even though my life is so much better than it was a couple years ago, it's not like I'm the most calm that I've ever been.
SI: How would you describe your relationship between your identity, culture, life experience and your art?
RA: I had to deal with my identity head-on since the beginning, because when I started out at 17 or 18, it was not a receptive industry to South Asian [artists] at all. I think it's just started to open up. I was always confronted with the fact that I was Brown and Indian. It's always been something that I had to be aware of, but I never wanted it to take away from the human-ness and vulnerability of my music. I really want to break down the walls of what someone thinks a South Asian artist should be.
SI: An artist.
RA: Yeah, an artist! It shouldn't just be like "South Asian artist," or "female artist"; I'm a human being here to give love and receive it, you know?
SI: Did you ever feel cultural pressure against your following this life path?
RA: 100 percent! In the beginning, my parents and family were like, "Is this the right move? Can you have a career in this?" The hardest point was this two-year period out of college; I was a full-time nanny for rich Upper East Side moms, and my parents didn't know. I told them I worked at a marketing job. And I was just really stubborn, and I loved [music] so much that they realized over time they couldn't really change that, so they just kinda had to go along with that! There's a lot of pressure, especially on Indian women to have a career, you know?
SI: What are your immediate hopes for the future?
RA: Ooh! Just that people receive Lucid well, and I don't know… This album is everything. I put everything into it. I just want it to do well. [Laughs.]
SI: Do you have any advice for aspiring artists?
RA: Staying focused on the craft is the most important thing. If you want to be in it in a full-time, this-is-my-life kinda way, it's a lot about practice and getting really good at whatever you want to master, and then the rest will follow!