Soaked Oats bring kiwis (and other fruits) to new concert venue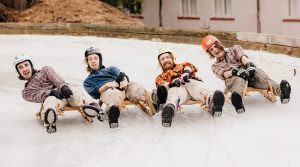 Soaked Oats, an indie pop band based in Dunedin, New Zealand, are embarking on their debut U.S. tour. Photo courtesy of undertheradar.com
If you happened to be walking down Hoxsey Street a couple Saturdays ago, you probably saw a rickety RV on the brink of collapsing in on itself parked outside of 70 Hoxsey. Drift Wood is her name, and she's a home-away-from-home for Kiwi rock band Soaked Oats. Popular in New Zealand for their brand of enveloping, fruit-referencing jam music, Soaked Oats is on their first U.S. tour. This tour is partly made possible by Danny Donahue '19 and myself. On Sept. 29, Soaked Oats and campus band Homebrew anointed 70 Hoxsey's newly-constructed basement stage with intimate performances.
While studying away in Dunedin, New Zealand, last spring, Donahue met Max Holmes – the band's bassist – at the musician's workplace Meenan's Beer and Wine. Holmes' store had a policy where customers could pay for beer by the liter, which Donahue took advantage of, frequenting the store often. A natural enquirer and self-proclaimed "Big Project Guy," Donahue soon learned of Holmes' band and immediately asked if Soaked Oats would be interested in performing at not only the College, but also other colleges in the U.S.
The band was interested in touring the U.S. but was having trouble securing college venues. Donahue booked shows for them at Bates and Stanford and, determined to keep the show as independent as possible from institutions at the College like Campus Safety and Security (CSS), spent early September building a stage with lights and sound in 70 Hoxsey's basement for their show. The event was kept private with limited tickets to maintain a comfortable environment in the venue, relying primarily on emails and word of mouth to promote it.
After a last-minute cancellation from the planned opener, we decided to call upon the student band Homebrew, which I am a part of, to open. The band performed renditions of Kanye West and Thundercat to roars from the crowd. As always, the set was carried by virtuosic improvisation and interplay. One standout was "Them Changes," as Adriiian's (Adrian Oxley '20) Joycean freestyles bled into blares from trumpet player Jared Berger '21. The rhythm section's patterned hits provided structure for Nick "The Chunnel" Patino (Nicholas Patino '21)'s expansive drum solo on "Touch the Sky." Guitarist Jeff Pearson '20 took Homebrew original "Jack's Jam" to unforeseen territory with riffs that meandered in and out of the chord tones.
Soaked Oats picked up where Homebrew left off, playing through songs off their 2017 release Stone Fruit Melodies. They initially stuck to slow, sway-inducing grooves, creating an intimate, opiated world with swaths of purple and blue. The drops were precipitous and brilliantly timed. On "Avocado Aficionado," vocalist Oscar Mein's strung-out crooning over reverby guitar built up latent energy that burst into every crevice of the basement the moment Conor Feehly flew in on the drums.
The highlight of the night was the band's cover of "Dance Yrself Clean" by LCD Soundsystem. While the original has abrasive synths and distant vocals, Soaked Oats opted for warmer tones. Henry Francis's chords crept out and suspended themselves in mid-air before dissipating, and Max Holmes' bass occupied a more natural space than the sharp, cutting bass in the original. Nearly every voice in the packed crowd joined in unison for the instantly recognizable "Ahhh-ahhh" bridge, an obvious sign that this song belongs in the liberal arts canon.
It was a Saturday night unlike any other Saturday night at the College. The space was welcoming, the focus was on the music and the after-party was full of conversation and good company. People justifiably think of Hoxsey student houses as being degenerate and fratty on weekends, but this flipped that conception on its head. For once, students had a Saturday night that was liberating without being defined by drinking and jovial without turning aggressive. There was no CSS, no discomfort, no snack-bar-run-turned-existential-crisis. It felt surreal – dream-like, even – and Donahue and other students hope to recapture this experience in the future through organizing more shows in the College's newest, most exciting concert venue.