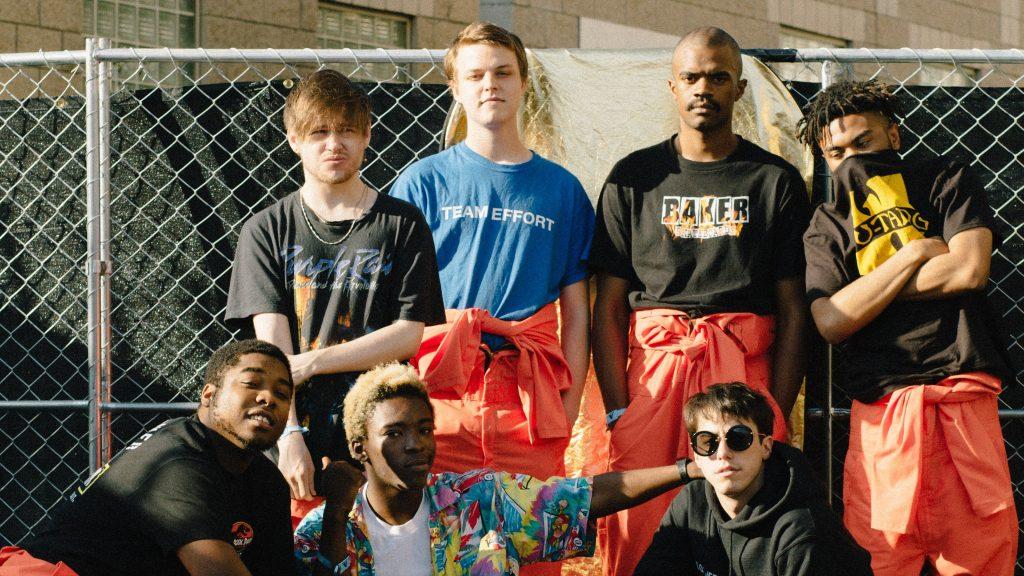 My first experience involving BROCKHAMPTON came with the solo works of Kevin Abstract, a rapper from Texas. In January of last year, I stumbled upon the song "Empty" from his sophomore album American Boyfriend: A Suburban Love Story. I was immediately hooked by the smooth instrumentals and catchy chorus. After a two-week period of listening to Abstract's solo albums, I came across his boy band, BROCKHAMPTON.
At first listen, BROCKHAMPTON is the exact opposite of a picturesque boy band. While it is composed of 14 boys, their music doesn't align with the stereotypical boy band-type (i.e. The Beatles or One Direction). Saturation I, the second album from BROCKHAMPTON, came out early  in the sumer of 2017. The electric energy that came from members Abstract, Matt Champion, Ameer Vann, Dom McLennon, Merlyn Wood, Joba and Bearface was contagious. Following this release, the rap ensemble released two more Saturation albums, completing the Saturation trilogy.
Since its inception in San Marcos, Texas, the boy band has promoted itself as an all-inclusive group, with openly gay member Abstract at the front of the pack. In their music, there's political dialogue and social commentary on equal representation and the current social environment. In early May, however, the integrity of the group was questioned when multiple women came forward and accused Vann of sexual misconduct. Soon after these allegations, BROCKHAMPTON kicked out Vann and posted on social media about the accusations:
"We want to sincerely apologize to the victims affected by Ameer's actions. We were lied to, and we're sorry for not speaking up sooner. We do not tolerate abuse of any kind."
Since then, the group has cancelled a tour, traveled to Hawaii, signed a $15 million record deal with RCA Records and released their latest album, Iridescence. In the five-month period between Vann's scandal and the release of their first studio album, the members of BROCKHAMPTON underwent many moments of self-reflection, evident in the album.
Iridescence opens with the wildly fun and loud "New Orleans." The intro track features all seven vocalists of the group – Matt Champion, Dom McLennon, Kevin Abstract, Bearface, Joba, Jaden Smith and Merlyn Wood. The song has a similar sound to Lil Wayne's The Carter II and draws on the growth and recent successes of the group. In the chorus, Abstract raps: "Tell 'em boys, don't run from us. I been down too long, cousin. I been down too long, brother. Tell the world, I ain't scared of nothin'. Tell the world, I ain't scared of jumpin.'" In these verses, Abstract is speaking to his increased confidence in both himself and the group, which is born out of their recent wealth acquisitions.
The album continues with a wide variety of sounds and musical styles. "Thug Life" and "Something About Him" are accompanied with soft instrumentals and indie rock vocals. Alternatively, "District," "J'Ouvert" and "Tape" are louder tracks but the lyrics are equally as emotional as "Thug Life" and "Something About Him."
The variance in genre and production in Iridescence is quite the accomplishment considering the context of recording the album: the group had 10 days to record the album in London's Abbey Road Studios. The diversity in production can also be attributed to the multitude of producers working on this album. While I enjoyed the variety in sound in the Saturation Trilogy, I found it less satisfactory in Iridescence. Throughout the albums, there are moments that feel disconnected and haphazardly created. At times, Iridescence feels like a step backward, in both production and lyricism, from Saturation III.
Despite this downfall, there are still breakout songs in Iridescence that show the evolution of the group's skills. "Weight", the sixth song on the album, is about as good as BROCKHAMPTON gets. This track is both beautiful and practical. Abstract sings about his concern for his fellow bandmates' mental health and places that above all his other worries. There is a genuine nature to Abstract's words and it serves as a healing from the Vann scandal. In this somber, yet catchy, song, we see that no matter the amount of fame or wealth a person might gain, mental health issues can still persist. Joba pinpoints the insecurities and pain he feels from success as he sings: "Pressure makes me lash back, I wish I could get past that. I can't take a step back, makes me wish you'd pass that." In this song, BROCKHAMPTON opens up and shows us the raw nature of the group.
BROCKHAMPTON reaches their fullest potential in the track "Tonya", which is the second-to-last song on Iridescence. "Tonya" is based on the movie "I, Tonya," as the band has felt similar consequences to fame as Tonya Harding did. Abstract sings: "I've been in my feelings on an island in the dirt. I feel like brothers lie just so my feelings don't get hurt. I said, I'll try vacation, I'll try to run away." Abstract collaborates with R&B artist Serpentwithfeet in this track to deliver a smooth and somber chorus that makes us, as listeners, understand the group's pain.
Although I don't think it is as strong in production or as exciting as the Saturation trilogy, Iridescence serves its purpose well: an album that is a beacon of healing and hope for what many consider to be the greatest boy band in the world.