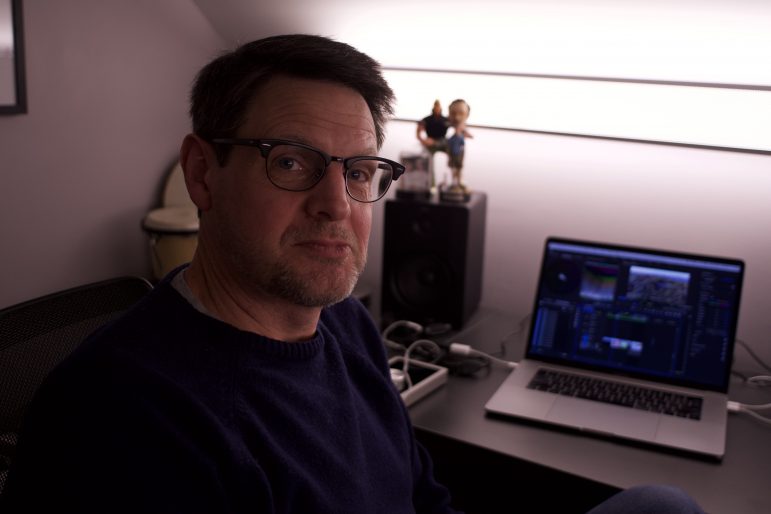 "It makes you have to think creatively about every single shot," Jay Corey told me as he turned his iMac screen towards me. The screen was opened to Adobe Premiere Pro, Corey's preferred video editing application. Corey, as the director of videography at the College, plans, shoots and edits the College's videos. He even composes the music that underscores all his videos.
Corey previously worked as the creative director of an advertising agency before taking a position at Johns Hopkins, where his videography career began. Corey began in a broad creative role at the hospital, which eventually morphed into a passion for video.
"At the time, video editing started coming in-house, and industry standard settled as something you could do as your own, so I started doing more and more of that," Corey said. "And about a year in, I was like, 'We need a studio.' And so, we built one. And in almost the blink of an eye, I was the video person." Corey eventually became immersed in videography, constantly creating videos across different subject matter at Johns Hopkins. One of Corey's advisors at Johns Hopkins, a graduate of the College, encouraged Corey to make the move to Williamstown.
Five and a half years ago, Corey transitioned from Johns Hopkins to Hopkins Hall; he recounted having immediately enjoyed the close-knit nature of the student community. While the College does not have massive studios around campus or a major dedicated solely to film production, Corey says students never fail to find him.
"Since I've been here, it's happened over and over again. When I was at Johns Hopkins, that never happened," Corey said. "Since I've been at Williams, I've had a cluster of students come to me for guidance and every one of them has been like a knock on the door. It's fantastic."
This is how Corey began working with Jamal Meneide '19 and Joey Mullen '19, filmmakers profiled in the March 6 issue of the Record, as well as Aniah Price '22, a photo editor for the Record. The students showed interest and approached him, Corey said, and he never fails to be impressed by the initiative and video skills of the College's students.
Our conversation floated from expressing our frustrations with Final Cut Pro X and the transition, to editing in Premiere Pro, to his current projects at the College. Eventually, we found ourselves talking about our favorite movies from the past year. We discussed The Favourite, Paul Schrader, Roma and the genius of Spike Lee, one of his favorite directors and the inspiration for many noted stylistic techniques, most notably the infamous Spike Lee dolly zoom. Corey showed me his recent videography, including a video for the Office of Admission, a video about the history of the College's school song, "The Mountains" and a video shot after the opening of the newly renovated Sawyer Library. What truly came through in all these videos, though, was Corey's impeccable attention to detail. He meticulously scopes out every angle and diligently edits every clip, ensuring that each video is his best work.
Despite now living in a much smaller environment than Johns Hopkins, Corey has found that the College still provides a plethora of videography opportunities. Being the only school videographer gives him the freedom to really choose the projects he works on. This allows him to explore his own creative interests while simultaneously working with students. The "Shot a Day" project, which is one shot every day for the academic year, for instance, was something that Corey had the idea for. Those looking for Corey can likely find him searching around campus every day, looking for that interesting and visually engaging shot at a dance performance, in the classroom or on Spring Street. He wants to encapsulate the College from as many perspectives, or days, as possible through these inventive shots.
"I was worried I would not have enough to do here," said Corey, "but I haven't found that to be the case. The small environment, geographically speaking, actually forces me to be more unique in my approaches. I cannot create new spaces, so I have to think of new ways to show things on campus. I have to be creative every day, which I love."
The next time you watch a Mountain Day video, fundraising campaign video or drone footage of the College, make sure to note the ambitious attention to detail, original score and innovative cinematography Corey employs in all that he creates.