Recording Recipes: Chicken Alfredo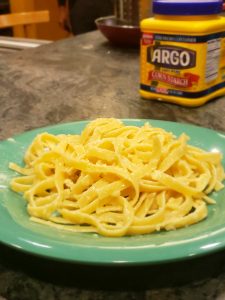 Chicken alfredo is a delicious and creamy pasta, perfect for a wholesome and scrumptious dinner. We cooked some for our entry to celebrate a birthday, and as one of our entrymates put it, she would "definitely recommend." Get ready to enjoy a great meal!
Ingredients
1 lb. fettuccini pasta
½ lb. chicken
1 cup heavy cream
1 cup grated parmesan cheese
¼ cup butter
1 tablespoon corn starch
Seasoned salt to taste
5 tsp. olive oil
This recipe serves four to five.
Recipe
1.  Cut the chicken into small chunks.
2.  Boil water and cook the pasta, per instructions on the box. Add a         
     dash of salt and a sprinkle of oil to the pasta.
3.  As the pasta is cooking, add three to four teaspoons of olive oil to a
     pan at medium-high heat.
4.  Remove the pasta from the pot once it has boiled.
5.  Once the pan has heated up (after around four minutes), add
     chicken to the pan.
6.  Stir the chicken in the pan as it cooks for 10 minutes, and add
     seasoned salt.
7.  Once the chicken is cooked, remove it from the pan and set aside.
8.  In a sauce pan, heat the heavy cream until warm; do not boil.
9.  Add the corn starch to the cream and stir thoroughly.
10. Melt the butter in the heavy cream mixture. Add the parmesan 
      cheese and stir for about 10 minutes. Turn off the heat.
11. Mix the pasta, chicken and sauce, and add salt to taste.
12. Plate, serve and enjoy!