Studio '62 showcase impresses audience with performances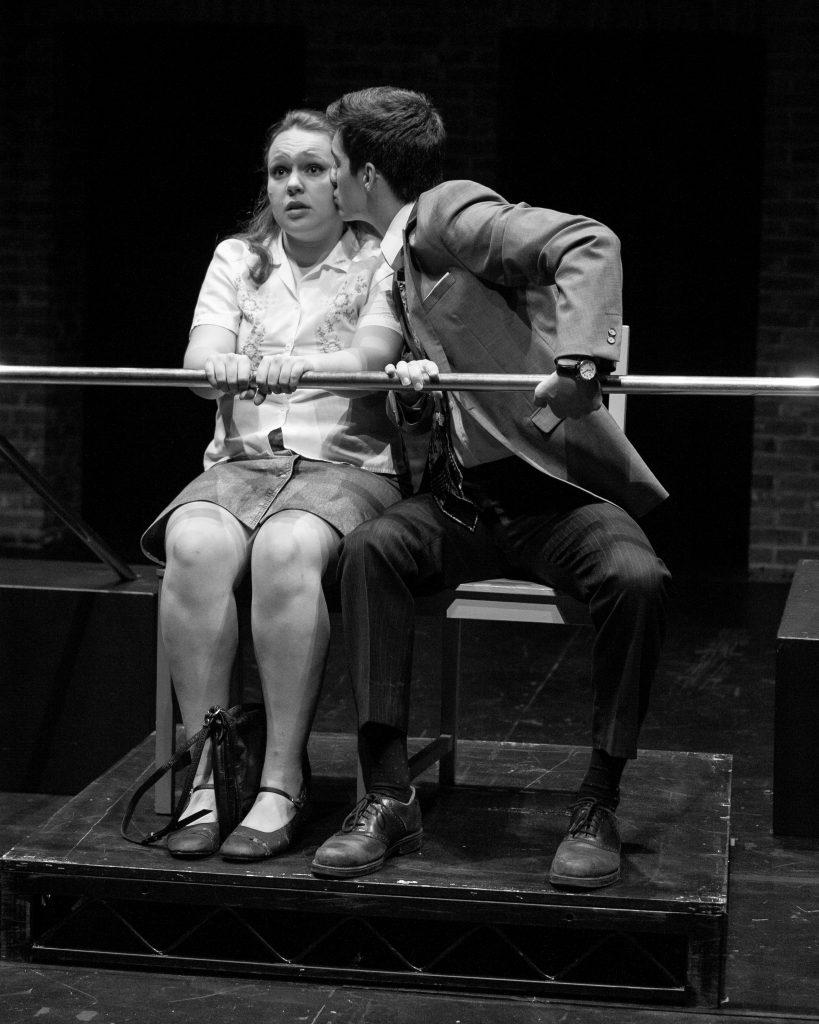 Last weekend, the College theatre department presented the Studio '62 showcase Trains, Boats, Birth & Death. Formerly known as the Williams College Theater Lab, Studio '62 is a seven-week long theatre training summer program for students. This past summer, ten students worked on theatre techniques such as playwriting, scene study and performance.
Trains, Boats, Birth & Death is a collection of six unrelated short plays. Four of these six plays were written by students. Having a series of relatively quick dramas, rather than a longer play, allowed the company to showcase all of the different skills that students honed over the summer. The audience was treated with a variety of genres and plots that made for a very interesting show.
The curtains opened on the first short, a mysterious tale titled Discontent written by Caroline Fairweather '20. The story follows Anthony (played by John Murphy '21) who harbors a bitter grudge against his father and brother for "stealing his face." His brother is a happily married man who has just had a son with his wife, Edel (played by Fiona Selmi '21). Anthony's lover and Edel's sister, Rue (played by Nicole Jones '21), urges Anthony to take revenge on his family by letting her kill his nephew. It is a complicated drama that didn't provide many answers as it unfolded; I was left a bit confused, but not enough to keep me from enjoying the performances of the three actors in this dark and murky plotline.
The second short was Ferris Wheel, a romantic comedy about two strangers who ride a ferris wheel together. Dorie (played by Julia Tucher '21) is a talkative, anxious woman who rides the ferris wheel once a year on her birthday, despite being afraid of heights. John (played by Peter Duke '21) is a travelling salesman who decided to ride the wheel on a whim. The ride ends up getting stuck, and the situation helps the two progress beyond small talk. It was definitely the cutest story of the night, but more than that, it managed to be a reflective character study despite the simple premise. Without any movement beyond the confines of their ferris wheel cart, Duke and Tucher were able to flesh out these two characters into people the audience could laugh at, relate to and feel for.
The third short, By the Trax, written by William Ouweleen '19, was a comedic "case about a case." Three homeless people (played by Samori Etienne '21, Isabel Ouweleen '21 and Murphy) living by the subway tracks stumble on a briefcase filled with cash. They begin to argue about how to best split it up to ensure everyone gets an equal share and uses their money appropriately. For me, the satirical banter shed light on the often elaborate and convoluted systems that societies devise to control money.
Following an intermission, the fourth short, The Old Man and the Sea written by Ernest Hemingway and adapted by Isabel Ouweleen '21, gave us a completely unique experience: a puppet show. The entire story was performed through paper cut-outs in front of a light, projected onto a mini screen in front of us. What made this play really stand out to me was the detailed work and talent that went into the production. I felt sucked into the performance, even though I couldn't see any faces. The cast managed to make the story truly come to life with just their voices.
Watermelon Boats tells the story of two childhood best friends, Kitty (played by Jones) and Kate (played by Fairweather), over ten years. At 11 they are inseparable, musing about their future dreams; at 16 they are growing apart; and at 21 they come into their own and meet each other in the middle. The story definitely hits close to home for any college student, when Kitty feels like she isn't good enough and Kate feels too locked inside herself. The audience was silent as the two confided in each other, possibly because they were finding themselves in the story onstage.
Finally, the night closed with The Tome of Civilization (written by Murphy). In this story, Joshua (played by Jack Romans '20), a maniacal history teacher tries to bargain the tome of civilization from Satan, played by guest actor Dave Simonds. The audience couldn't stop laughing throughout the whole performance, making it a fantastic end to a fantastic show.