Blood Orange's latest album reverberates political protest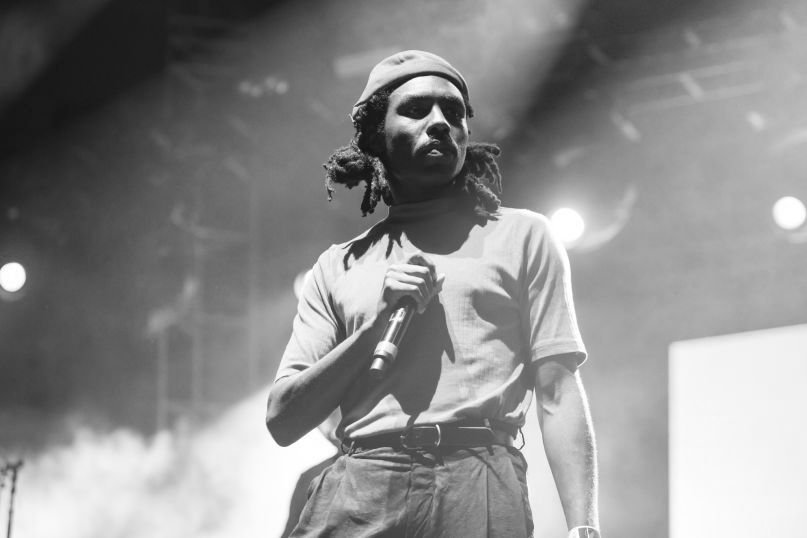 My Spotify history is plagued with one-time listens, but every now and then, I find an album that I cannot stop listening to. Negro Swan, the fourth studio album by producer, songwriter and instrumentalist Blood Orange (also known as Dev Hynes), is one such album. Rooted in synth-funk pop, hip-hop, neo-soul and alternative R&B, Negro Swan delivers an experience that only Dev Hynes could manifest.
Hynes isn't new to transforming listeners with his lyricism and intermixing of instrumentals, for he has been a constant influencer in the music industry for the last decade. His ability to integrate different music styles and genres is likely a result of his diverse collaborations and roles in the music industry. Hynes has worked alongside Solange, A$AP Rocky, FKA Twigs, Mac Miller and many more artists through production and featured vocals. Along with this, Hynes produced the ambient and somber score for the 2013 Gia Coppola film Palo Alto, starring Emma Roberts and James Franco. No stranger to working in various media forms, his widespread experiences have propelled him into a realm unmatched by other musicians today.
Following where his previous album, Freetown Sound, left off, Blood Orange places politics at the center of Negro Swan. Through personal anecdotes and events highlighted in the news, Hynes discusses the trauma and anxieties present in marginalized populations, specifically speaking to black and queer experiences.
Hynes brings us into the album with a groovy instrumental and what he described to Pitchfork as being a Marvin Gaye-type approach in the opening song, "Orlando." Hynes juxtaposes the seemingly chill, happy tempo with a painful story from his childhood. Growing up in Essex, England, Hynes often faced bullying because he painted his nails and wore makeup. In an article released by the New York Times the day before the release of Negro Swan, Hynes said "I think people forget that I'm from Essex and had to fight, mentally and physically to, like, keep living. Being beaten up and going to the hospital multiple times. Being spat on on the bus every day. I hated every living moment. I am always surprised by the amount of people that have never been punched in the face." Hynes has never abided by traditional gender or sexuality norms; he's open about dating model and photographer Ana Kraš and fluidly expresses his sexuality.
Despite past trauma, Hynes never gave up on his artistic aspirations and decided to rebuild himself; he attributes the creation of Blood Orange to this reinvention period of his life. After "Orlando" fades from Hynes' poetic description into his dark past, Janet Mock – a trans writer, director and activist – provides a social commentary at the end of the song on the idea of 'doing too much', saying "so a couple years ago I was like, you know what, my eternal resolution will be to do too much."
After "Orlando," Negro Swan explodes into a beautiful jazz sequence and my favorite song on the album, "Saint." Featuring a blend of traditional hip-hop, jazz and synths, "Saint" cements Hynes as a 'Renaissance Man' of music. Although less concerned with political motifs and philosophies, this song is perfect, both vocally and instrumentally. Hynes layers his own vocals with four others, including Porches' Aaron Maine and experimental R&B artist Ava Raiin. In combining the different singing styles and tones of the complementary singers, "Saint" is a transcendental track, leaving listeners wanting more after its relatively short chorus.
In a string of wildly different sounds, Hynes goes vocal-heavy on "Take Your Time" and leaves the core of the lyrics up to features on "Hope," which contains perhaps the most monumental feature: P. Diddy. Based around the mixed feelings that come with love, breakups and reconciliation, "Hope" is an existential look at the origins and reasons behind why love only exists for some. Diddy explains: "Yeah, gee, I don't, sometimes I ask myself, like, you know, what is it going to take for me to not be afraid, to be loved the way, like, I really wanna be loved?"
After a string of anxiety-ridden tracks, Blood Orange shatters nerves in "Jewelry." Released beforehand as a single, Hynes sings of the black experience and ways to overcome mental health issues. Hynes is unapologetically black and doesn't want to compromise any part of his identity; in this way, he is protesting against the suppression of blackness in America.
In subsequent songs, Negro Swan also cultivates a dialogue about family, spaces for identity expression and the attachment and separation of white artists to hip-hop.
"Chewing Gum" is perhaps the most audience friendly track of the album, as it features A$AP Rocky and Project Pat and samples Kingpin Skinny Pimp. This song utilizes sexual metaphors to convey Hynes' irritation with being angry all the time. "Holy Will" breaks the mold of black depression and signifies hope through the means of God. In a cover of a traditional Gospel song, Hynes places his faith in God: "Lord, I just wanna be rooted and grounded in thee. Lord, place me. Lord Jesus, place me, yeah, I wanna be centered in thy will."
Negro Swan ends with a sample of another bullying anecdote from Hynes' time in Essex, as well as a collaboration with world-renowned bassist and producer Steve Lacy, a tribute to New York City and a finale consisting solely of acoustic guitar and sunny dispositions.
A mosaic of stories about black, queer/trans and mental health experiences comes together in a moment of self-love and learning in Negro Swan. Hynes sees how his anxieties and trauma have shaped him and decides to not eliminate them from his memory, but rather to embrace them as part of his identity. This realization leads to a confident outro that resonates with both himself and listeners: "The sun comes in, my heart fulfills within."