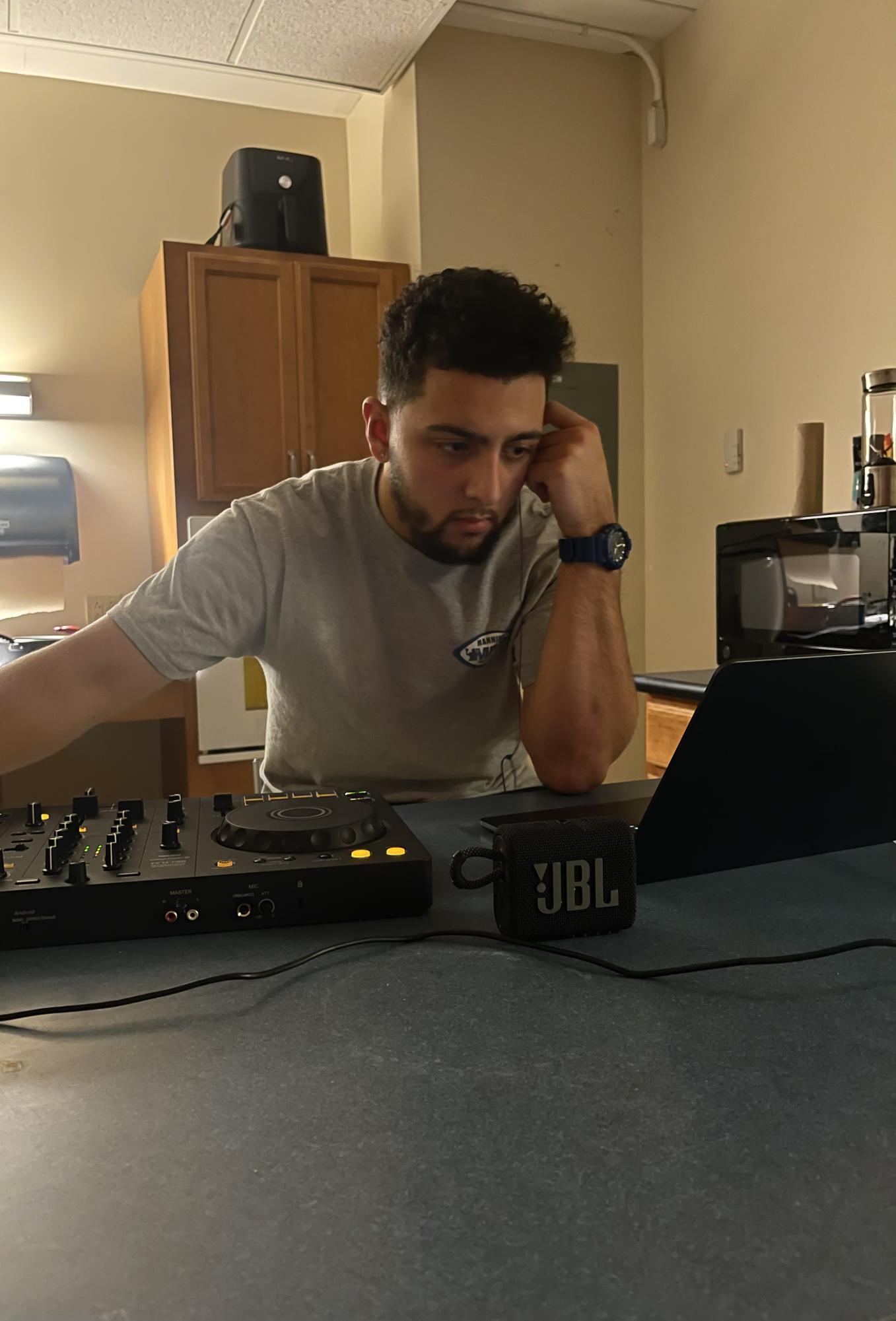 In the world of music, there are countless avenues for creative self-expression. For Kevin Pepin '25, otherwise known as Kevo, the journey into the electrifying world of DJing began during his first year at the College, with an aux cord and an undeniable passion for music. 
"Freshman year, the parties were pretty wack, and I always felt like my contribution towards making it a better experience was by taking the aux cord and playing music I personally enjoyed, music that I thought was good," he said. 
He had a knack for selecting tracks that resonated with crowds. His friends recognized his talent and encouraged him to take a step beyond the aux cord. 
Kevo first took the aux cord at a party during his first year after a speaker malfunction and the room plunged into silence. In that decisive moment, all eyes were fixed on Kevo. Unfazed, he took control, filling the room with his unique musical taste. That was the defining moment that made him realize his potential. "I thought, 'I'm actually pretty good at this,' and people seemed to mess with my taste," he said.
Music had always been an important part of Pepin's life. At the age of 6, he began playing the drums, a passion that fueled his creativity. Surrounded by friends like CJ Vilfort '24 and James Johnson-Brown '25, both seasoned DJs, Kevo saw DJing as the next chapter in his life, a seamless progression further into the world of music. When discussing influences and mentors, Kevo acknowledged the role his friend CJ played in shaping him as a DJ. "I'd be lying if I didn't say [CJ] helped me a ton," he remarked.
During winter break of his sophomore year, his father gifted him a DJ controller. 
"My breakthrough moment for me came when I was really looking at different philosophies of music-mixing," Kevo said. He experimented with blending the lyrics of one song with the instrumentals of another, a step that took him to the next level in his journey and allowed him to curate an immersive experience for his audience.
"Matching tempos is a super important and underrated aspect of DJing," Kevo said. "You can always raise the volume of one song and lower the volume of another, but matching tempos makes that seamless transition possible and makes the difference between a good mix and a great one." 
He cited Dom Dolla, James Hype, and Fisher as his main sources of inspiration. "[They're] all people who had great energy," he said. "They've really been inspiring me to bring that same energy to my performances and create that atmosphere." 
Kevo said his favorite aspect of DJing is watching people enjoy themselves on the dance floor. "For me, it's just seeing people having a good time, especially here at Williams, where it's difficult to hear music you love," he said. For that reason, he noted that it's essential to meet people where they are and let them have a good time, whether it's with popular pop and EDM tracks or more niche house music selections and Caribbean tracks. "It's a fine line between playing music you like and music that people want to hear," he said.
In terms of his audience, Kevo said that he aims to create an experience that allows people to unwind and let loose. "Williams is not an easy school: It's work, hard work … and these people chose to give their time to me — to listen to me and listen to my music — so that's a responsibility I don't take lightly," he said. "It's about having fun. I love watching people dance, have fun, and get lost in the music."
Through his sets, he creates new kinds of sounds and stories that allow him to connect with different communities and individuals. "Listening to new kinds of music any time I do a party for someone else — they're sharing a vulnerable part of themselves and trust[ing] me with that," he said. "That's something I definitely don't take for granted. I feel like it allows me to connect with people in another way."
Kevo also told the Record about his short and long-term goals as a DJ. In the near future, he hopes to play prominent venues such as houses on Hoxsey Street and dorms on campus. Further down the line Kevo looks to expand to a venue beyond the Purple Bubble to showcase his skills regularly. "It's all about having fun," he said. "I feel like I do this well. The real test is performing somewhere out of Williamstown and having people resonate with my music and skills. I think that would be the ultimate stamp of approval for me."