DJ Booth: Isabel Kuh '23 focuses on creating inclusive party spaces for queer students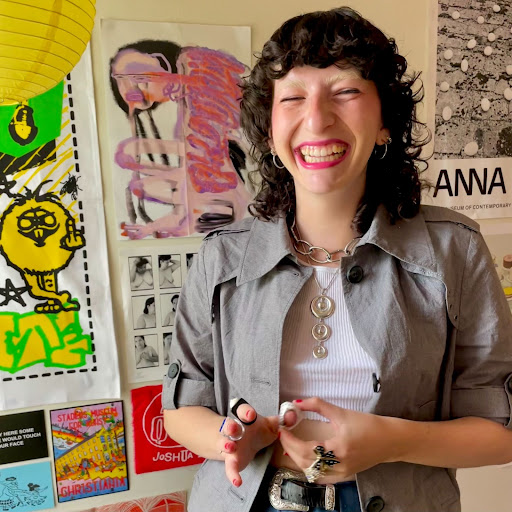 DJ C*nt Cattrall, otherwise known as Isabel Kuh '23, started DJing last year while in London. Kuh studied abroad her junior spring at Goldsmiths, a school within the University of London that specializes in the study of creative, cultural, and social subjects. Kuh studied within the visual cultures and curation department, which was on strike for most of her time there.
As a result, Kuh rarely had class and began learning to DJ in her free time through queer-DJ-led workshops she found online.
"I started going on Instagram and looking for queer femme DJ collectives or workshops in London, knowing that there likely would be some since it is a major metropolitan area with a thriving underground music scene," she said.
In addition to attending DJ workshops throughout her junior spring, Kuh received a fellowship the following summer through the College to work for artist residencies in Lithuania. During her time there, Kuh was able to continue learning about DJing with the help of her peers. 
"I was studio-managing a group of various artists, some of whom were sound artists and full-time DJs," she said. "And so I started learning there with them and then also with a DIY radio station that had [a complete] DJ setup."
While in Lithuania, Kuh bought her first controller, a device used by most DJs to mix music with software, which most DJs mix music on their computer. "It's the most expensive thing I've ever bought for myself," Kuh said. 
For Kuh, the interaction between her music and the party crowd shapes her DJing experience. In terms of her song choice and set style, Kuh cites her wide-ranging music taste as one of her main sources of inspiration. 
"What I listen to varies so much," she said. "My recent music has anything from Alice Coltrane to John Glacier to a new Caroline Polachek remix that I found recently."
Kuh is also inspired by her audiences. She seeks to create open, engaging spaces through the music she mixes and tries to play both new, diverse songs and crowd pleasing sets. "At the end of the day, it is really fun to DJ and see people in the moment engaging with a form of the creative process that is pretty distinct from an art gallery or museum," Kuh said.
DJing also gives Kuh the opportunity to make spaces for underrepresented communities on campus, such as the queer and non-binary communities. Of the DJs on campus, Kuh said she remains one of the few femme DJs and hopes to set up welcoming spaces for queer and non-binary students.
"It's just cool to be in control of how a crowd moves and engages with something" Kuh said. "Part of that is just trying to help other people, especially queer and non-binary people. It's important because a lot of other DJs on campus do not identify with any of those identities." 
At the College, which notably does not have a large dance music scene, Kuh maintains her dynamic style by balancing genres like house, techno, and jungle with crowd favorites. 
"I always have two or three crowd pleasers in a set, because at the end of the day, we are at Williams College," Kuh said. "The other night, I played two songs by Rihanna, but one was more jungle-adjacent and one was more Jersey club. I'm not going to give the people fully what they know, but it'll be enough so they're like, 'Okay, I can register this and I can move to it.''' 
As for upcoming parties, Kuh plans to do an upcoming Earth Day house set and a WCFM 91.9 outdoor rave. She encourages any students interested in DJing to join Open Decks, the DJing club that she co-leads on campus. 
After graduation, Kuh plans on continuing to DJ as a hobby. As an American studies and studio art double major, Kuh hopes to work professionally within the art scenes in Berlin, London, Vienna, Budapest, or Amsterdam.
"The goal is to be involved in either art curation or cultural programming," she said. "One day, I want to run my own artist's residency. I definitely think any opportunity to work with emerging artists, either musical or visual, is what most excites and inspires me."