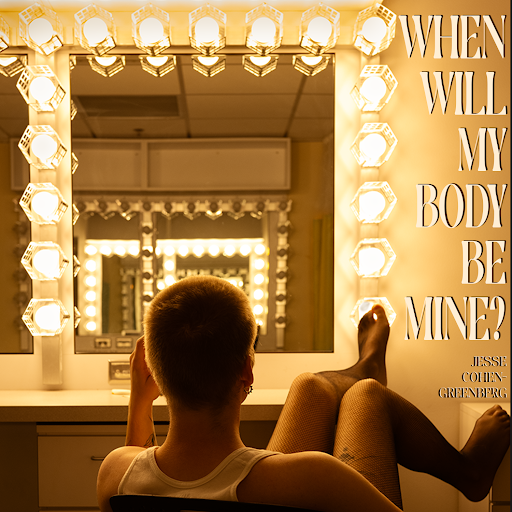 Before Jesse Cohen-Greenberg '24 sat down with me to discuss the Oct. 6 release of his debut album, When Will My Body Be Mine?, he rushed to his record player to drop the needle on his vinyl of Hejira, Joni Mitchell's sprawling 1976 album and his favorite of her discography. 
Hejira's warm, hypnotic tracks reverberated throughout his apartment for the remainder of our conversation, and Cohen-Greenberg periodically interrupted himself to praise Mitchell's experimentation with traditional pop and jazz forms. 
"It feels like it's ringing in my head — it has a crazy sound," he said. "Nothing sounds like it… The album has a wild point of view, and it also has a cohesion that I really admire."
Cohen-Greenberg's album, too, is a fusion of stylistic influences. The acoustic album ebbs between lovesickness and loneliness; crystal-clear and rich tones; pop, jazz, cabaret, and choir. 
On the album's recording, Cohen-Greenberg plays all of the instruments but the drums — Hal Olson '22 hammers out the vibrant percussion composed by Cohen-Greenberg. 
In "Anything I Want," the snare maintains a traditional 4/4 time signature in the verse, erupting into a strident 5/8 meter in the chorus and accenting the downbeat over the song's mantra, "I can be / Anything I want / Anything I want / Anything I want." 
"It's an 'ambivalence' album," he quipped. "It's not a breakup album, but it's definitely about relationships."
According to Cohen-Greenberg, the album's title track was inspired by the form of "Good Morning Heartache," an iconic blues ballad sung by Billie Holiday. "I love the clarity of that type of lyric writing," he said. "There's an openness to the blues that I really love."
In the album cover, shot by Imogen Mandl-Ciolek '24 and edited by Lizzie High '24, Cohen-Greenberg is poised towards a fully lit Hollywood-style vanity mirror, his gaze angled away from the shot.
"We wanted it to be kind of retro, queer, cabaret, and also feel modern," he said. "I'm wearing fishnets — I wanted it to be a little gay, too."
The album's cover, he explained, is meant to personify its title. "In relation to the title, it's my body — you don't even get to see my face," he said. "I'm not pointed towards the viewer, so I'm keeping my appearance to myself, which I think is interesting."
At the College, Cohen-Greenberg majors in music, which has allowed him to continue studying classical piano and composition, as well as his side hustle of accompanying singers and musicians on the piano, a part-time gig of his since the start of his musical career. During his sophomore year, he organized Cap and Bells' Sondheim Cabaret with longtime duet partner Darlie Kerns '24.
Cohen-Greenberg traced his musical upbringing to a convergence of origins that also root his album: classical piano training beginning at age 4, devout choir membership, and an "obsession" with the Beatles, Ella Fitzgerald, and visionary composer and lyricist Stephen Sondheim '50. 
"I just would walk through the halls of my middle school listening to [Sondheim's] Sweeney Todd," he said. "It was awesome. It was like the only thing I liked about middle school — sad, but also kind of sweet."
His first experiences composing and writing music began around the same time, similarly steeped in the bluesy mood that colors his latest work. "One of [my first compositions] was called 'Crying Myself to Sleep,' which I remember vividly," he said. "I was a sad kid, I guess, but in a funny way."
But When Will My Body Be Mine? was not his first time composing a full-length work: As a first-year at the College, Cohen-Greenberg wrote and composed Trouble in Paradise, a sung-through musical based on the 1932 film of the same name. 
For Cohen-Greenberg, the process of composing the two works differed in process. "If you have the plot [of a musical already], you can break it apart, see where the moments of emotion and exposition are, and say, 'Here's where a song should go,'" he said. "You can also do all these things in a pop song, but you have to figure out how to set it up so the audience immediately knows, without giving too much away."
The content of the compositions' recordings diverged, too: While Cohen-Greenberg conveys heartbreak in the signature precision of When Will My Body Be Mine?, Trouble in Paradise tells a more abstract story, he said.
"I remember that writing Trouble in Paradise was more difficult  — I didn't know how to write love songs because I hadn't been in love at that point," he said. "This was a couple of years ago, so I didn't know what to do except resort to metaphors like 'moons' and 'Junes.'"
On the night he released his album, Cohen-Greenberg hosted family, friends, and childhood music instructors at an album release concert. He sang and bantered with the audience from behind a grand piano, and he was at times accompanied onstage by an ensemble of student musicians: singer Kerns, drummer Rein Vaska '25, tenor saxophonist Adithya Vaidhyan '24, and guitarist Asher Gladstone '24.
Cohen-Greenberg interspersed his setlist of songs from the album with covers, among them a haunting rendition of Thelonius Monk's "Round Midnight" sung as a duet with Kerns, Sondheim's "Send in the Clowns" as an homage to his father, Fiona Apple's "I Know" as an tribute to Fiona Apple, and Mitchell's "A Case of You" as an envoi, which Cohen-Greenberg described as "the best song of all time."
"The melodies and the words are spilling over themselves," he said of "A Case of You." "It's clearly an 'after love,' memory kind of a song. There's something really mournful and lovely about that song that I think I'll love forever… Her dulcimer and James Taylor on the acoustic guitar — it's wild, and it's beautiful."
"I think that there's a lot of that on my album — trying to work through the grief of having lost somebody or some type of relationship," he continued. "You can't just unlove that person."
He laughed. "I mean, I guess I just love melodrama."