Stephen Sondheim '50, visionary theatre composer, dies at 91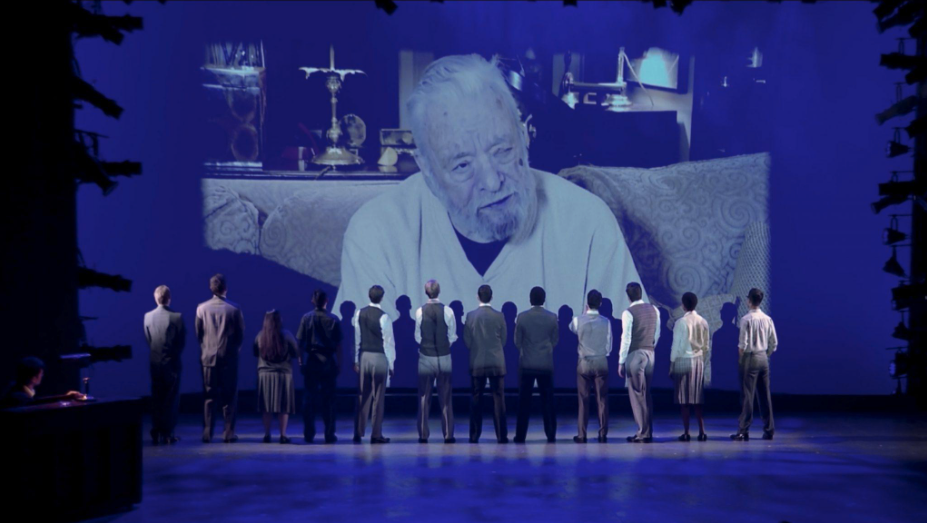 Stephen Sondheim '50, widely revered as musical theatre's most visionary composer and lyricist, died on Friday in his home in Roxbury, Conn., according to The New York Times. He was 91.
Sondheim started his theatre career by writing lyrics before beginning to compose music as well, creating hit musicals like Company, Sweeney Todd, and Into the Woods. Acclaimed not just for the breadth of his body of work, Sondheim is widely considered to have reinvented the American musical by tackling deeper, darker, and more sophisticated themes than in musicals before him.
Among his many accolades are eight Tony Awards — including a Lifetime Achievement Award — eight Grammy Awards, an Oscar, a Pulitzer Prize, and a Presidential Medal of Freedom.
Born in New York City on March 22, 1930, Sondheim grew up close to the family of lyricist and playwright Oscar Hammerstein II, who introduced Sondheim to the idea of songwriting as a career. Sondheim came to the College as a prospective math major, but during his freshman year, he took a music elective with Professor of Music Robert Barrow.
"[Barrow] took all the mystery out of music and taught craft," Sondheim told The Paris Review in 1997. "Within a year I was majoring in music. He changed my life by making me aware that art is craft, not inspiration."
Throughout his time at Williams, Sondheim was very involved with Cap & Bells, the College's student-run theatre group. He acted in nine plays, in roles such as Cassius in Julius Caesar and Dan in Night Must Fall, the latter being his last-ever acting role.
Sondheim wrote his first two full musicals while a student at the College — the first musicals ever performed by Cap & Bells. His first musical, Phinney's Rainbow, was a parody of College life "with a consistently high level of comedy," according to a review in the Record. The show is the alleged origin of Frosh Revue.
In addition to his work with Cap & Bells, he was on the editorial boards of two campus magazines and was a member of Phi Beta Kappa. In the Class of 1950 yearbook, he was voted most versatile, most brilliant, most likely to succeed, most done for Williams, and most original. In 1957, he wrote the lyrics for his first two Broadway shows, West Side Story and Gypsy, then in 1962 wrote both the lyrics and music for A Funny Thing Happened on the Way to the Forum.
Throughout the 1970s, Sondheim collaborated with director Harold Prince on hits such as Company, Follies, Pacific Overtures, Sweeney Todd, and more. The duo's shows garnered commercial success and rave reviews, such as one in The New York Times calling Sondheim's work in Sweeney Todd "an endlessly inventive, highly expressive score that works indivisibly from his brilliant and abrasive lyrics."
In 1981, his career took a turn with Merrily We Roll Along, a massive flop that opened to negative reviews and closed after less than two weeks, leading to Sondheim nearly quitting theatre, until he found a new collaborator in script writer and director James Lapine. The two worked together on shows like Sunday in the Park with George, Into the Woods, and Passion. 
For Sondheim's 90th birthday in March 2020, the College hosted a series of events on campus titled Sondheim@90@Williams. The series was organized in part by Professor of Music Anthony Sheppard, who taught a course on Broadway musicals in 2018 that featured a Zoom Q&A with Sondheim. Sheppard edited a scholarly book on Sondheim, Sondheim in Our Time and His, which will be released in a few weeks. "I had really looked forward to sending a copy to him," Sheppard wrote to the Record. "I knew he would offer witty, critical, and insightful comments."
The Sondheim@90@Williams series included a symposium featuring major Sondheim and Broadway scholars, several concerts of his songs, and more. Cap & Bells put on a production of his musical A Little Night Music and the Theatre Department put on Our Time, a play by Ilya Khodosh '08 exploring the College in the time of Sondheim. 
Sondheim did not return to campus to see the series, but Our Time ended with a short filmed interview with Sondheim about his time at the College. At the time, the show received criticism for not grappling fully with Sondheim's identity as a gay and Jewish student at the College. 
While Sondheim had not premiered a new work since Road Show in 2008, his work has been consistently revived and adapted throughout his entire career. A gender-bent production of Company is currently running on Broadway, and a Steven Spielberg–directed film adaptation of West Side Story opens in theaters on Dec. 10. 
Many modern theatre composers credit Sondheim for inspiring their work. "[Sondheim] is musical theater's greatest lyricist, full stop," Hamilton composer Lin-Manuel Miranda wrote in a 2017 Times article. "The days of competition with other musical theater songwriters are done: We now talk about his work the way we talk about Shakespeare or Dickens or Picasso — a master of his form, both invisible within his work and everywhere at once."
According to the Times, Sondheim is survived by his husband, Jeffrey Romley, and his half-brother, Walter Sondheim. A memorial of flowers and candles is left outside the Broadway theater bearing his name, and on Sunday, thousands of Broadway stars and fans gathered in Times Square to sing a song from Sunday in the Park with George.