Haystack Monument defaced with graffiti, perpetrators unknown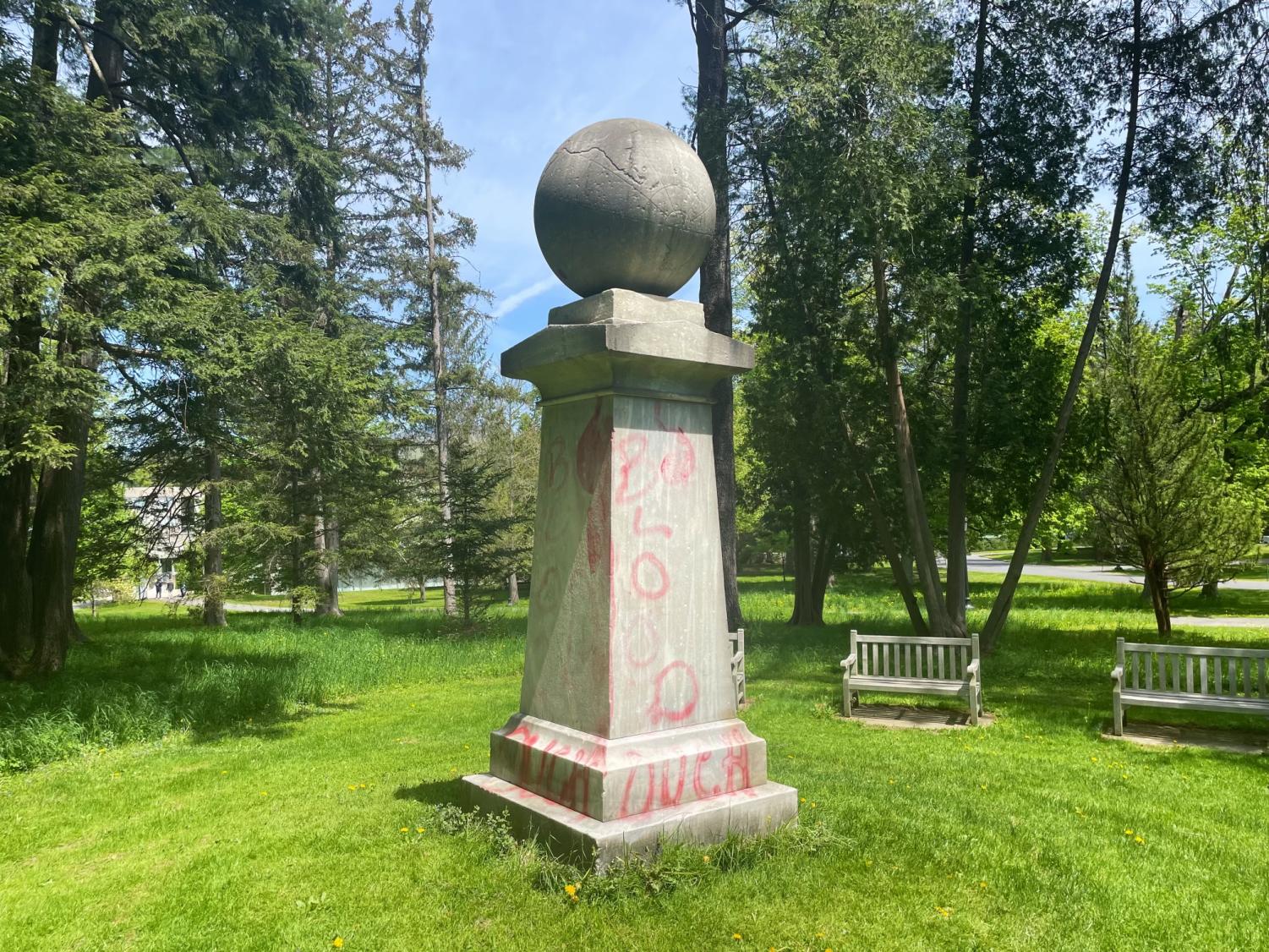 Campus Safety Services (CSS) officers responded to reports that unknown perpetrators defaced the Haystack Monument with spray-painted graffiti, President Maud S. Mandel wrote in a campus-wide email on Monday that alerted the College community to the defacement. CSS received reports from a student through its dispatch center and anonymous tip line on Saturday, shortly after midnight, Director of CSS Eric Sullivan wrote in an email to the Record. 
"The graffiti included an obscenity along with the words and phrases 'Pagan Rule,' 'Blood,' 'Ouch,' and 'Hail Satan,'" Mandel wrote. Custodial staff responded at 6:00 a.m. on Saturday by power-washing the graffiti, though they were unable to remove the bulk of the damage, Sullivan wrote to the Record. According to Mandel, Facilities is arranging for the remainder of the writing to be cleaned.
According to a call log obtained by the Record, CSS alerted the Williamstown Police Department to the graffiti in a phone call Tuesday, and the defacement was filed as a "bias-motivated incident." The motivation and perpetrators are not yet known, Sullivan wrote to the Record. 
The Haystack Monument commemorates the location of the 1806 gathering of five Williams students that led to the formation of the American Board of Commissioners for Foreign Missions (ABCFM), during which the students sheltered under a haystack during a thunderstorm. Mission Park is also named for their meeting. ABCFM was a major Christian missionary organization throughout the 19th century and the largest in the United States, sending missionaries to China, India, Hawai'i, and several North American Indigenous nations. "The Haystack Monument has been a focal point for ongoing campus discussions about Williams' institutional history," Mandel wrote. "We expect those discussions to continue in the next academic year."
The incident marks the second time in recent years that the Haystack Monument has been defaced: in 2018, mud was smeared onto the sides of the monument, and three concentric half-circles were carved into the ground between the monument and the benches that surround it. The perpetrators were never identified.