Images in Review: How to Blow Up a Pipeline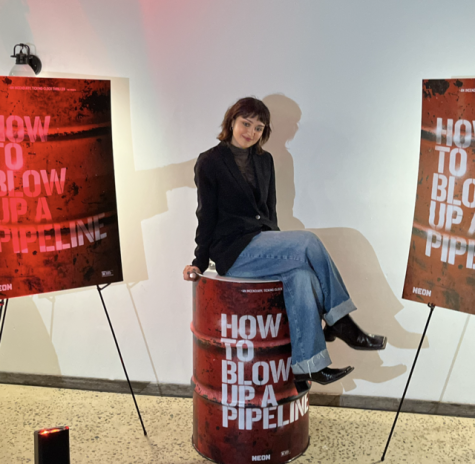 "I'm just having trouble feeling like any of this matters," she said at her college's fossil fuel divestment meeting. While this could very well apply to me, the quote belongs to Xochitl Fuentes, the main character of How to Blow Up a Pipeline. Directed by Daniel Goldhaber and co-written by Goldhaber, Ariela Barer (who plays Xochitl), and Jordan Sjol, the film is playing at Images through Thursday, May 11. 
While grappling with the slow progress of divestment and other forms of incremental activism, Xochitl becomes interested in more radical forms of climate action and recruits a team of other young people who feel the same. Together, they do as the title suggests: blow up a pipeline. 
Even as an organizer for fossil fuel divestment at the College, I also felt Xochitl's pull towards radical action, something I often find missing at the College. Our movement was similar to that of another member of her group, who claimed that "nobody's saying divestment's gonna solve everything, but it is a big step in the right direction." Last year, we organized to urge the College to address issues of climate change and other systemic inequalities, driven by the power of divestment as a domino effect that public commitments and public pressure can create. This sort of thinking — that individual institutions and actions can spark larger systemic change — drives climate movements around the world, yet it is hard to directly see the impact of these types of slow protests. As Xochitl said, "By the time any market solution does shit, billions of people will be dead from climate disaster… We need to start attacking the things that are killing us." 
For Xochitl, deaths from climate change are personal. Her mother died during a surprise heat wave, and she grew up in a polluted area in California where acid rain burned her skin. The same goes for the other characters, such as her childhood friend Theo who was diagnosed with leukemia due to proximity to a chemical refinery, Michael whose Indigenous community's land is being developed and destroyed, and Dwayne whose generational family farmland in Texas was bought by developers. The film's story is at times stereotypical, as each character is given a dramatic backstory encouraging them to fight, but I could forgive this cliche for the strong acting performances and their compelling ideologies.
Because of their personal experience, the characters felt inspired to take huge risks — be it physical, financial, legal, or otherwise — for the sake of the cause. However, the movie is not just political — it is a fast-paced heist, more of an adventure than a manifesto. Also, the movie has two love stories (one is gay!), compelling backstories, and a shocking twist. 
The characters are driven to fight for the groups most harshly impacted by environmental disasters, generally poor people of color. Some refer to the group as terrorists, while others see them as revolutionaries. To me, they were just ordinary people feeling the weight of extraordinary circumstances, pressure, and the ticking time limit of our impending climate crisis. When watching the film, I felt that pull.
So did Coco Rhum '24, a fellow former divestment organizer, who worked to bring the film to Images after it was recommended at a Log Lunch talk by Masha Zabara, who will be participating in a talk back after the film today. Zabara is a climate activist who works at Thrift 2 Fight, an organization that mobilizes secondhand fashion to fund and amplify the work of grassroots social justice organizations focused on racial and disability justice and queer liberation. Rhum collaborated with Images volunteer Nahier Tafere '26, the College's Film Club, and the Center for Environmental Studies (CES), which is hosting a ticket and concessions tab on Wednesday, to bring the movie to the Town. 
I have often found myself dissatisfied with the lack of urgency and boldness of some environmental discourse at the College. But perhaps I am part of that problem, and perhaps this is what the character Alisha meant when she said, "Xochitl's just another girl that went to college, read a book, and decided she knows how to save the world." The movie led me to grapple with this: I feel moved by radical action, but I am a former divestment organizer who wants to go into environmental justice organizing, which means I will continue working within the system. Maybe none of these things will do anything, and maybe I do need to think more outside of the norms.
The movie aims to prompt its viewers to consider these questions for themselves. It is less about how to actually blow up a pipeline and more about what might drive someone to do so. By humanizing violent and illegal radical action, the film asks you to consider how far you are willing to go to stand up for your beliefs and what you are willing to put on the line. The movie is not encouraging the viewer to blow up a pipeline or even arguing that this is the right thing to do, but it offers an alternative ideology to mainstream environmentalism. 
This is the idea behind the 2021 book that inspired the film, in which Andreas Malm argues that peaceful protest alone cannot achieve results quickly enough so activists should consider sabotage. On the film's website, you can download the book for free, or visit the "take action" tab which links to an oil and gas pipelines map, showing hazardous spills and pipeline-related injuries and deaths. The website also lists ways to learn more about current initiatives and support on-the-ground activists. 
The film asks the viewer to think radically and take the idea of ecoterrorism and infrastructural sabotage a bit more seriously. It is clear that the climate crisis is not stopping with our current strategies of protest and resistance, and something more is needed. Whether that takes the shape of an ideological shift or drastic action like blowing up a pipeline, the film asks the viewer to rethink their relationship to climate change and what they will do about it.