Students protest for public divestment from fossil fuels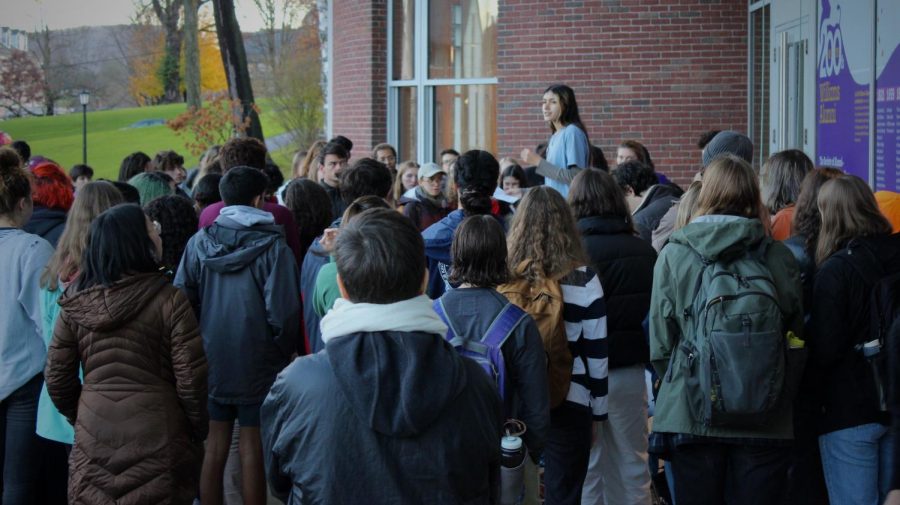 In recognition of the College Climate Coalition's Divestment Day of Action on Nov. 12, the College's Young Democratic Socialists of America (YDSA) chapter held a protest on Paresky steps, calling on the College to publicly commit to divesting from fossil fuels. During the event, protesters drew on the steps in chalk, listened to two student speakers, and marched to the balcony on the second floor of Paresky, from which organizers hung a signed banner reading "WILLIAMS MUST DIVEST."
At the Oct. 20 faculty meeting, President Maud S. Mandel said that the College will not be making a public commitment to fossil fuel divestment. The College does not hold any direct investments in fossil fuels and plans to eliminate indirect investments in fossil fuels in the next several years, but the lack of a public policy announcement sparked this week's student-organized protest.
On Oct. 22, YDSA organizers emailed College administrators a list of expectations, including that the College release an announcement in the form of an all-campus email declaring its commitment to no longer invest in any form of fossil fuels and to let current investments phase out by Nov. 12. YDSA organizer Lauren Lynch '23 told the Record that planning for the protest began when administration responded that their expectations would not be met. 
"[Nov. 12] is the National Day of Divestment Action," Lynch said. "That's why this day is so critical. We are standing in solidarity today with all the other students who are pushing for divestment on their college campuses."    
Mandel told the Record in an email that the College "has benefitted from years of engaged conversation with activists, which has elevated sustainability as a core priority and focused us on how our actions have an impact on the environment." 
"The College is reducing the small number of positions we have related to fossil fuel extraction and has no plans to make any such investments in the future," she wrote. "However, the decision to move away from these funds will almost certainly not have an impact on carbon emissions.  As the college reduces its indirect investments, others will step in, leaving the fossil fuel industry largely untouched."
YDSA's divestment committee, which planned the protest, meets weekly on Thursdays, according to Will Royce '24. "We started holding extra meetings for people who wanted to specifically plan [the protest]," he said. "We got some students to volunteer [as speakers], we came up with a basic schedule and some basic demands … and we just started posting about it and tried to mobilize people to get them to come." 
In addition to regular planning meetings, YDSA also hosted a workshop to make signs and posters for the protest. One sign from the protest read "Purple Cows Divest Now," while another read "The Future We See Is Fossil Fuel Free."
"We mostly just promoted [the protest] through social media and word of mouth," Royce said. "Something great about doing activism on a small, tight-knit campus is that word spreads fast."
Students arrived at Paresky on Friday to find posters propped up against the building, a table laden with snacks and pins, and the large banner that would be displayed in Baxter. After 20 minutes of music, banner-signing, and chalking up the Paresky steps with messages in support of divestment, protesters heard from student speakers.
Shoshie Hemley '25 was the first to speak. "I'm part Filipino, and I'm from Iowa. I've firsthand seen the inequitable and disproportionate effects of climate change," she told the Record before her speech. "Fighting against climate change is hard. Divesting, for the school, is hard. They don't want to do it. But what we also don't want is a dead planet."
"Williams must put their students before their greed," Hemley said in her speech. "This institution claims to care about our education and futures, but we won't have those futures if this school continues to contribute to climate change by investing in fossil fuels."
Next to speak was Micaela Foreman '23. "I wanted to contextualize divestment as one step towards a bigger movement of environmental justice," she told the Record. "An act of love, an act of respect, an act of maintaining life." 
"We are asking for divestment from a system that will kill us… to allow the college to continue is to endorse the maintenance of U.S. hegemony, colonialism, and ultimately white supremacy," Foreman said during her speech. 
Foreman pointed out that climate change is disproportionately affecting Indigenous and Black communities. "The apocalypse has already come for many," she told the crowd of protesters. "We must stand against continuing to exploit resources from an earth that has never been ours to exploit." 
Many students said they found the protest fulfilling. "I can't say that I'm sure material change is going to come from this," said Amalia Culpepper-Wehr '24, a student in attendance. "But I do feel a certain amount of hope about the way that Williams students are asking for this and trying to change things on a physical scale, instead of just saying words and leaving." 
"In order to help save our planet, institutions need to change, and they're not going to change unless they know what students want," Sylvana Widman '25 said. "And the only way to show [what students want] is to actually show up." 
Professors also attended the protest. Associate Professor of English Jessica Fisher attended because, she said, "it's been time to divest for over a decade." "I'm here because I support the student-led protests to divest," said Chair and Associate Professor of English Bernie Rhie. "I think it's long overdue." 
On Tuesday afternoon, a group of faculty also sent an open letter to President Maud Mandel calling for the College to commit to divestment. As of Tuesday afternoon, the letter had over 200 faculty and staff signatories. 
"Professor Jess Fisher and I drafted the letter and then shared it with Prof. Nick Howe, Prof. José Constantine, and Prof. Brittany Meché, who had agreed to be first co-signatories," Assistant Professor of Environmental Studies Laura Martin wrote in an email to the Record. "We organized the initial collecting of signatures, and many community members forwarded the letter to their colleagues." 
"We look forward to continuing the conversation that the letter initiates with President Mandel in the coming days," Martin added. 
Members of community organizations from outside of the College also attended the protest. Anne O'Connor '86, a member of the Williamstown CO2 Lowering (COOL) Committee, which advocates for reducing local carbon dioxide emissions, said that the committee is in full support of the student protest.
Organizers said that YDSA will aim to continue pressuring the College until it fully divests. "It's really important that this work doesn't end here," Jahnavi Kirtane '24, another student protester and YDSA member, said. "This is the bare minimum for an endowment of four-plus billion dollars. We can afford to do this."