Nova, WUFO head to Nationals together for first time since 1995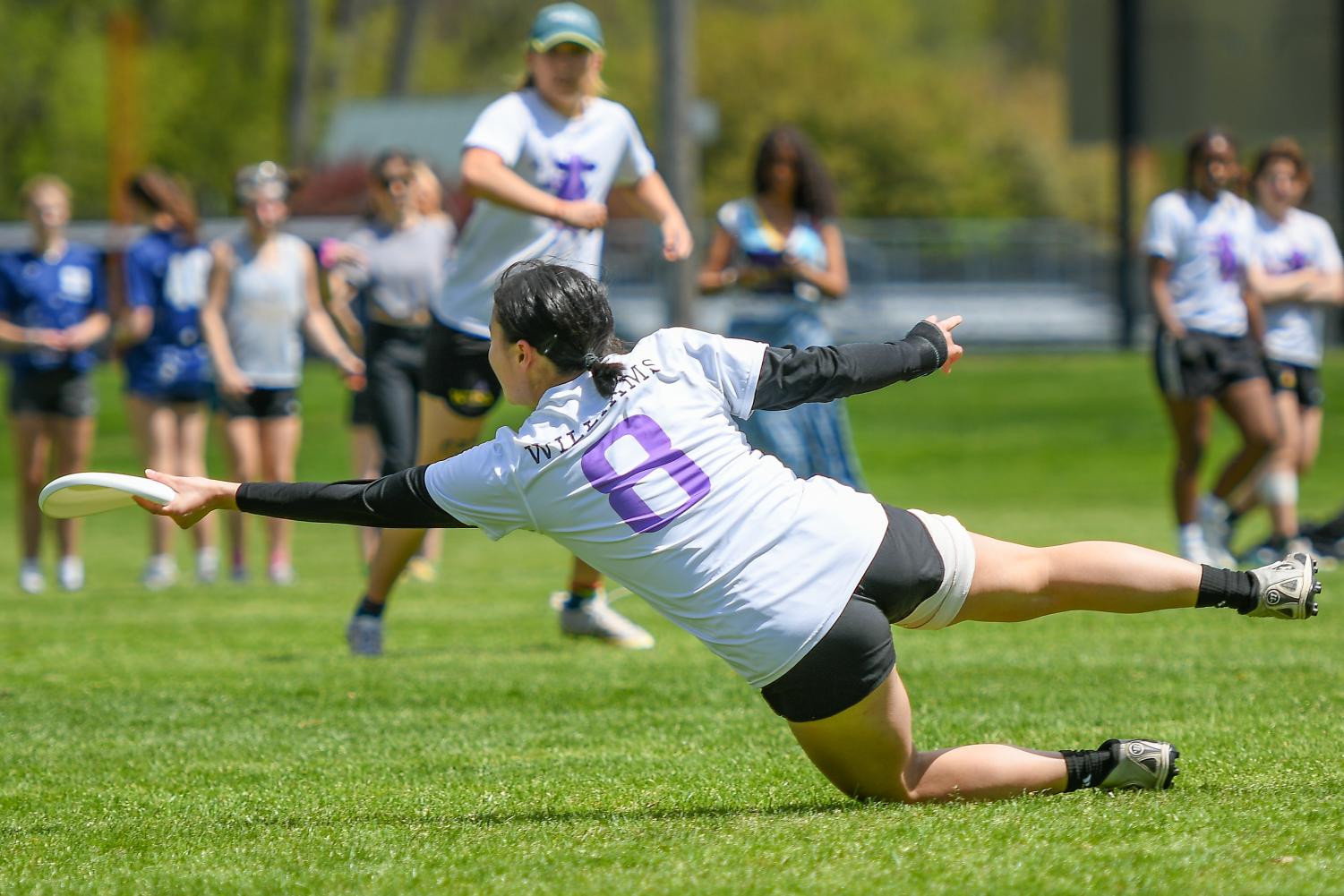 For the first time in 28 years, Nova and WUFO — the College's frisbee teams for trans, nonbinary, and female players and trans, nonbinary, and male players, respectively — will both compete on the national stage at USA Ultimate's Division III College Championships. After Nova placed fourth at Regionals hosted at Williams and WUFO took second in Regionals at Bryant University this weekend, they will both head to Columbus, Ohio, May 20–22 for the D-III College Championships in the women's and men's divisions, respectively.
The national D-III men's and women's divisions each send 16 teams divided among 10 geographic regions to Nationals. To determine how many bids at Nationals a region is allotted, a national ranking is developed by USA Ultimate, the national governing body for ultimate frisbee, based on teams' performances during the regular season. Each region automatically receives one bid, but teams can earn wildcard bids for their region based on their strength and rankings. This year, the New England region will send four teams to the women's division of Nationals — Williams Nova, Middlebury Pranksters, Wellesley Whiptails, and Mount Holyoke Daisy Chain— while the men's division will send only two: Middlebury Pranksters and Williams WUFO.
WUFO will face stiff competition, both from Middlebury — which is a perennial shoo-in to place well at Nationals and took third last year — as well as teams from other regions who it hasn't yet competed with. South Central, in particular, was the only region this year to claim three Nationals bids and historically has been one of the strongest. Oklahoma Christian, a South Central team that made men's D-III ultimate history last year as the only team to ever win back-to-back national titles, fell short of even making it out of Regionals this year.
But after its performance at Regionals, WUFO is ready to compete with these teams, said WUFO co-captain Oscar Triggs '23. "We nearly beat Middlebury and we beat Bowdoin," he said, adding that both teams are consistently ranked top 10 nationally. "I think there's a feeling [on the team] that, on our day, who knows if anyone can beat us?"
Prior to last year, WUFO had not made Nationals since 2009. After this weekend, it will have qualified two years in a row. What changed? According to Triggs, part of it was luck, but the biggest factor was a mentality shift, as WUFO is a team that plays best when energy is high and the pressure is off.
"It wasn't the goal to qualify for Nationals," he said. "The goal was to go out there and play our game, be together, stay loose, have fun. That allowed us to play better frisbee rather than … tying the merits of our season to a result."
WUFO entered Regionals third-seeded behind Bowdoin and Middlebury — but with only two New England bids for Nationals, it needed to beat at least one of the two teams. "I think it would be fair to say that we were underdogs," WUFO co-captain Jonah Tobin '23 said.
WUFO lost 12-13 to Middlebury on Saturday, leaving the second-place bracket the next day as the only option to qualify for Nationals. Such a close loss might have been demoralizing when anticipating a faceoff against Bowdoin the next day, who notably defeated Middlebury in an upset at Sectionals and was seeded above Middlebury in the tournament, but instead it left WUFO energized, WUFO co-captain Harry Wilcox '23 said.
Traditionally, WUFO has treated games against Middlebury as guaranteed losses and instead used them to conserve their energy for more winnable games — but not this time. "This year, we were gearing up to play them and just saying, '[With] how much hard work we've put into this team, we can run with these guys,'" Wilcox said. "We took them to the last point, and that's by far the best game of frisbee we've ever played."
The next day, WUFO matched up against Bowdoin, winning the game 13-11. The team's energy, Tobin said, took them to the win — particularly on the sideline. Ultimate is a sport rich with quirky traditions, and sideline cheers are one of the most prominent ones, especially for WUFO. "The sideline is really an eighth person on the field," Tobin said. "[Bowdoin] started a few chants and had to stop them because we were just drowning them out. That's what gave me hope — that we were really going to do it as a 30-person team, come together and do it as a collective."
"I'll just never forget where I was standing, watching the disc go into Malcolm [Bellairs '23]'s hands, seeing the observer put their hands up signaling the goal, and realizing that we really accomplished that," Tobin said.
"People were crying, our coach was crying," Wilcox added. "It felt really surreal to come out on top after such a crazy year."
The road to Ohio for both WUFO and Nova has been paved with more than just good intentions — it's also been lined with injuries, tournament cancellations, and in Nova's case, a devastating setback last season when the team was unable to qualify for Nationals due to a COVID-19 case on the team.
After two years of pandemic-interrupted play, 2022 brought Nova a semi-regular season, and the team was seeded to qualify for Nationals. But a member of the team tested positive for COVID on the first night of Regionals and close contacted the team, which, in accordance with tournament rules, meant that Nova had to forfeit their spot in the tournament.
"It was very devastating," Nova co-captain Coco Rhum '24 said. "The team was in a collective haze [and] state of mourning for a good chunk of time."
The rule disqualifying Nova has since been changed to prevent future teams from experiencing a similar disappointment, but it was significant in adding fuel to Nova's fire this year. "Having that happen to us last year made the stakes of this Regionals so much higher," Nova co-captain Lauren Lynch '23 said. "I think the underclassmen [especially] felt a lot of pressure for the seniors who have gone through it in our frisbee career."
This year's Regionals saw Nova sweep three games on Saturday, only to lose 13- 9 to two-time reigning national champion Middlebury — which Lynch said was the closest game any team gave Middlebury that weekend.
"I think that's the best I've seen the team ever look," Rhum said. "We were out there guns blazing."
"We just came out with that dog in us," Lynch said. "That game on Saturday really proved to us what we could do on Sunday."
The next day, Nova played in a backdoor bracket for the third and fourth seeds to vye for the remaining Nationals bids, finally clinching the last slot in a tight 11-9 game against Bates.
Lynch emphasized the importance of the team's chemistry in its success. In its game against Mount Holyoke on Sunday, Nova centered their play around kill lines — lines of the seven best players — rather than the normal offensive and defensive lines that play together during practice. "We ended up losing that game," Lynch said. "The game against Bates, we recommitted ourselves to coming back to our strength, which was chemistry."
Nova is currently ranked sixth in the nation by USA Ultimate and will face competition from the other New England teams — with all three ranked in the top 10 — as well as teams from the nine other geographic regions.
So how is Nova feeling looking ahead to Nationals?
"The best I've ever felt in my goddamn life," Lynch said.